Ear­li­er this week, Julia Dahl wrote about her ear­ly expo­sure to the Amer­i­can jus­tice sys­tem. With the release of her new crime nov­el, Con­vic­tion, Julia is guest blog­ging for the Jew­ish Book Coun­cil all week as part of the Vis­it­ing Scribe series here on The ProsenPeo­ple.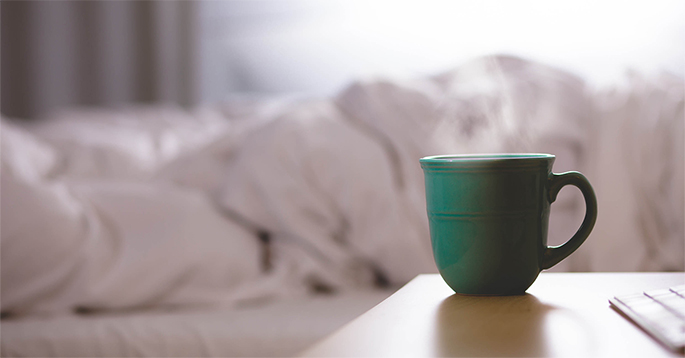 In ear­ly 2011, I applied for a month-long res­i­den­cy at the Ver­mont Stu­dio Cen­ter, but didn't get in.
I'd been work­ing on a nov­el for more than three years, while I worked five days a week at the New York Post, then The Crime Report, cob­bling togeth­er a liv­ing with occa­sion­al fel­low­ships and a cou­ple big mag­a­zine fea­tures I'm real­ly proud of. I'd writ­ten and shopped anoth­er nov­el about sev­en years ear­li­er and got­ten lots of polite declines. One agent took the time to chat with me on the phone. She told me the writ­ing was ​"very strong" but that she didn't ​"know how to sell it."
This new nov­el, though — I had a feel­ing I could sell it. But first I had to fin­ish, and I sim­ply wasn't get­ting it done with a few hours here and there. I need­ed a chunk of time. I need­ed, I decid­ed, a residency.
So, I wasn't going to Ver­mont. Maybe I could go some­where else. One night, sit­ting on my couch, prob­a­bly watch­ing Bra­vo, I Googled ​"writ­ers res­i­den­cy east coast." A few results down I saw a link to the Martha's Vine­yard Writer's Res­i­den­cy. I filled out the appli­ca­tion that night, cut and past­ed 10 pages from my nov­el-in-progress, and paid the $10 fee.
A Cal­i­for­nia native, I knew noth­ing about Martha's Vine­yard (did the Kennedy's live there?) and I think I ini­tial­ly con­fused it with Cape Cod. But it didn't mat­ter. It was $200 a week (you bought your own food) — far less than what Ver­mont charged. I could afford it, I had a flex­i­ble job sit­u­a­tion, and I was childfree.
A week or so lat­er I got an email: I was in.
Get­ting there was a bit of a cru­cible. I board­ed a bus in the bow­els of Port Author­i­ty and four hours lat­er trans­ferred to anoth­er bus in Prov­i­dence. An hour after that I trans­ferred to anoth­er bus in a city called Byrne, Mass­a­chu­setts, then final­ly pulled my roller­board suit­case up the ramp of the fer­ry to the island, trad­ing a cramped bus for the wild Atlantic salt wind whip­ping my hair into tan­gles I'd have to show­er and con­di­tion out.
I showed up to the Point Way Inn late at night, so the oth­er writ­ers were already in bed. I crept up a stair­case to Room 6, and turned on the light. Imag­ine the best B&B you've ever been to: cheery, spare, immac­u­late. I had a four-poster bed, a bath­tub, and a lit­tle wick­er desk that sat at a win­dow over­look­ing the court­yard. For two weeks, this place was home.
I went with a clear goal: 60 pages. It was, at the time, ambi­tious — I'd worked almost three years to get 100 pages — but if all I had was time and I was los­ing mon­ey, essen­tial­ly, by being there, I had to make it worth­while. And guess what? I did it. Eas­i­ly. I woke when I want­ed (usu­al­ly late). I ate when I want­ed (usu­al­ly alone, although some­times with the oth­er res­i­dents). I walked the streets and imag­ined the lives of the peo­ple who owned the stun­ning, but some­how not entire­ly osten­ta­tious clap­board hous­es. I biked to the beach and sat with a note­book, scrib­bling dia­logue and scene ideas and char­ac­ter notes, then sat at the bar by the Edgar­town docks, slurp­ing oys­ters from the same beach I'd just left.
I didn't fin­ish the book there, but I got close. That Decem­ber, I bailed on Christ­mas with my in-laws and fin­ished it alone over the New Year. I got an agent in July and sold it in a two-book deal the next February.
Over the next three years, I went back three more times. I start­ed my sec­ond and third nov­els there. I encoun­tered all kinds of peo­ple on the island: I humored a white-haired part-time res­i­dent who com­plained over mar­ti­nis that ​"those peo­ple" at Occu­py Wall Street shouldn't be protest­ing the banks, they should be protest­ing Oba­ma; I embar­rassed a bar­tender by rec­og­niz­ing her from a painful­ly low­brow real­i­ty show; I drank with Twyla Tharp's sis­ter, and I was con­stant­ly asked if I was relat­ed to Arlene Dahl, a beloved res­i­dent of the island. (I'm not.)
Over the years, the res­i­den­cy mor­phed into the Noepe Cen­ter for the Arts, and host­ed artists of all kinds, includ­ing Junot Diaz, Charles Blow, and Bil­ly Collins. It was a com­mu­ni­ty cen­ter. A culi­nary cen­ter. An incu­ba­tor and a sanctuary.
What was so won­der­ful about the Martha's Vine­yard res­i­den­cy was that it was utter­ly unsched­uled. Justen Ahren, the local poet who cre­at­ed the pro­gram, held fast to the mot­to of the res­i­den­cy: Time. Space. Cre­ate. There were no com­mand per­for­mances. He and his charm­ing, gen­er­ous wife and chil­dren came to the inn for occa­sion­al din­ners and infor­mal read­ings, but if you were on a roll in your room, no one felt slight­ed if you stayed holed up. A father and land­scape archi­tect, Justen knows inti­mate­ly how pre­cious writ­ing time is. All he want­ed was for you to be pro­duc­tive in what­ev­er way you mea­sured productivity.
For me, the goal was always pages, but some peo­ple explored the island, using the time to clear their heads. Some peo­ple got drunk every night. Some peo­ple dove into the com­mu­ni­ty, cre­at­ing con­nec­tions that led to jobs and even per­ma­nent homes. One woman stayed in her room so entire­ly I didn't even meet her until more than a week into my stay. (I imag­ined a whole nar­ra­tive about her being mur­dered and no one know­ing until she start­ed to smell. What do you want from me, I'm a mys­tery novelist!)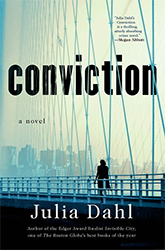 I start­ed my lat­est nov­el, Con­vic­tion, in Room 6 less than a month after find­ing out I was preg­nant. It was a strange few weeks. I knew my life was going to change, but I didn't know how. I also knew that it would like­ly be a very long time before I could come back to the Point Way Inn. Moth­ers of babies don't just take two weeks off. I didn't pro­duce quite as many pages this time, and each walk I took, each time I sat on the dock and watched the lit­tle fer­ry scoot to Chap­paqua, was tinged with sadness.
In Novem­ber 2015, I gave birth to a beau­ti­ful, ram­bunc­tious lit­tle boy. Those first six months were so all-con­sum­ing I couldn't imag­ine ever being able to extri­cate myself for anoth­er res­i­den­cy, but this Feb­ru­ary, when my boy turned 15 months, my hus­band and I decid­ed we could each han­dle sin­gle par­ent­hood for a week: I got a week on the Vine­yard and he got a 7‑day motor­cy­cle trip.
I emailed Justen and set it up. It felt like a weight lift­ed. I'd writ­ten sig­nif­i­cant por­tions of all three of my books in Edgar­town and I felt like I need­ed Room 6. Know­ing that I'd have it, even six months away, stead­ied me.
And then, about two weeks lat­er, I got an email from Justen telling me that the woman who owned the inn where the res­i­den­cy was housed had sold the prop­er­ty, and the whole decade-long exper­i­ment was over.
I'm not going to lie: I'm still in denial. I can't imag­ine nev­er bik­ing to Kata­ma again. I can't imag­ine not sit­ting around the inn's big din­ing table with my fel­low authors (too many to name, and many you've heard of), drink­ing wine and eat­ing local mus­sels and chat­ting about the writ­ing life and its thrills and miseries.
But most­ly, I can't imag­ine nev­er sit­ting at that wick­er desk again, with a mug of cof­fee, a half-eat­en plate of fruit and cheese, maybe a beer, my mind entire­ly on my work for as long as I want. Justen has said he will try to find anoth­er space for the res­i­den­cy, but for now, I'm griev­ing, and search­ing for anoth­er way to find that time and space to create.
Julia Dahl is the author of the Rebekah Roberts nov­els, the lat­est of which, Con­vic­tion, comes out this week. Julia writes about crime and crim­i­nal jus­tice for CBSNews​.com.
Relat­ed Content:
Julia Dahl is a jour­nal­ist spe­cial­iz­ing in crime and crim­i­nal jus­tice. She has worked as a reporter for CBSNews​.com and the New York Post, and her fea­ture arti­cles have appeared in Men­tal Floss, Salon, the Colum­bia Jour­nal­ism Review, and many oth­ers. She was born in Fres­no, Cal­i­for­nia to a Luther­an father and Jew­ish moth­er and now lives in Brooklyn.