Shu­lamit Rein­harz and Bar­bara Vinick are the edi­tors of the recent­ly pub­lished
Today I Am a Woman: Sto­ries of Bat Mitz­vah around the World
. They will be blog­ging here all week for the Jew­ish Book Coun­cil and MyJew­ish­Learn­ing.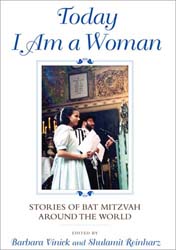 In the few months since our book was pub­lished, women of dif­fer­ent ages have come up to us with sto­ries of their own expe­ri­ences of bat mitz­vah — the cer­e­mo­ny that marks a Jew­ish girl's com­ing of age at 12 or 13. These sto­ries have brought home to us in a per­son­al way the tra­jec­to­ry of Jew­ish wom­en's expe­ri­ence in the last half-cen­tu­ry in the Unit­ed States.
Grand­moth­ers of today's bat mitz­vah girls tell us that bat mitz­vah was not avail­able to them when they were girls. Some resent­ed the dis­crim­i­na­tion against them, as their broth­ers and male class­mates cel­e­brat­ed bar mitz­vah as a high­light of the Jew­ish life­cy­cle; oth­ers didn't par­tic­u­lar­ly care. Although the first bat mitz­vah in the U.S. took place in 1924 in New York City, it took the women's move­ment that re-emerged in the 1960s and ​'70s to enable women to look at their sta­tus anew, to try to cre­ate change, and to pop­u­lar­ize the con­cept of a wom­en's com­ing of age ceremony.
But bat mitz­vah still was­n't anal­o­gous to boys' cer­e­monies. Mid­dle-aged moth­ers tell us that they had their bat mitz­vah cer­e­monies at the syn­a­gogue on Fri­day night, a time when a boy's bar mitz­vah would rarely be held. In this way, the girl could chant the ​"Haftorah," a read­ing from the Prophets, and not from the Torah, the holy scroll that con­tains the five books of Moses, a less­er kind of hon­or. In fact, some­times the read­ing was known mis­tak­en­ly as the ​"half" Torah.
Nowa­days, girls and their moth­ers in Pro­gres­sive branch­es of Judaism take it for grant­ed that the bat mitz­vah will be vir­tu­al­ly the same as a boy's bar mitz­vah. Girls learn how to read from the Torah — not an easy task — and some wear a prayer shawl (tal­lit) dur­ing the cer­e­mo­ny, until recent­ly a male-only pre­rog­a­tive. Reli­gious tran­si­tion is rarely so tan­gi­bly or so swift­ly demon­strat­ed as the gen­er­a­tional change in bat mitz­vah obser­vance from grand­moth­ers to moth­ers to today's bat mitz­vah girls.

Check back here all week to read more from Shu­lamit Rein­harz and Bar­bara Vinick.