Jonathan B. Kras­ner is the author of the Nation­al Jew­ish Book Award win­ning title
The Ben­der­ly Boys and Amer­i­can Jew­ish Edu­ca­tion
.
Kras­ner was also a final­ist for the

2012

Sami Rohr Prize for Jew­ish Lit­er­a­ture. He will be blog­ging here all week for Jew­ish Book Coun­cil and MyJew­ish­Learn­ing.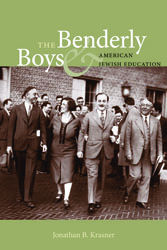 One of the great­est dilem­mas I faced while writ­ing
The Ben­der­ly Boys

&

Amer­i­can Jew­ish Edu­ca­tion
was how to refer to the group of
Jew­ish edu­ca­tors
who were men­tored by New York Bureau of Jew­ish Edu­ca­tion direc­tor Sam­son Ben­der­ly. At first glance the answer seemed decep­tive­ly sim­ple. Ben­der­ly referred to his pro­tégés as my ​
"
boys," and the moniker ​
"
Ben­der­ly boys" was wide­ly used both by mem­bers of the group and their col­leagues in the field.
And yet, the appel­la­tion is prob­lem­at­ic. For one thing, in today's world the term ​
"
boy" or ​
"
girl" when used in ref­er­ence to a grownup has tak­en on a pejo­ra­tive, or at the very least, a pater­nal­is­tic con­no­ta­tion. This usage has large­ly become anachro­nis­tic, a rel­ic of the ​
"
Mad Men" and ​
"
Dri­ving Miss Daisy" era.
More fun­da­men­tal­ly, the term ​
"
Ben­der­ly boys" is mis­lead­ing. Although the major­i­ty of Ben­der­ly's dis­ci­ples were men, the group also includ­ed a num­ber of women. A few attained lead­er­ship posi­tions in schools, com­mu­ni­ty cen­ters, camps and oth­er orga­ni­za­tions. And while most vol­un­tar­i­ly ​
"
retired" after mar­riage or the birth of their chil­dren, a few became career women long before the fem­i­nist rev­o­lu­tion.
Lib­bie Suchoff Berk­son
, for exam­ple, direct­ed Camp Modin, in Canaan, Maine, while
Elsie Simonof­sky Chom­sky
served for many years as the prin­ci­pal of
Gratz Col­lege
​
'
s well regard­ed Hebrew teacher's pro­gram, the School of Obser­va­tion and Prac­tice. Still oth­er women gave up lead­er­ship posi­tions but con­tin­ued to wield influ­ence in the field.
Rebec­ca Aaron­son Brick­n­er
, who served as Ben­der­ly's ver­i­ta­ble right hand dur­ing his ear­ly years at the New York Bureau, offi­cial­ly left edu­ca­tion in
1919
when she mar­ried Rab­bi Bar­nett Brick­n­er. But her influ­ence con­tin­ued to be felt in the reli­gious school of Cleve­land's Euclid Avenue Tem­ple (lat­er called the Fair­mount Tem­ple), where her hus­band spent much of his rab­bini­cal career. Like­wise,
Mamie Gold­smith Gamoran
and
Elma Ehrlich Levinger
pub­lished dozens of reli­gious school text­books, sto­ry­books and oth­er edu­ca­tion­al mate­ri­als years after they sup­pos­ed­ly embraced domes­tic life.
Ben­der­ly, appar­ent­ly, did not hes­i­tate to apply the ​
'
Ben­der­ly boy' appel­la­tion to his female dis­ci­ples. In my book, I dis­cuss the impli­ca­tions of this curi­ous usage. Ben­der­ly reflex­ive­ly used gen­der as a mark­er for his clos­est dis­ci­ples. If you ful­filled his cri­te­ria, which includ­ed study­ing at Colum­bia Teach­ers Col­lege, assum­ing admin­is­tra­tive respon­si­bil­i­ties at the Bureau or one of its affil­i­at­ed schools, and attend­ing his dai­ly, ear­ly morn­ing schmooze ses­sions, you were con­sid­ered one of the boys, regard­less of your anatom­i­cal make-up. Con­tem­po­rary schol­ars, how­ev­er, have been less san­guine about using the term ​
"
Ben­der­ly boys," with some pre­fer­ring gen­der neu­tral terms like ​
"
group" or ​
"
bunch."
The term ​
"
Bureau bunch" was adopt­ed in the
1910
s by the larg­er team of work­ers at the New York Bureau, while the inner cir­cle of dis­ci­ples referred to them­selves as Chay­il , an acronym for the Hebrew phrase ​
"
edu­ca­tion is our nation­al foun­da­tion," and a word mean­ing val­or or virtue. While I inter­sperse the term ​
"
Ben­der­ly group" through­out the book for the sake of vari­ety, I will admit to find­ing nei­ther ​
"
Bureau bunch" nor Chay­il com­pelling. The lat­ter seemed obscure and, in any event, was con­fined in the day to an exclu­sive group of insid­ers. I wished to cast a wider net. The lat­ter, mean­while, was irre­deemably hokey-sound­ing, par­tic­u­lar­ly in the ear of one who was raised on a seem­ing­ly con­tin­u­ous loop of Brady Bunch reruns.
In the end, I decid­ed to stick with ​
"
Ben­der­ly boys," despite its draw­backs, and not mere­ly due to its allit­er­a­tive appeal. For me, the use of the appel­la­tion by Sam­son Ben­der­ly and its embrace by his dis­ci­ples was deci­sive. By retain­ing the term ​
"
Ben­der­ly boys" I felt that I was at once remain­ing true to his­to­ry while also hon­or­ing the mem­o­ries of these men and women. But I did not entire­ly give up on the desire to prob­lema­tize the des­ig­na­tion. That is why I was thrilled to come across a crisp pho­to­graph of Ben­der­ly walk­ing arm in arm with three of his clos­est dis­ci­ples, includ­ing Lib­bie Berk­son, while work­ing at the
Amer­i­can Jew­ish Archives
. I knew imme­di­ate­ly that it need­ed to adorn the book's cov­er. This pho­to of Lib­bie, sur­round­ed by men, but clear­ly accept­ed as a full mem­ber of the Ben­der­ly team, jux­ta­posed with the book's title, is pur­pose­ly dis­cor­dant and meant to induce per­plex­i­ty. Here was a case where a pic­ture could tru­ly speak loud­er than words.
Jonathan B. Kras­ner will be blog­ging here all week.
Jonathan Kras­ner is the Jack, Joseph, and Mor­ton Man­del Asso­ciate Pro­fes­sor of Jew­ish Edu­ca­tion Research at Bran­deis Uni­ver­si­ty. A final­ist for the Sami Rohr Prize in Jew­ish Lit­er­a­ture, he is also a two-time Nation­al Jew­ish Book Award win­ner for The Ben­der­ly Boys and Amer­i­can Jew­ish Edu­ca­tion (2011) and Hebrew Infu­sion: Lan­guage and Com­mu­ni­ty at Amer­i­can Jew­ish Sum­mer Camps (2020).