Ear­li­er this week, Jonathan Kras­ner dis­cussed his use of the word ​"boys" and the mag­ic of sum­mer camp. He has been blog­ging here all week for Jew­ish Book Coun­cil and MyJew­ish­Learn­ing.
I met Peter Beinart in 1999 when he was writ­ing an arti­cle for The Atlantic on Jew­ish com­mu­ni­ty day schools. This was long before he became the bête noire of an anx­ious Amer­i­can Jew­ish estab­lish­ment. He was sit­ting in the front office of The New Jew­ish High School (now Gann Acad­e­my) wait­ing to speak with the school's head­mas­ter, Rab­bi Daniel Lehmann, and we struck up a brief conversation.
I was famil­iar with his byline from The New Repub­lic where he wrote most­ly about Amer­i­can pol­i­tics and for­eign pol­i­cy. Jew­ish edu­ca­tion was well out­side his baili­wick, and I was inter­est­ed in what his angle would be. When the arti­cle was pub­lished a few weeks lat­er it was clear that he was con­flict­ed. He described the school's envi­ron­ment as vibrant, intel­lec­tu­al­ly excit­ing and mild­ly sub­ver­sive (which was meant as a compliment).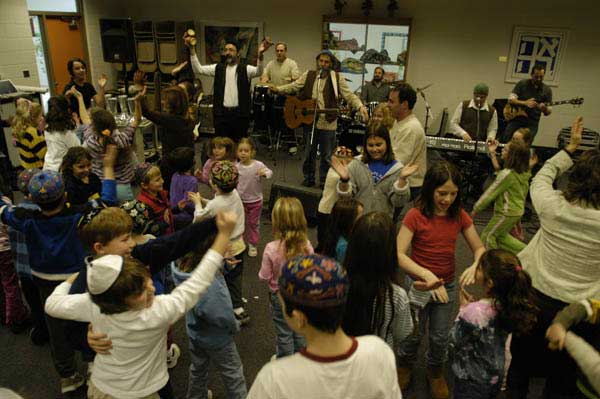 His diag­no­sis of the rea­sons behind the ris­ing sup­port for day school edu­ca­tion among the non-Ortho­dox (a trend that has since lev­eled off) reflect­ed the con­ven­tion­al wis­dom in a com­mu­ni­ty that had long ago end­ed its uncon­di­tion­al love affair with the pub­lic schools and was strug­gling to respond to assim­i­la­tion, a byprod­uct of the excep­tion­al­ly hos­pitable Amer­i­can envi­ron­ment, where Jew­ish­ness was increas­ing­ly a non-issue.
Towards the end of his arti­cle, how­ev­er, Beinart raised a ques­tion about the long term impli­ca­tions of the day school phe­nom­e­non that prob­a­bly made many day school advo­cates squirm. Jew­ish schools like the New Jew­ish High School seemed to be promis­ing it all to their stu­dents. But wasn't it naive to believe that ​"being a fuller Jew need nev­er mean being a less com­plete Amer­i­can"? The growth of day schools was anoth­er nail in the cof­fin of the Amer­i­can melt­ing pot.
Beinart's argu­ment rings true. When mod­ern day schools were on the rise in the 1940s, Jew­ish crit­ics warned that seg­re­ga­tion would hin­der Amer­i­can­iza­tion and con­strain socio-eco­nom­ic advance­ment. Some went as far as ques­tion­ing the patri­o­tism of those who aban­doned the pub­lic schools. Among the more vocif­er­ous oppo­nents of day schools were some mem­bers of the Ben­der­ly group. Sam­son Ben­der­ly, who served as the first direc­tor of the New York Bureau of Jew­ish Edu­ca­tion, from 1910 – 1941, was a stead­fast oppo­nent of day schools. The week­day after­noon Jew­ish school mod­el that he and his dis­ci­ples helped to mod­ern­ize was designed as a third way between the min­i­mal­is­tic Sun­day schools and the sep­a­ra­tionist yeshiv­as. Jew­ish edu­ca­tors must not inter­fere with the Jew­ish child's enthu­si­as­tic inte­gra­tion ​"into the all per­vad­ing and com­pelling life of the Amer­i­can demo­c­ra­t­ic com­mu­ni­ty," one of Benderly's dis­ci­ples, Albert School­man, warned in 1945.
Few peo­ple would make this argu­ment today. Amer­i­can Jews are thor­ough­ly inte­grat­ed into the main­stream of Amer­i­can life. More­over, accord­ing to a recent study con­duct­ed by the Pew Forum on Reli­gious and Pub­lic Life, their earn­ing pow­er exceeds that of any oth­er reli­gious group, with 46% of Jew­ish wage earn­ers bring­ing in over $100,000 per year. Yet day school atten­dance con­tin­ues to come at a social price, even if the impact is subtle.
My anec­do­tal expe­ri­ence both attend­ing and teach­ing at mod­ern Ortho­dox and com­mu­ni­ty Jew­ish day schools sug­gests that many day school grad­u­ates adopt a parochial, eth­no­cen­tric view of the world. Com­plete­ly at home in Amer­i­can pop­u­lar cul­ture and prob­a­bly as con­ver­sant in Amer­i­can pol­i­tics and his­to­ry as their peers who grad­u­ate from the best pub­lic and pri­vate schools, they nev­er­the­less often seem ambiva­lent about their place in Amer­i­can soci­ety. In can­did con­ver­sa­tion many will admit to feel­ing more Jew­ish than Amer­i­can and to priv­i­leg­ing per­ceived Jew­ish inter­ests over Amer­i­can inter­ests. This is par­tic­u­lar­ly true when it comes to mat­ters affect­ing the wel­fare of the State of Israel. Iron­i­cal­ly, it is the flip side of the dis­tanc­ing hypoth­e­sis that Beinart writes about in his con­tro­ver­sial book, The Cri­sis of Zion­ism. These atti­tudes are par­tic­u­lar­ly preva­lent among the mod­ern Ortho­dox, but were also in evi­dence at the two com­mu­ni­ty day schools in which I worked.
I will be the first to admit that this ambiva­lence can­not entire­ly be laid at the doorstep of day schools. Fac­tors such as socio-eco­nom­ic class and geog­ra­phy play an impor­tant role in fos­ter­ing the sense of dis­con­nec­tion. If Jews as a group feel more immune than most to the eco­nom­ic and social con­se­quences of state and fed­er­al gov­ern­men­tal pol­i­cy, day school atten­dance is almost entire­ly beside the point. One must also acknowl­edge that many of the non-Ortho­dox stu­dents enrolled in day schools today would oth­er­wise be attend­ing pri­vate schools rather than their local pub­lic schools. Still, day school stu­dents' lack of expo­sure to peo­ple who dif­fer from them — whether racial­ly, reli­gious­ly or eco­nom­i­cal­ly — makes it dif­fi­cult for them to estab­lish emo­tion­al bonds with oth­er Amer­i­cans and to feel a sense of civ­i­tas and shared destiny.
Some schools have respond­ed with com­mu­ni­ty ser­vice pro­grams, and mitz­vah projects have become a com­po­nent of bar and bat mitz­vah prepa­ra­tion in many syn­a­gogues. These are pos­i­tive signs. But unless they bring kids into reg­u­lar con­tact with peo­ple who are unlike them­selves in ways that human­ize the Oth­er and incul­cate a sense of respon­si­bil­i­ty for the bet­ter­ment of soci­ety, they will be of lim­it­ed val­ue. Cut­ting one's hair for Locks of Love, to cite one pop­u­lar mitz­vah project, is a laud­able and praise­wor­thy ges­ture. But it does not sub­sti­tute for actu­al­ly vol­un­teer­ing with finan­cial­ly dis­ad­van­taged chil­dren. There has been a lot of crit­i­cism in some quar­ters of uni­ver­sal­is­tic tikkun olam pro­grams for inad­e­quate­ly fos­ter­ing a sense of Klal Yis­rael. But in the case of day school stu­dents, the val­ue of peo­ple­hood is con­tin­u­al­ly rein­forced in both the for­mal and hid­den cur­ric­u­la. What is need­ed are oppor­tu­ni­ties for stu­dents to enlarge the bound­aries of their moral communities.
I should empha­size that I make this crit­i­cism as a sup­port­er of day school edu­ca­tion. To acknowl­edge that day schools often fall short when it comes to fos­ter­ing civic virtue is not to deny their salu­tary role in pro­mot­ing Jew­ish iden­ti­ty. Deny­ing one's chil­dren deep and mean­ing­ful expo­sure to the rich­ness of their reli­gious and eth­nic her­itage comes with its own cost. Even as Sam­son Ben­der­ly and Albert School­man extolled the virtues of pub­lic school, oth­er mem­bers of the Ben­der­ly coterie viewed the advent of the mod­ern day school as a net pos­i­tive, an instru­ment for Jew­ish lead­er­ship train­ing. Mas­tery of Judaism's lit­er­ary-cen­tered cul­ture demand­ed a more immer­sive edu­ca­tion­al envi­ron­ment than most sup­ple­men­tary schools were capa­ble of pro­vid­ing, they acknowl­edged. Mod­ern day schools pro­mot­ed Jew­ish lit­er­a­cy with­out sac­ri­fic­ing stu­dents' sec­u­lar edu­ca­tion. More­over, their sched­ules allowed for the uti­liza­tion of con­struc­tivist ped­a­go­gies and Hebrew lan­guage emer­sion. Ben­der­ly and his dis­ci­ples learned the hard way that deploy­ing such edu­ca­tion­al meth­ods in a sup­ple­men­tary school was at best an uphill battle.
Sev­en­ty-five years lat­er these ratio­nales for day schools res­onate with me as they appar­ent­ly do with Beinart. Both of us have kids in day schools. Beinart put the mat­ter forth­right­ly in a recent Wall Street Jour­nal op-ed: ​"Amer­i­can Jews know very lit­tle about Judaism. And it's hard to feel con­nect­ed to some­thing you don't under­stand. The evi­dence is clear that Jew­ish com­mit­ment stems from Jew­ish edu­ca­tion, and by far the most effec­tive pur­vey­ors of Jew­ish edu­ca­tion are full-time Jew­ish schools."
Still, it is a cop out, in my view, to shrug off eth­no­cen­trism as an inevitable con­se­quence of day schools. If we are seri­ous about address­ing the down­side to day school edu­ca­tion we will need to cou­ple our com­mit­ment to day schools with a seri­ous effort to find oppor­tu­ni­ties for our day school chil­dren to have mean­ing­ful social inter­ac­tions with a more diverse pop­u­la­tion and to cul­ti­vate with­in them greater feel­ings of con­nec­tion to the Amer­i­can body politic. This can take the form of com­mu­ni­ty ser­vice projects, neigh­bor­hood sports teams and the­atre troupes, scout­ing, or oth­er non-school based recre­ation­al activ­i­ties. Giv­en our children's extend­ed school days and our own hec­tic sched­ules, this is a tall order. But if we don't act we are wit­ting accom­plices in what Arthur M. Schlesinger called ​"The Dis­unit­ing of America."
Jonathan B. Kras­ner is the author of the Nation­al Jew­ish Book Award win­ning title The Ben­der­ly Boys and Amer­i­can Jew­ish Edu­ca­tion. Kras­ner was also a final­ist for the 2012 Sami Rohr Prize for Jew­ish Lit­er­a­ture.
Jonathan Kras­ner is the Jack, Joseph, and Mor­ton Man­del Asso­ciate Pro­fes­sor of Jew­ish Edu­ca­tion Research at Bran­deis Uni­ver­si­ty. A final­ist for the Sami Rohr Prize in Jew­ish Lit­er­a­ture, he is also a two-time Nation­al Jew­ish Book Award win­ner for The Ben­der­ly Boys and Amer­i­can Jew­ish Edu­ca­tion (2011) and Hebrew Infu­sion: Lan­guage and Com­mu­ni­ty at Amer­i­can Jew­ish Sum­mer Camps (2020).