Ear­li­er this week, Kathy Ebel wrote about Nice Jew­ish Girl pro­tag­o­nists from New York City. Her first nov­el, Clau­dia Sil­ver to the Res­cue (Houghton Mif­flin Har­court), is now avail­able. She will be blog­ging here all week for Jew­ish Book Coun­cil and MyJew­ish­Learn­ing.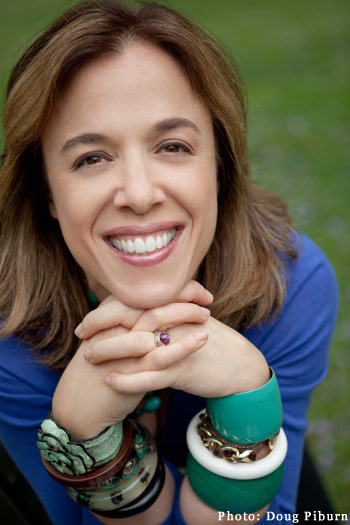 "Ashke­nazi." ​"Sephardic." As a kid, wan­der­ing around the kid­dish recep­tion at our shul col­lect­ing cel­lo­phane ruf­fle-topped tooth­picks in a plas­tic cup, I heard these terms bandied far above my head by adults and had no idea what they meant. Were these lan­guages? Politi­cians? Street gangs, like in West Side Sto­ry? As a first-gen­er­a­tion Amer­i­can and the daugh­ter of Ger­man-Jew­ish refugees, I was pret­ty sure these mys­te­ri­ous terms didn't have any­thing to do with me. We were Jews who kept kosher and went to shul, but we didn't eat or do the things that seemed offi­cial­ly Jewy, like, Fid­dler on the Roof-Jewy. My sin­gle moth­er didn't bake kugel, or encir­cle the flames of the Shab­bat can­dles with her hands when she made her bra­chot, or bob­by pin a white nylon doily to the back of her head for ser­vices (nor would she have dreamed of wear­ing a kip­pah like some of her friends from her Con­scious­ness Rais­ing group). My moth­er used no Yid­dishims in her speech, oth­er than ​"shul" and ​"schlep" and, while curs­ing oth­er dri­vers, ​"schmuck." I wasn't sent to Jew­ish sleep­away camp to meet my future spouse or brides­maids or employ­ers. And on Christ­mas Day, we did not go to the movies or eat Chi­nese food.
What I did know, always, was that we were Ger­man, from old fam­i­lies. We ate our piz­za with a knife and fork. We liked marzi­pan, in whim­si­cal shapes like fried eggs and, yes, piglets. We wore pinky rings stamped with a fam­i­ly crest based on the cor­po­rate logo of my indus­tri­al­ist ances­tors' met­als busi­ness. We kept glass bot­tles of 4711 eau de cologne in the bath­room. Phras­es like ​"yeah" and ​"okay" were frowned upon.
Some­how, I had always known the name of the enor­mous lime­stone home my pater­nal grand­fa­ther owned in Antwerp, where his own busi­ness was based: it was ​"the Rue Rem­brandt," where my grand­par­ents lived as new­ly­weds among my grandmother's extend­ed fam­i­ly, sev­er­al of whom, so deeply ensconced in their enclosed world of priv­i­lege, fate­ful­ly delayed their own depar­tures from Europe and were mur­dered dur­ing the Shoah. As a lit­tle kid in the 1970's, I had no real idea what this all meant, but a deep­er idea was com­mu­ni­cat­ed. We were not entire­ly Amer­i­can, not entire­ly home, and need­ed to keep our ties to the past alive, because that's where our impec­ca­ble pedi­gree – and our ghosts – were housed.
My beloved grand­moth­er, whom we all called Moumie, was a woman of great style, in the tra­di­tion of a cer­tain kind of tai­lored Euro­pean lady. She had returned to Europe after the War. She wore shirt­waist dress­es and low-heeled pumps, with a well-tied silk scarf and a leather purse held in the crook of her arm. She had a knack for arrang­ing flow­ers, wrap­ping gifts, dash­ing off delight­ful note cards, and host­ing sim­ple, ele­gant after­noon teas. She lived in The Hague, and came to vis­it once a year, at Pesach. One after­noon, it occurred to me that she might pos­sess the answer to the ques­tion burn­ing in my mind.
"Moumie," I asked her. ​"What's the dif­fer­ence between Ashke­nazi and Sephardic?"
"Ah," she replied, with a sage nod, as though she had been wait­ing for this one. Her expres­sion, as it often did, drift­ed into an ele­gant rever­ie. ​"In the Rue Rem­brandt, our house­keep­er was Ashkenazi."
Many years lat­er, when craft­ing the char­ac­ter of Clau­dia Sil­ver in my debut nov­el, Clau­dia Sil­ver to the Res­cue, I dug in to my expe­ri­ences of class, race and his­to­ry. The per­cep­tions and inner life of the char­ac­ter of Edith Mendelssohn, Claudia's indomitable moth­er, are shaped by her refugee expe­ri­ences and the grip of mem­o­ry. Clau­dia, mean­while, is com­ing of age in a hous­ing project neigh­bor­hood in Brook­lyn on the cusp of gen­tri­fi­ca­tion in the late 1980's. Clau­dia is tuned in to the ten­sion and the cross-pol­li­na­tion that ris­ing prop­er­ty val­ues in her neigh­bor­hood bring. And she is simul­ta­ne­ous­ly imprint­ed by a trag­ic fam­i­ly his­to­ry from which she is one gen­er­a­tion removed. Claudia's respon­si­bil­i­ty, like it or not – and mine – is to stay engaged with that his­to­ry. When it comes to the recent dis­as­ters of our civ­i­liza­tion – Amer­i­can slav­ery and the Holo­caust among them – one gen­er­a­tion removed is not much time at all.
Many years after my Grand­moth­er didn't explain what Ashke­nazi meant, I laugh­ing­ly re-told this sto­ry to my friend Dov dur­ing a kid­dish lunch at IKAR, our Los Ange­les shul. He's Israeli.
"Ah-ha!" he exclaimed. ​"So you're a Yekke!"
"A Yekke? What's that?" I asked, nev­er hav­ing heard that one before.
"A snob," he replied.
Kathy Ebel, a first-gen­er­a­tion Amer­i­can, was born in Man­hat­tan. Her blog, Father­land: There's No Place Like Home, or How and Why a Nice Jew­ish Girl Asked Ger­many to Take Her Back, chron­i­cles her quest to have her Ger­man cit­i­zen­ship restored. Kathy con­sid­ers Brook­lyn her home­town and cur­rent­ly lives with her fam­i­ly in Los Ange­les. Clau­dia Sil­ver to the Res­cue (Houghton Mif­flin Har­court) is her first novel.