Kathy Ebel
, a first-gen­er­a­tion Amer­i­can, was born in Man­hat­tan. Her blog,
Father­land: There's No Place Like Home, or How and Why a Nice Jew­ish Girl Asked Ger­many to Take Her Back
, chron­i­cles her quest to have her Ger­man cit­i­zen­ship restored. Kathy con­sid­ers Brook­lyn her home­town and cur­rent­ly lives with her fam­i­ly in Los Ange­les.
Clau­dia Sil­ver to the Res­cue
(Houghton Mif­flin Har­court) is her first nov­el. She will be blog­ging here all week for Jew­ish Book Coun­cil and MyJew­ish­Learn­ing.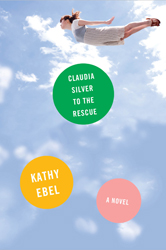 I think of Clau­dia Sil­ver, the epony­mous hero­ine of my debut nov­el, Clau­dia Sil­ver to the Res­cue, as one in an anx­ious, spir­it­ed line of Nice Jew­ish Girl pro­tag­o­nists from New York City. This lin­eage starts with Lily Bart, Edith Wharton's A‑list flib­ber­ti­gib­bet in The House of Mirth, then moves on to Her­man Wouk's Mar­jorie Morn­ingstar (who put up with that scoundrel Noel Airman's hijinks for about 100 riv­et­ing pages too long), Gail Parent's Sheila Levine (if only 30 had been the new 20 in 1972), Eri­ca Jong's Isado­ra Wing, and Melis­sa Bank's Jane Rose­nal. Yes, I know that Lily Bart wasn't Jew­ish. But if only she'd mar­ried Simon Rosedale! (Sob! Gnash­ing of teeth! She could've giv­en him a make-under!)
Clau­dia Sil­ver pos­sess­es some key traits that con­nect her to her lit­er­ary sis­ters. She's got a loud speak­ing voice and wob­bly self-worth, she finds com­fort in self-destruc­tive habits and rela­tion­ships, and she's par­a­lyzed by her own ambiva­lence. She's help­ful and self­ish, fierce and vul­ner­a­ble. She's got a keen sense of class and caste, rank­ing her­self ruth­less­ly in any giv­en social sit­u­a­tion. She knows how to dance, and how to acces­sorize. But unlike Lily and Mar­jorie, whom I adore, but let's face it, whether it's in the back of a hat shop or low­er Westch­ester, they both die from denial, Clau­dia wakes up. And she does so along a par­tic­u­lar­ly Jew­ish continuum.
It's when Clau­dia hears her ill-fat­ed soon-to-be-para­mour, Paul Tate, recite the she­hecheyanu prayer as grace over an assim­i­lat­ed Christ­mas din­ner, that her inter­est in him shifts, fate­ful­ly. Once Claudia's actions cause a mul­ti-fam­i­ly train-wreck, she becomes aware that she has one chance to make it right – and that's to under­take ​"teshu­vah" – the hum­ble pur­suit of repen­tance. Now, I don't know how the Ram­bam or Rav Kook or even my own Los Ange­les rab­bi, Sharon Brous, would define teshu­vah. (Per­son­al­ly, I plucked my def­i­n­i­tion from the low hang­ing branch on the tree of knowl­edge known as Wikipedia.) But Clau­dia acknowl­edges her pro­found mis­deed with humil­i­ty, fess­es up, will remem­ber this one for the rest of her life, and even though there's no sequel in the works, I promise you, dear read­er, that she will refrain from com­mit­ting this one in the future. In fact, once Clau­dia Sil­ver accounts for her actions, she's pro­pelled for­ward to growth and emo­tion­al matu­ri­ty. She march­es straight into a pos­si­bly dan­ger­ous social event and yanks her younger sis­ter free of it, apol­o­gizes sin­cere­ly to the Nice Jew­ish Boy Who Was There All Along and gets her love life on track, and even reunites with moth­er despite a dug-in estrange­ment. And none of this could have hap­pened if Clau­dia hadn't made the worst mis­take of her life.
It's my firm belief and my per­son­al expe­ri­ence that pat­terns run through fam­i­lies faster than we can usu­al­ly stop them, which is why we need both spir­i­tu­al prac­tice and lit­er­a­ture – so that a wis­dom greater than our own can escort us, lov­ing­ly, to aware­ness and even­tu­al­ly, to change. And it's my opin­ion that Lily and Mar­jorie made huge freakin' mis­takes. Do I need to tell you that if Mar­jorie Morn­ingstar had under­stood what Wal­ly Wronken tru­ly had to offer, she might've been at the TONY Awards last week in Calvin Klein? Pos­si­bly with Calvin Klein? Giv­en her lin­eage, Clau­dia was pow­er­ful­ly teed up to repeat his­to­ry. But hav­ing read her Whar­ton and her Wouk, she, through me, made a dif­fer­ent choice. And as a result, the biggest mis­take Clau­dia Sil­ver ever made is the best thing that ever hap­pened to her.
Find out more about Kathy Ebel and Clau­dia Sil­ver to the Res­cue here.