Ear­li­er this week, Roy­al Young dis­cussed his deci­sion to change his name, inter­viewed his grand­par­ents, and wrote about his par­ents' reac­tion to his debut mem­oir
Fame Shark
. He has been blog­ging here all week for Jew­ish Book Coun­cil and MyJew­ish­Learn­ing.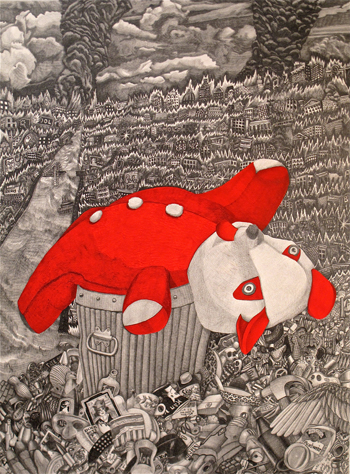 My father's art­work was always how I made sense of the world around me. The some­times scary, ghet­to Low­er East Side I grew up in was beau­ti­ful, inter­est­ing and safe when shad­ed by his paints. His devo­tion to his art­work, but also cre­ative, com­pas­sion­ate par­ent­ing inspired me ear­ly on to pur­sue my own artis­tic pas­sions. I would sit in Dad's sun drenched stu­dio dic­tat­ing sto­ries about sui­ci­dal whales before I could write.
Dad encour­aged my taste for tragedy and dra­ma by read­ing me bed­time sto­ries beyond my years. With me in the cozy crook of his flan­nel arm, under soft yel­low lamps he turned the pages and read ten year-old me Dos­toyevsky's Crime and Pun­ish­ment, Of Human Bondage by Som­er­set Maugh­am, Dickens's Great Expec­ta­tions and Mil­dred Pierce by James M. Cain. These guilty, lone­ly, deca­dent, sex­u­al sto­ries were a daz­zling escape from the Low­er East Side of the ear­ly ​'90s. They infuse my writ­ing to this day.
I also got my fas­ci­na­tion for celebri­ty from my artist father. He was intrigued by what fame stood for; the lev­els of lux­u­ry, artis­tic recog­ni­tion and hap­pi­ness Amer­i­cans believed it could get you. Yet, his was an outsider's stance. He felt more com­fort­able around the edges. The works which gained him news­pa­per write-ups and radio inter­views were skull shaped masks of Amer­i­can con­ser­v­a­tives, peo­ple he felt prop­a­gat­ed the unfair con­ser­va­tion of mon­ey and pow­er. These death heads, wild­ly col­or­ful in papi­er-mâché ranged from Nan­cy Rea­gan and George Bush Senior to Arnold Schwarzeneg­ger and Andy Warhol.
And though, as a wild teenag­er I would throw myself right into this celebri­ty world my father so mis­trust­ed, it was the lov­ing foun­da­tion he had laid for me that ulti­mate­ly saved me. There is always a dance between an artist's ego as pro­ject­ed into their work and their own per­son­al feel­ings of self-worth. Dad taught me that fam­i­ly was the most impor­tant ground­ing influ­ence and through­out my young career as a writer it has been fam­i­ly that has con­stant­ly inspired me and brought me back down to earth when old streaks of mega­lo­ma­ni­a­cal mad artistry threat­ened to take over my true sense of self.
Though, it hadn't helped to often be my father's mod­el as a child. See­ing myself front and cen­ter both in the work of the Dad I loved but also hang­ing on gallery walls and pub­lic murals all over New York City was a heady expe­ri­ence; a seduc­tive taste of celebri­ty that would lat­er com­plete­ly con­sume me.
Here, my moth­er, younger broth­er and I walk across Delancey Street: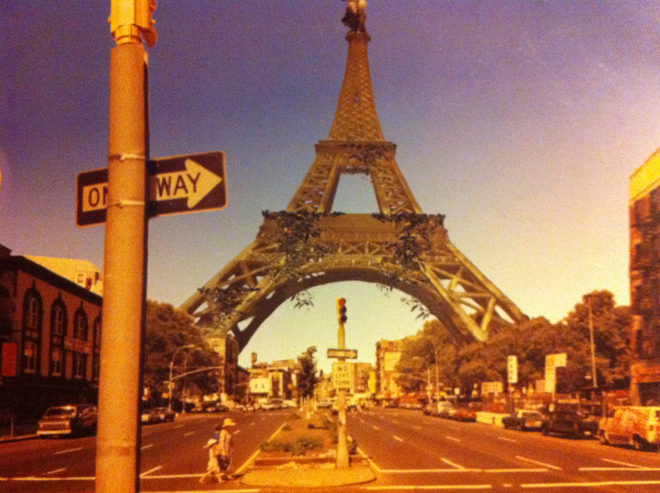 My father took the pho­to­graph and had a mon­u­ment mod­eled after the Eifel Tow­er super­im­posed in the back­ground. This was part of a pro­pos­al by com­mu­ni­ty artists to cre­ate ambi­tious pieces for the Low­er East Side. My father's idea was for a mas­sive memo­r­i­al ded­i­cat­ed to the lives of Jew­ish immi­grant women lost in the Tri­an­gle Shirt­waist Fac­to­ry Fire. These were more inno­cent days, pre-gen­tri­fi­ca­tion when the whole world didn't dream of adulation.
Roy­al Young's debut mem­oir Fame Shark will be released June 2013 from Heliotrope Books. Young con­tributes to Inter­view Mag­a­zine, New York Post, BOMB Mag­a­zine and The Lo Down.
Roy­al Young | Jew­ish Book Coun­cil Roy­al Young's debut mem­oir
Fame Shark
will be released June
2013
from Heliotrope Books. Young con­tributes to Inter­view Mag­a­zine, New York Post,
BOMB
Mag­a­zine and The Lo Down.