Ear­li­er this week, Roy­al Young wrote about his par­ents' reac­tion to his debut mem­oir Fame Shark. He will be blog­ging here all week for Jew­ish Book Coun­cil and MyJew­ish­Learn­ing.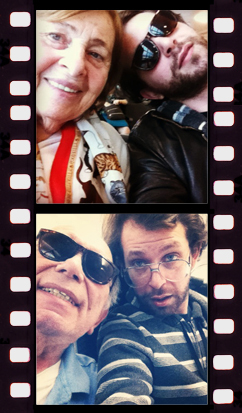 My mater­nal grand­moth­er fought to escape her Low­er East Side. My Bab­bi was born in 1932 and raised on Pitt Street and Hous­ton, a few blocks from where I would grow up years lat­er. She was the daugh­ter of Ortho­dox Aus­tri­an immi­grants who came through Ellis Island in 1919 with thou­sands of oth­er dis­placed Jews, gaz­ing in awe at the Stat­ue of Lib­er­ty from the steer­age deck of a third-class freighter.
The Low­er East Side of the ​'30s was an East­ern Euro­pean shtetl trans­plant, an unruly Jew­ish vil­lage strug­gling through the end of the Depres­sion. Its ten­e­ments teemed with immi­grants who prac­ticed wild cus­toms — match­mak­ing, inter­pret­ing proph­e­sies from dreams— that they'd import­ed with sil­ver meno­rahs hid­den under rags dur­ing the ocean passage.
My hand­some grand­fa­ther had a bach­e­lor pad on Hen­ry Street before he was a Zayde. They met when he taught my Bab­bi art and their hearts filled over many hours devel­op­ing pho­tographs in dim dark­rooms. Images of her from that time are coy and strik­ing, he bold and laugh­ing. Their eyes gleam for adven­ture, con­quest, love, glo­ry, knowledge.
To this day my grand­par­ents teach me about lov­ing ful­ly, they have always ful­ly believed in my writ­ing, encour­aged me to pur­sue it no mat­ter what the odds. In a career filled with rejec­tion, this fight­ing spir­it buoyed me. Their beau­ti­ful old home in Long Island with a swim­ming pool and lush gar­den is my refresh­ing escape from the down­town New York hus­tle I still live in. Their wis­dom, tenac­i­ty and verve inspire me every day and so I decid­ed to sit down with them before the pub­li­ca­tion of my mem­oir Fame Shark and talk about their first meet­ing, per­for­mance as love, com­pe­ti­tion, what art means to them, and the per­ils and plea­sures of celebrity.
Roy­al: What was your sense of your­selves in the city when you were grow­ing up?
Bab­bi: I was a very hap­py child because my fam­i­ly was a hap­py fam­i­ly. Every Shab­bos we would go to shul togeth­er, every­one. Then out to a beer gar­den and we would have drinks and chick­peas. The chil­dren used to play with each oth­er and laugh and we were all dressed up as beau­ti­ful dolls.
Roy­al: Yet, your fam­i­ly also had idio­syn­crasies. Your moth­er would feed drunks on the Bowery.
Bab­bi: That's right. My mom was very inter­est­ing from the point of view of her human­i­ty. If my moth­er saw any­one who even looked hun­gry she would imme­di­ate­ly give them food or make me go down to give them bread. Crazy peo­ple used to come to our apart­ment and knock on the door.
Roy­al: Did you feel stuck in the Low­er East Side?
Bab­bi: No, I was always an adventurer.
Zayde: When I was sent off from home in Philadel­phia to go to yeshi­va in New York, I was expect­ed to man­age my own affairs at the age of 15. In my ten­e­ment I had a room with a win­dow but it didn't look out­side. It looked into anoth­er room. I didn't last there very long. But we survived.
Roy­al: You both always had a huge inter­est in arts. Do you think that helped you see that there was a larg­er world out there?
Zayde: Oh, yeah! Unbelievably.
Bab­bi: Oh yes and my moth­er was a dress­mak­er, she made clothing.
Zayde: You would call her a styl­ist these days [laughs].
Bab­bi: Okay, well she also helped heavy­set women to fit into their cloth­ing. We would sneak away to go to the muse­ums or look at art in the win­dows of Coop­er Union.
Zayde: My father lured me to leave for New York by tak­ing me to the Edu­ca­tion­al Alliance art school.
Bab­bi: And then he end­ed up being a teacher there and I con­vinced my moth­er to sign me up for class­es. She would say it was the best fif­teen cents she ever spent.
Roy­al: How do you feel about the changes in the Low­er East Side?
Zayde: Inevitable. In many ways regrettable.
Roy­al: What does per­for­mance mean to you in your life?
Bab­bi: I was cer­tain­ly a per­former as a pro­fes­sor. I enjoyed that aspect of it.
Zayde: My father was a can­tor, I used to spend my hours lis­ten­ing to him rehearse for his per­for­mances in the syn­a­gogue. He sang his heart out. In addi­tion to study­ing art and art his­to­ry for many years, I also had a career as a rab­bi and you have to real­ize you are a per­former when you lead a congregation.
Bab­bi: For me I also think it was about com­pe­ti­tion. I had so many oth­er chil­dren to com­pete with like my twin sis­ters, that I felt I had to act things out to gain attention.
Zayde: I trans­lat­ed my father's mem­oirs from Yid­dish and I would read them aloud. This too was a kind of act­ing per­for­mance. I put my soul into try­ing to recre­ate what my father had lived through.
Roy­al: Inter­est­ing that per­for­mance is equat­ed to emo­tion­al con­nec­tion. You want love, atten­tion or under­stand­ing and in order to get those things you have to act out.
Bab­bi: Yes, of course you do. I could per­form in front of my rel­a­tives all the time and I got presents for it, good food, nice cook­ies [laughs].
Roy­al: [laughs] So you had to sing for your supper!
Bab­bi: Yes.
Zayde: It's not a com­pul­sion, but it's very satisfying.
Roy­al: But for you per­for­mance is not equat­ed with fame. I think for the mod­ern men­tal­i­ty it is.
Bab­bi: For me, per­for­mance is equat­ed with love.
Roy­al: How do you feel about fame?
Zayde: Fame can be a ter­ri­ble bur­den. It could hang around your neck. Be care­ful what you wish for when you wish for fame. The striv­ing for fame can over­whelm you.
Roy­al: Now every­one knows about celebrity.
Zayde: [laughs] Yes, ever since Andy Warhol say­ing every­one was enti­tled to fif­teen min­utes of fame. I don't agree with fame for its own sake. If you are tal­ent­ed and work and receive recog­ni­tion for your art, fine. That's about as far as I go. I like to feel peo­ple can appre­ci­ate what I offer, but it's the offer­ing of it that is more impor­tant than receiv­ing accolades.
Bab­bi: Not celebri­ty, but the impor­tant lev­el is that peo­ple rec­og­nize you do good work. If you know who you are and can project that, it's so much bet­ter for you. Peo­ple will lis­ten to you if you know who you are.
Roy­al Young's debut mem­oir Fame Shark will be released lat­er this month from Heliotrope Books.
Roy­al Young | Jew­ish Book Coun­cil Roy­al Young's debut mem­oir
Fame Shark
will be released June
2013
from Heliotrope Books. Young con­tributes to Inter­view Mag­a­zine, New York Post,
BOMB
Mag­a­zine and The Lo Down.