On Mon­day, Francesca Segal wrote about recast­ing a clas­sic nov­el. She will be blog­ging here all week for Jew­ish Book Coun­cil and MyJew­ish­Learn­ing.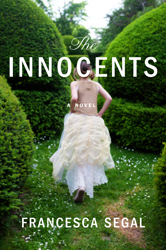 It's amaz­ing how many North Lon­don­ers have tak­en me aside in a furtive, con­spir­a­to­r­i­al kind of man­ner, in order to ask me for the truth. ​'Go on,' a new acquain­tance might urge, with­in moments of our meet­ing, ​'you can tell me. Who is it based on? Who are they real­ly? I won't tell any­one.' Many peo­ple share the con­vic­tion that fic­tion must draw its cast mem­bers, if not its sto­ry lines, from the writer's own life, and that con­vic­tion seems to be redou­bled when the fic­tion in ques­tion takes place in a spe­cif­ic, famil­iar world. I grew up in Gold­ers Green, a small Jew­ish sub­urb in North Lon­don, and my nov­el The Inno­cents is set near­by, in Hamp­stead Gar­den Sub­urb. Per­haps it was there­fore inevitable.
The truth, how­ev­er, is less scan­dalous. My fic­tion is just that – fic­tion – as are my char­ac­ters. I have lived in north-west Lon­don for almost my whole life, dur­ing which I have had more than three decades to make a fond, if some­times exas­per­at­ed study of its nuances, its cli­mate, its res­i­dents. North Lon­don and I are old, old friends. And so Adam and Rachel are tru­ly based on no one in par­tic­u­lar, because each is based on a hun­dred peo­ple – just as they are formed, like any char­ac­ter in fic­tion, from who-knows-what pre­oc­cu­pa­tions dredged from the murky bot­tom of my psy­che. Rather than sim­ply to cre­ate por­traits of peo­ple one knows in real life, the fan­tas­tic joy and lib­er­a­tion of writ­ing is to spend time in the com­pa­ny of the new peo­ple one has invent­ed, and to dis­cov­er what will hap­pen to them.
Vis­it Francesca Segal's offi­cial web­site here and join

JBC

on July

16

th for a Twit­ter Book Club con­ver­sa­tion with Francesca.
Francesca was born in Lon­don in
1980
. Brought up between the
UK
and Amer­i­ca, she stud­ied at St Hugh's Col­lege, Oxford, before becom­ing a jour­nal­ist and writer. Her work has appeared in
Gran­ta
,
Newsweek
, the
Guardian
, the
Finan­cial Times
, and
Vogue
UK
and
US
, amongst many oth­ers. She has been a fea­tures writer at
Tatler
, and for three years wrote the Debut Fic­tion col­umn in the
Observ­er
.
The Inno­cents
won the Jew­ish Book Award for Fic­tion and the Sami Rohr Prize for Jew­ish Lit­er­a­ture in
2013
.