Matthue Roth​'s first book, Nev­er Mind the Gold­bergs, was a NYPL Best Book for the Teen Age and an ALA Best Books nom­i­nee. His lat­est is The Gob­blings, illus­trat­ed by Rohan Daniel Eason. By day, he's a video game design­er. He will be blog­ging here all week for Jew­ish Book Coun­cil's Vis­it­ing Scribe series.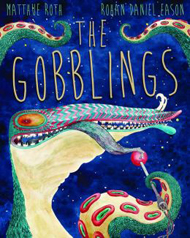 The first time I tried to explain where I found the idea for my new pic­ture book The Gob­blings, I had to start and restart a few times. I was wrestling with all these Big Ideas, ideas which included:
The night­ly parade of fairy pen­guins from the Aus­tralian coastline
Being sep­a­rat­ed from your friends, and semi-strand­ed in a coun­try where the only peo­ple you knew were your par­ents, who did­n't under­stand you (actu­al­ly, for me, my in-laws, who were real­ly valiant and tried hard but still most­ly did­n't under­stand me)
Is it pos­si­ble to be friends with robots?
And a bunch more things. I wrote a blog post about my moti­va­tions, called it ​"I Stole a Sto­ry from the Baal Shem Tov," and tied it up as nar­ra­tive­ly neat­ly as I could.
But the essence of The Gob­blings was an ear­ly Hasidic folk­tale called ​"The Alef-Bet" (or ​"The Alef-Bais" for you old school­ers). It's a quick one, so let me tell it here:
The Alef-Bais
On Yom Kip­pur night, a boy wan­ders into a syn­a­gogue. He does­n't know how to pray, he does­n't know Hebrew; all he knows is the Hebrew alpha­bet. So he recites that and hopes the let­ters will rearrange into the right words. At the end of the sto­ry, they do, and his prayers not only give him a good year, but they also save every­one else in the whole synagogue.
Nice, right? I always loved the sto­ry, and it also freaked me out. Like, what was a boy doing wan­der­ing alone into syn­a­gogue? Why did­n't he just pray in what­ev­er words he under­stood? But I also real­ly under­stood it, because it felt like every­body's expe­ri­ence pray­ing. We're all alone. We're all shout­ing out to some­one who might not be there. We don't real­ly know what to ask for — I mean, a nice house and mon­ey and a suit­case full of Legos would be cool, but none of us knows what we tru­ly need.
Writ­ers are sadists. I first imag­ined Her­bie, and every­thing came to me in a rush — his lone­li­ness, his sense of explo­ration, the fact that, if he were on a space sta­tion, he'd instant­ly try to find all these secret rooms and make robot friends. And for every thought I had, there was an equal and oppo­site thought of: How do we show this in the clear­est, best?
And the answer is always: You throw your char­ac­ter — your new cre­ation; the thing you love most in the world — in front of the bus.
When I want to show how much Her­bie cares about his friends, I make him iso­lat­ed and alone. To show his cre­ative spir­it and his inge­nu­ity, I put him in a place where there's noth­ing to do and force him to build his own robots. When I want to show him at his best and most hero­ic, I try to break him.
I'm pret­ty sure that lit­er­ary the­o­ry is not the way that the Baal Shem Tov wrote ​"The Alef-Bais." But that's exact­ly what hap­pens in it, right? The name­less child has no one, so he shows up to the syn­a­gogue. He isn't on the intel­lec­tu­al or cul­tur­al lev­el of the con­gre­ga­tion, so he isn't giv­en a prayer­book or a kind word. He does­n't know how to pray, but it is the want­i­ng to pray itself that reg­is­ters as the deep­est and most effec­tive prayer.
Writ­ers are sadists. And I occa­sion­al­ly do feel real­ly guilty about this. (I also occa­sion­al­ly get some real­ly won­der­ful and lov­ing let­ters from read­ers who think I'm an absolute bas­tard for doing these things to my char­ac­ters.) But if the Baal Shem Tov did it, then maybe it's not all bad? And maybe — maybe — I'm not all bad, either.
Matthue Roth lives in Brook­lyn with his fam­i­ly and keeps a secret diary at matthue​.com
Relat­ed Content:
Matthue Roth's newest book is My First Kaf­ka: Rodents, Run­aways, and Giant Bugs, a pic­ture book, which will be released in June
2013
. His young-adult nov­el Losers was just made a spe­cial selec­tion of the Amer­i­can Library Asso­ci­a­tion. He lives in Brookyn with his fam­i­ly and keeps a secret diary at www​.matthue​.com.