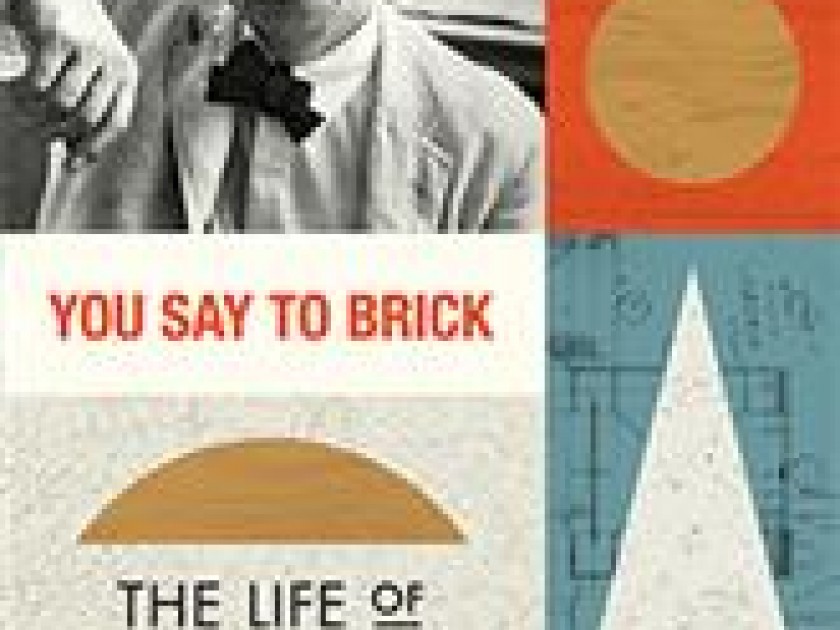 Wendy Less­er is the author of You Say to Brick: The Life of Louis Kahn. Wendy is guest blog­ging for the Jew­ish Book Coun­cil all week as part of the Vis­it­ing Scribe series here on The ProsenPeo­ple.
As usu­al with my books, there is a long sto­ry and a short sto­ry. The long sto­ry begins many decades ago, when I was in high school and a fam­i­ly friend, an archi­tect, made me think that archi­tec­ture was a great career. Grad­u­al­ly this mor­phed into an inter­est in city plan­ning, and by the end of high school I was work­ing for a city plan­ner's office in San Francisco.
In col­lege my focus shift­ed to lit­er­a­ture, but I was still suf­fi­cient­ly inter­est­ed in the ear­li­er top­ic to write my under­grad­u­ate the­sis on a turn-of-the-cen­tu­ry Scot­tish city plan­ner named Patrick Ged­des. Like Louis Kahn, the sub­ject of my biog­ra­phy You Say to Brick, Ged­des was a vision­ary, a man way ahead of his time, who spoke in his own pecu­liar lan­guage about things that mat­tered deeply.
Fast for­ward to 2003, when Nathaniel Kah­n's won­der­ful movie, My Archi­tect, came out. Though by this time I had seen and admired the two art gal­leries Kahn designed at Yale, I had­n't real­ly focused on the archi­tect him­self until I saw Nathaniel's film about his father. It is a ter­rif­ic doc­u­men­tary, deserved­ly nom­i­nat­ed for an Acad­e­my Award. I loved it for what it did with the essay-film form, but I also found myself attract­ed to the sub­ject him­self. Kah­n's per­son­al life was fas­ci­nat­ing — he had three dif­fer­ent chil­dren with three dif­fer­ent women, even as he remained mar­ried to the moth­er of the old­est — and so were the glimpses of his archi­tec­ture the film offered. I saw the movie twice in the year it came out (no easy thing to do, in those pre-stream­ing years), but still it nev­er occurred to me that I might some­day write about Louis Kahn myself.
Now for the short sto­ry. I was cast­ing about for a new book idea, and in Novem­ber of 2012, on a casu­al Sun­day walk, I hap­pened to vis­it the Franklin D. Roo­sevelt Four Free­doms Park on Roo­sevelt Island in New York. The minute I set foot on the mon­u­ment — designed by Kahn in 1973, but left unfin­ished when he died in 1974 and not com­plet­ed until 2012, near­ly four decades lat­er — I real­ized I had a new sub­ject. The struc­ture spoke direct­ly to me about open­ness and con­tain­ment, about free­dom and restraint, with the kind of expres­sive but non-ver­bal com­mu­ni­ca­tion one can find in arts like archi­tec­ture, paint­ing, music, and dance. I had known from Nathaniel's movie that his father led an unusu­al life — excel­lent mate­r­i­al for a biog­ra­phy — but what real­ly got me inter­est­ed in writ­ing the book was my for­tu­itous encounter with one of Kah­n's masterworks.
As my research wore on, I dis­cov­ered so many inter­est­ing new facts about Kah­n's life that at times I joked, ​"Maybe I should ignore the archi­tec­ture and just write about the life." And I did, in the end, man­age to fit most of those intrigu­ing dis­cov­er­ies into the book. Through it all, my admi­ra­tion for the archi­tec­ture con­tin­ued to grow. I vis­it­ed all the sites of his mas­ter­pieces — from the Salk Insti­tute in La Jol­la to the Nation­al Assem­bly Build­ing of Bangladesh in Dha­ka — and the more of Kah­n's work I saw, the more I loved it — and the hap­pi­er I was to write about it.
A skep­tic might inter­rupt me at this point to ques­tion: what does a lit­er­ary per­son know about archi­tec­ture? How did you ever have the chutz­pah to write about a tech­ni­cal field like that?
Well, I do have a lot of chutz­pah. Pre­vi­ous books of mine have been about a lawyer han­dling a death-penal­ty case, a the­ater direc­tor's meth­ods, and a com­poser's life — and I prob­a­bly know less about law, dra­ma, and music than I do about archi­tec­ture. (That's true of all of us, I would guess, since we all live in and sur­round­ed by archi­tec­ture, using it every day.) But my real jus­ti­fi­ca­tion for ven­tur­ing onto this ground is to try to explain things in non-tech­ni­cal terms to oth­er peo­ple like me, peo­ple who don't have a degree in archi­tec­ture but still find its works and process­es entranc­ing. So, for instance, when I met with Kah­n's con­crete con­sul­tant, Fred Lang­ford, or his engi­neer, Nick Gianop­u­los, to find out how they con­tributed to the col­lab­o­ra­tive enter­prise, I would say, ​"Wait, Fred, tell me that about that form con­struc­tion again, but in lan­guage I can under­stand," or, ​"Hold on, Nick, what do you mean by ​'par­al­lel cant­ed joists'?" In each case, I would be ren­der­ing into Eng­lish — my lan­guage, our lan­guage — the tech­ni­cal secrets that lay behind Kah­n's mag­nif­i­cent works.
Oh, and the weird title? It comes from a sto­ry Kahn often used to tell: ​"You say to brick, What do you want, brick? And brick says: I like an arch. And you say: But I could put in a con­crete lin­tel and it would be much cheap­er. What do you think of that, brick? And brick says: I like an arch." That sense of resis­tance to out­side advice, of remain­ing true to one's essence in the face of all obsta­cles, was what I found not only in the mate­ri­als Louis Kahn lov­ing­ly used, but in the man himself.
Wendy Less­er is an Amer­i­can crit­ic, nov­el­ist, and edi­tor based in Berke­ley, Cal­i­for­nia. She is a mem­ber of the Amer­i­can Acad­e­my of Arts and Sci­ences and the found­ing edi­tor of The Three­pen­ny Review. Wendy has received fel­low­ships from the Guggen­heim Foun­da­tion, Nation­al Endow­ment for the Human­i­ties, the Dedalus Foun­da­tion, and the New York Pub­lic Library's Cull­man Cen­ter for Schol­ars and Writers.