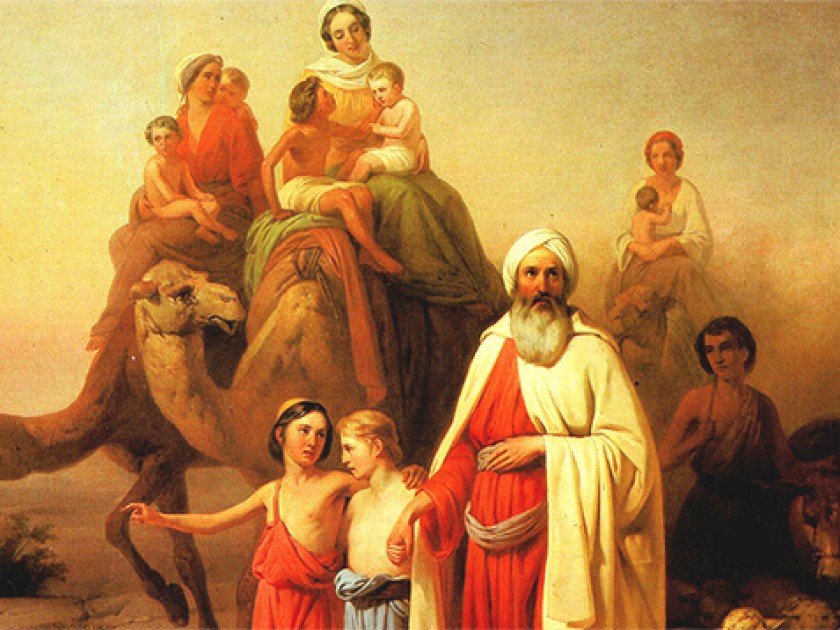 Ear­li­er this week, Jacob Bacharach shared the sto­ry of brav­ing his mother's book club and telling her friends the Bible is weird. With the release of his nov­el The Door­posts of Your House and on Your Gates this Tues­day, Jacob has been guest blog­ging for the Jew­ish Book Coun­cil all week as part of the Vis­it­ing Scribe series here on The ProsenPeo­ple.
The first thing you think you remem­ber about Abra­ham is prob­a­bly the smash­ing of the idols, an inci­dent that occurs nowhere in the Torah.
It was a lat­er addi­tion con­tained in midrashic com­men­tary writ­ten some­time between the fourth and sixth cen­turies CE, a mil­len­ni­um after the like­ly date of the actu­al com­po­si­tion of the texts we think of as Gen­e­sis. The fine nar­ra­tive details of this, and the implied inter­nal­i­ty they lend to the char­ac­ter of Abra­ham — his father, Ter­ah, as an idol­ater and idol-mak­er; the young Abraham's dia­logues with a series of cus­tomers; his con­found­ing of Nim­rod, who at Terah's behest tries to get him to wor­ship fire, water, the wind — are all miss­ing from the orig­i­nal, in which Ter­ah, mere­ly the last in a geneal­o­gy, tells his son Abra­ham (still known as Abram), Abraham's wife Sarai, and his great-grand­nephew Lot, to gath­er their shit. They set out, for no par­tic­u­lar rea­son, for Canaan. They only make it as far as a place called Haran, some­what con­fus­ing­ly, because that is also the name of Abraham's broth­er and Lot's father, who has already died. Ter­ah, now two hun­dred and five, dies in Haran.
Only in the next chap­ter does the Lord appear to Abra­ham to tell him, ​"Get thee out of thy coun­try, and from thy kin­dred, and from thy father's house, unto the land that I will show thee," upon which the mot­ley com­pa­ny — now some­what enlarged by slaves and oth­er pos­ses­sions — heads to Canaan, where they wan­der briefly before dis­cov­er­ing ​"a famine in the Land" and imme­di­ate­ly high­tail­ing it south to Egypt.
This com­mences a series of wan­der­ings, con­fronta­tions, and mis­di­rec­tions. Twice, in order to keep nasty for­eign rulers from abduct­ing and mar­ry­ing his own wife, Abra­ham claims Sarah is his sis­ter, with some­what odd results. In Egypt, for one, ​"the woman was tak­en into Pharoah's house" and made his wife, a sit­u­a­tion only resolved when God, quite absent any explic­it request from Abra­ham, sends ​"great plagues," a fore­shad­ow­ing of Exodus.
(This is also pret­ty clear­ly a poly­the­is­tic world, in which the God who even­tu­al­ly makes a covenant with Abra­ham is still some­times sim­ply God ​"Most High" — the strong impli­ca­tion is that there are oth­ers who are mere­ly lesser.)
The gang wan­ders some more. Abra­ham and Lot argue and split up. Abra­ham has his first son, Ish­mael, with the Egypt­ian maid­ser­vant Hagar. We pause for the destruc­tion of Sodom and Gomor­rah and the flight and sad end of Lot. We return to Abra­ham send­ing his ​"sis­ter" once again into the hands of a king, this time Abim­elech, who also takes her as a wife before God comes to him in a dream and gives him the low­down. When Abim­elech awakes he con­fronts Abra­ham in anger, but then, for some rea­son or oth­er, gives him a bunch of live­stock and lets him live high on the land.
Then comes the mir­a­cle of Sarah's preg­nan­cy, the birth of Isaac, and God's ter­ri­ble demand for the sac­ri­fice of their young son.
It is not at all the neat nar­ra­tive we remem­ber from Hebrew School, but for a writer of con­tem­po­rary fic­tion, it's a fas­ci­nat­ing tem­plate on which to over­lay a more mod­ern sto­ry — per­son­al­ly, I thought a good ana­logue for the land-obsessed, peri­patet­ic nature of the tales was a world of nat­ty real estate devel­op­ment—pre­cise­ly because it's so weird and dif­fuse and because its char­ac­ters are hard­ly even that. As the authors of the midrash were able to back-project their own ideas about monothe­ism in nar­ra­tives that expand­ed and altered the more ancient texts, so too can a nov­el­ist today hang a sto­ry set in the late twen­ti­eth and ear­ly twen­ty-first cen­turies on top of the pro­tean, bib­li­cal text.
One nar­ra­tive idio­syn­crasy I do try to take from these myths, even as I mutate and expand them, is per­mis­sion to make a sto­ry a bit odd­er, a bit vaguer than a lot of con­tem­po­rary fic­tion per­mits. I'm not opposed to nar­ra­tive sense or to char­ac­ters with a rec­og­niz­able psy­chol­o­gy, but if I have a com­plaint about a lot of cur­rent writ­ing — at least, cur­rent Amer­i­can fic­tion — it's that in both plot­ting and evo­ca­tion of inner life, sto­ries can become schemat­ic: they can seem to sup­pose a clear causal path from plot point A to plot point B, from ini­tial char­ac­ter­i­za­tion through chal­lenge through epiphany and change that, even when a char­ac­ter errs ter­ri­bly, makes a kind of deep, log­i­cal sense. But who makes deep, log­i­cal sense? What I like about the old sto­ries, slen­der though they can seem, is that they per­mit a sense­less­ness to their lives, an unmoored­ness that seems to me to resem­ble, per­haps only acci­den­tal­ly, the incom­pre­hen­si­bly real lives we lead.
Jacob Bacharach is the author of the nov­els The Door­posts of Your House and on Your Gates and The Bend of the World. His writ­ing has appeared in the New Repub­lic, Ha'aretz, the Pitts­burgh Post-Gazette, and many oth­ers. He lives in Pitts­burgh, PA.