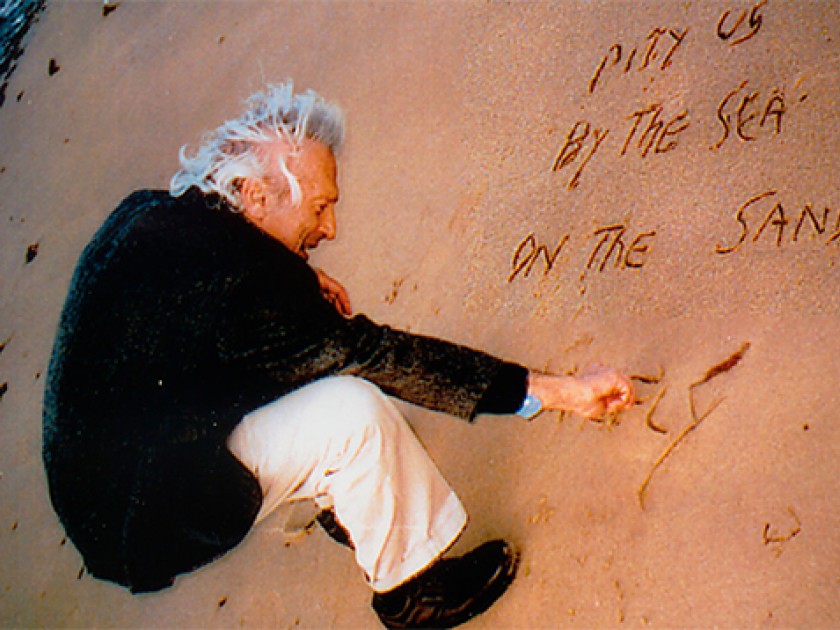 Ear­li­er this week, Joseph Helm­re­ich wrote about writ­ing what you know — and what you don't. With the release of his debut nov­el, The Return, Joseph is guest blog­ging for the Jew­ish Book Coun­cil all week as part of the Vis­it­ing Scribe series here on The ProsenPeo­ple.
In the sum­mer of 2006, fresh from a brief stint at Hebrew Uni­ver­si­ty, I took an intern­ship as a script-read­er for a New York film stu­dio, hop­ing to jump­start a career in the ​"pic­tures."
To my sur­prise, life at the stu­dio turned out to be fair­ly mel­low. Sure, at any moment you could be asked to read a nov­el, screen the upcom­ing film based on that nov­el, and turn in ​"cov­er­age" of both by morn­ing. But by and large, it was a far cry from the hus­tle and bus­tle glam­or­ized in shows like Entourage. Most­ly, interns read scripts and books at our leisure, dream­i­ly escap­ing into oth­er writ­ers' fan­tasies while mar­veling at how their hot­shot agents had let the mate­r­i­al loose with mul­ti­ple typos and incor­rect formatting.
When it came time for lunch, though, I'd indulge in a dif­fer­ent sort of escapism. Since kosher food in the neigh­bor­hood was scarce, I would make my way to NYU's Wein­stein cafe­te­ria where, din­ing amongst stu­dents and pro­fes­sors alike, I would live out the cos­mopoli­tan NYU expe­ri­ence I nev­er had. On the walk there and back, I would soak up the bars and cafes of Mac­Dou­gal Street, the crowds and buskers of Wash­ing­ton Square Park, the famed, past-their-prime rock clubs of Bleeck­er Street.
I always paid par­tic­u­lar atten­tion to cof­fee shops, eager to spot any of the dis­tin­guished philoso­phers I'd stud­ied in col­lege (NYU has the high­est-ranked phi­los­o­phy pro­gram in the world). Once, glanc­ing into a café win­dow on Uni­ver­si­ty Place, I thought I'd final­ly found one. When I took a sec­ond look, I real­ized it was actu­al­ly the poet, Samuel Menashe.
Menashe, who lived much of his life in a small rail­road flat on Thomp­son Street, was a para­dox­i­cal fig­ure, famous­ly obscure. Although revered by a select group of crit­ics and peers, he some­how nev­er achieved the wider audi­ence he deserved and in 2003, at the age of 79, he became the first-ever recip­i­ent of the Poet­ry Foun­da­tion's ​"Neglect­ed Mas­ters Award."
I had seen him recite at the Bow­ery Poet­ry Club once. His poems were pow­er­ful, con­cise works with spir­i­tu­al themes and evoca­tive titles like ​"All My Friends are Home­less" and ​"No Jerusalem But This." When anoth­er poet lat­er remarked from the stage that she did­n't mem­o­rize her poet­ry like Menashe did, he'd called out from the crowd, in a gen­teel voice that remind­ed me of Jim­my Stew­art and Pete Seeger, ​"I don't mem­o­rize my poems — I know them because I wrote them!"
Menashe had just fin­ished lunch at the cafe and as he stepped out onto the side­walk, I approached and expressed my admi­ra­tion for his work. He was friend­ly and gra­cious. But when he asked about my voca­tion and I explained that I eval­u­at­ed screen­plays for a movie stu­dio, he sud­den­ly looked aghast.

​"You mean you decide whose work will be con­sid­ered and whose won't? My God, what an awful responsibility!"
Well, I explained, try­ing not to stam­mer, I did my best not to dis­card any­thing of quality,
"But how can you know?"
In his 2011 New York Times obit­u­ary of Menashe, William Grimes would quote Stephen Spender's assess­ment that Menashe's poet­ry ​"com­press­es thoughts and sen­sa­tions into lan­guage intense and clear as dia­monds" and would remark that though his work often appeared in impor­tant jour­nals, ​"he wrote and lived as a bohemi­an, and through­out his career encoun­tered dif­fi­cul­ties in find­ing a book publisher."
He had of course been right that day in Green­wich Vil­lage. I couldn't tru­ly know that I wasn't pass­ing over rich­ly deserv­ing work. Sure­ly, there was no one who bet­ter under­stood why that mat­tered than Samuel Menashe, the poet of Thomp­son Street, the great Neglect­ed Master.
Joseph Helm­re­ich is the author of The Return (2017, Thomas Dunne Books/​St. Martin's Press) and co-author of War­ring Par­ents, Wound­ed Chil­dren and the Wretched World of Child Cus­tody (Green­wood Press, 2008). In addi­tion to his writ­ing, he is a mem­ber of alter­na­tive folk duo, Hon­ey­brick. He lives in New York City and works in film distribution.