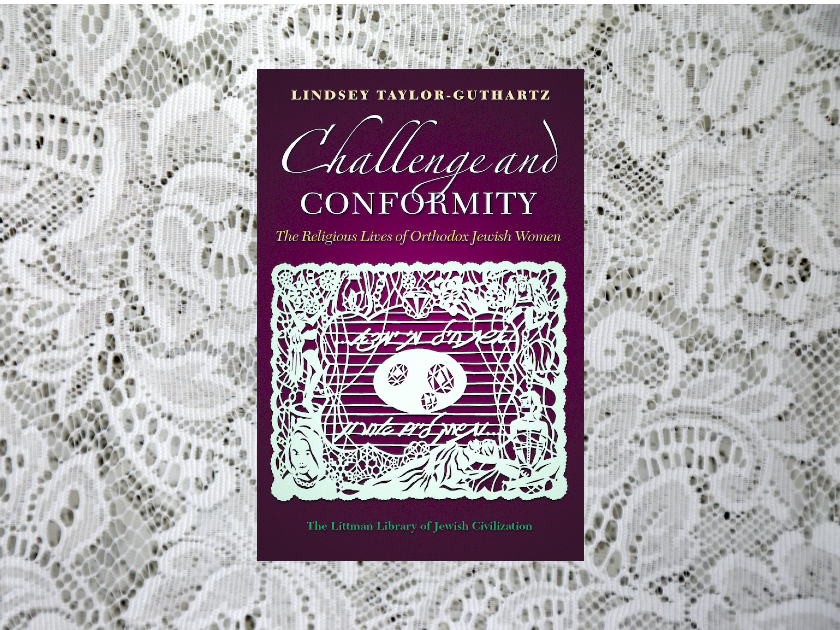 "Oh — you mean superstitions'?"
This was how most of my inter­vie­wees react­ed when I asked them about Ortho­dox Jew­ish women's cus­toms and practices
I began research­ing Ortho­dox women's reli­gious lives, includ­ing these cus­toms, some years after attend­ing a lec­ture on ​"Jew­ish super­sti­tions" giv­en by Judith Weil. The prac­tices she men­tioned — not step­ping over some­one sit­ting on the floor (and hav­ing to step back over them if you do), tying red thread on babies' cribs, say­ing ​"tfu tfu tfu" or ​"peh peh peh" to avert the evil eye — were entire­ly unfa­mil­iar to me.
I grew up in Corn­wall, the rur­al and hilly ​"toe" of the Unit­ed King­dom, far away from any Jew­ish com­mu­ni­ty. I was also a bit of a purist, a fan of Mai­monides with his empha­sis on ratio­nal­i­ty and intel­lec­tu­al per­fec­tion. Although I was aware of stan­dard Eng­lish super­sti­tions — such as not walk­ing under lad­ders and avoid­ing look­ing at the new moon through glass — I had no idea that Jews had super­sti­tions of their own. Sure­ly Judaism was a ratio­nal reli­gion that scorned depen­dence on any pow­er that was not God? I was flab­ber­gast­ed when all the oth­er women at the lec­ture nod­ded in recog­ni­tion at the cus­toms men­tioned, and chimed in with con­tri­bu­tions of their own: ​"My moth­er always …", ​"I learnt that from my grand­moth­er … ", ​"In my fam­i­ly it was blue thread, not red thread …". Were they prac­tis­ing a dif­fer­ent reli­gion? When I report­ed on the event to my Amer­i­can hus­band, fur­ther rev­e­la­tions were in store: his moth­er had also taught him not to step over peo­ple sit­ting on the floor, and had tied red thread to his baby car­riage. Was this stuff everywhere?!
That's how my doc­tor­al research start­ed. I had to find out why high­ly edu­cat­ed women — many with top-lev­el jobs in the pro­fes­sion­al world — were still per­form­ing these rit­u­als. I rapid­ly real­ized that I couldn't study the cus­toms in iso­la­tion; they are just one part of Ortho­dox women's reli­gious lives, which are curi­ous­ly invis­i­ble to both male Jews and to the out­side world. Six years, forty inter­views, and one hun­dred ques­tion­naires on folk prac­tices lat­er, my views have become more nuanced, my ratio­nal­ist right­eous­ness a lit­tle more compassionate.
It's not a ques­tion of ​"belief," real­ly — though some women do believe pas­sion­ate­ly that such actions will pro­tect their near­est and dear­est or ensure good for­tune. Oth­ers dis­missed them out of hand, return­ing to the loaded term ​"super­sti­tion." Some women were embar­rassed to admit they did them — one, after laugh­ing loud­ly at the men­tion of the rit­u­al of ​"cut­ting the air" with scis­sors to aid a toddler's first steps, reluc­tant­ly con­fessed, ​"We did it. I'm ashamed to tell you because it's so ridiculous!"
Regard­less of whether they believed in the rit­u­als com­plete­ly, many women spoke of their emo­tion­al charge.
But regard­less of whether they believed in the rit­u­als com­plete­ly, many women spoke of their emo­tion­al charge. They asso­ci­at­ed the cus­toms with peo­ple they loved, or with their child­hood. It was clear they could no more aban­don them than they could change the col­or of their eyes. One inter­vie­wee put it per­fect­ly: ​"It's a mem­o­ry of what it was like to be a lit­tle girl in my par­ents' home, and … I'm not anybody's lit­tle girl any more, because I don't have par­ents — so when I hear those things it's love­ly, even though I think it's nonsense."
These cus­toms are part of the fab­ric of women's Jew­ish lives, the con­stant and vary­ing back­ground on which are embroi­dered the big, offi­cial cer­e­monies of Judaism: light­ing sab­bath can­dles, going to the mikveh, attend­ing syn­a­gogue. They tie women to their ances­tors, to their moth­ers and grand­moth­ers and aunts and cousins, many of whom would have been denied Ortho­dox Jew­ish women's cur­rent access to Torah study and (some) pub­lic rit­u­als, and would have found an impor­tant means of spir­i­tu­al expres­sion in these cus­toms. So much of women's con­cerns, iden­ti­ty, and his­to­ry imbues these lit­tle-known and often despised prac­tices. Over the course of the research, I learned to val­ue the reas­sur­ance and warmth they offered.
It's not a uni­form­ly rosy pic­ture, though. I heard about a woman who had suf­fered sev­er­al mis­car­riages, and had been advised to bake chal­lah every week and give it away as a seg­u­lah (rough­ly a charm) to pro­tect her cur­rent preg­nan­cy. One week, time was short. Although she baked the chal­lah, there was no chance to give it away, so she froze it, intend­ing to find a recip­i­ent after the sab­bath. And that was the day she had yet anoth­er mis­car­riage — and react­ed by blam­ing her­self for it. But it's rare to encounter a cus­tom that back­fires in this way, and as long as there is no poten­tial for harm, I now feel untrou­bled by their pres­ence in so many women's lives, and can smile with those who lov­ing­ly tell me about their cher­ished fam­i­ly traditions.
And that has brought some­thing back to me. My moth­er taught me that I should always poke a hole through the shell of a boiled egg after eat­ing it, ​"in case a witch comes and takes it and rides out to sea in it to wreck a ship!," and I still do this ​"reli­gious­ly." There is a pic­ture illus­trat­ing this in one of her child­hood books from the 1920s, a black-and-white draw­ing to which my moth­er, as a child, had care­ful­ly added water­col­or wash­es of lilac and sepia, and a dark crim­son shawl for the witch. I don't believe in witch­es, but I can attest to the pow­er of that frag­ile, bro­ken eggshell to car­ry mem­o­ry and love.
Dr Tay­lor-Guthartz is a research fel­low at the Cen­tre for Jew­ish Stud­ies, Uni­ver­si­ty of Man­ches­ter, cur­rent­ly study­ing the his­to­ry and devel­op­ment of Lim­mud. She received her doc­tor­ate from Uni­ver­si­ty Col­lege Lon­don. She has lec­tured at the uni­ver­si­ties of Cam­bridge, Oxford, SOAS, King's Col­lege Lon­don, and at Vas­sar Col­lege, New York, is a Research Fel­low of the Lon­don School of Jew­ish Stud­ies, and has pre­sent­ed at inter­na­tion­al con­fer­ences in Poland, South Africa, and the Nether­lands. She received Ortho­dox rab­binic ordi­na­tion from Yeshi­v­at Maharat, New York in June 2021.