23

rd Annu­al Jew­ish Chil­dren's Book Writ­ers and Illus­tra­tors' Seminar
Sunday, November 14, 2021
10am–4pm
Zoom. This event will be in ET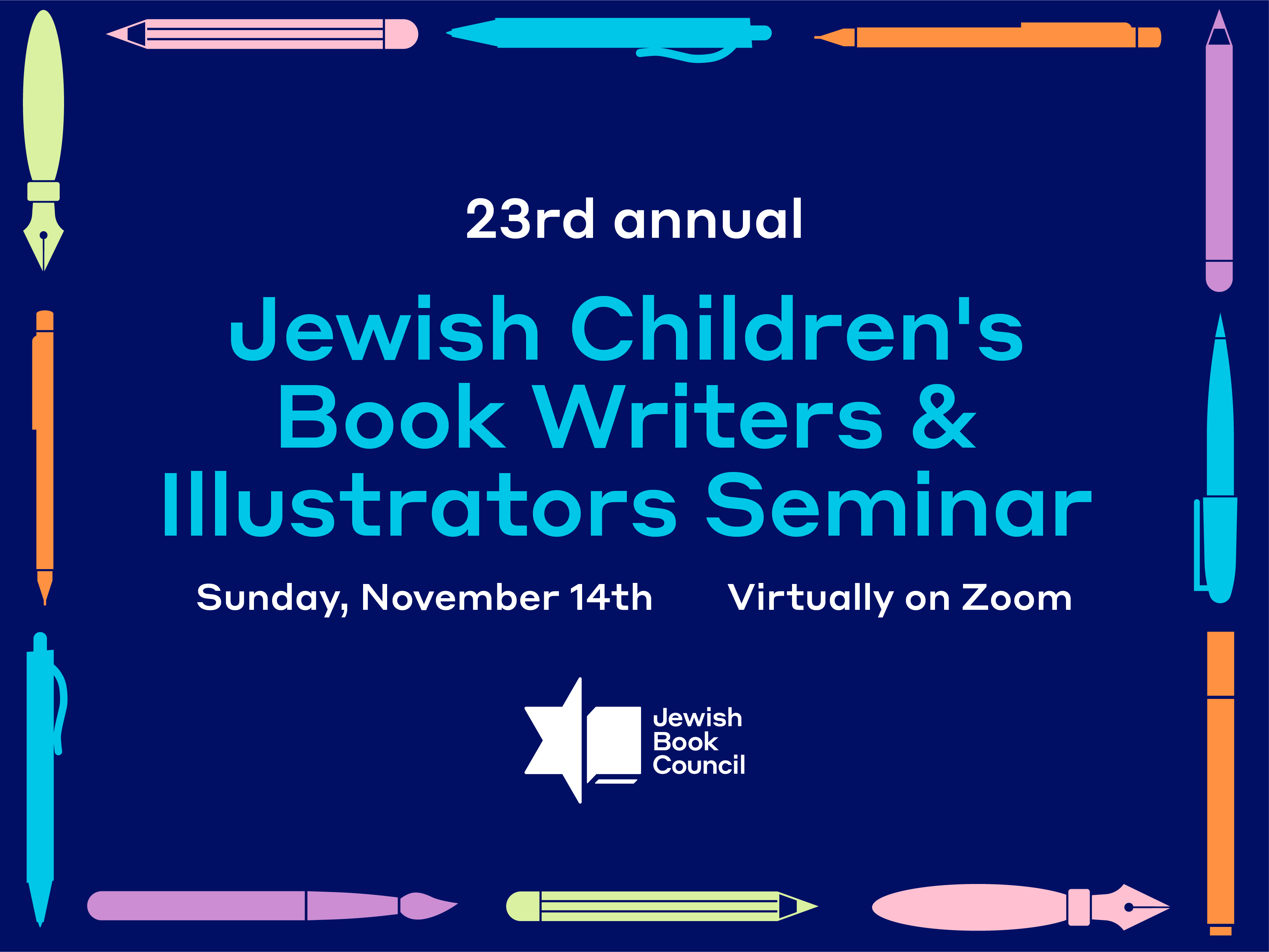 Please click to reg­is­ter, then please click here to buy your ticket.
Have you writ­ten or illus­trat­ed a Jew­ish chil­dren's book that you'd like to have pub­lished? Do you have a sto­ry idea? Have you already been pub­lished, and would like to net­work with oth­ers in your field? The Annu­al Jew­ish Chil­dren's Book Writ­ers & Illus­tra­tors' Sem­i­nar, spon­sored by the Jew­ish Book Coun­cil, brings togeth­er agents, edi­tors, illus­tra­tors, and authors for a full day of dis­cus­sion about Jew­ish chil­dren's book publishing.
This year's sem­i­nar will be held vir­tu­al­ly over Zoom on Sun­day, Novem­ber 14, 2021.
So far, this year the pan­elists and mod­er­a­tors will include the fol­low­ing. More names to come soon!
Sigal Samuel — author of Osnat and her Dove
Rachel Lynn Solomon — author of numer­ous books, includ­ing Today Tonight Tomorrow
Tra­cy Brown — author of Sarah's Solo
Yehu­di Mer­ca­do — author of numer­ous books, includ­ing Chunky
Joni Suss­man — pub­lish­er at Kar-Ben Publishing
Vic­ki Weber — pub­lish­er at Behrman House Publishing
Michael Lev­en­thal, pub­lish­er at Green Bean Books
Lin­da Epstein — senior agent at Emer­ald City Lit­er­ary Agency
Dena Neusner — exec­u­tive edi­tor at Behrman House
Rachael Stein — free­lance chil­dren's book editor
Navah Wolfe— Hugo Award-win­ning edi­tor, spe­cial­iz­ing in adult sci­ence fic­tion, fan­ta­sy and hor­ror, and young adult and mid­dle-grade fiction.
Dahlia Adler — author, edi­tor of numer­ous antholo­gies, and cura­tor of LGBTQReads
KalyaReads­Books—book blog­ger
Jes­si­ca Rus­sak-Hoff­man — author and pod­cast­er on Kid­dush Book Club
Susan Kusel, librar­i­an, chil­dren's book buy­er, and own­er of Dream On Books, a children's book con­sult­ing company
Chris Barash, chair of the Book Selec­tion Com­mit­tee at

PJ

Library
Mar­jorie Ingall – writer, author, and co-cre­ator of Sor​ry​Watch​.com
Hei­di Rabi­nowitz – Library Direc­tor at Feld­man Chil­dren's Library of Con­gre­ga­tion B'nai Israel, host of The Book of Life: A Pod­cast About Jew­ish Kidlit (Most­ly), and found­ed the pop­u­lar Jew­ish Kidlit Mavens group on Facebook
Sem­i­nar Fees: $130.00 Reg­is­tra­tion, Early­bird fee (Price goes up to $150 on Octo­ber 15th. If you can­cel your reg­is­tra­tion with­in fif­teen days of the event, we will be able to refund 50% of your reg­is­tra­tion fee. If you can­cel with­in sev­en days of the event, we will be unable to refund your registration.)