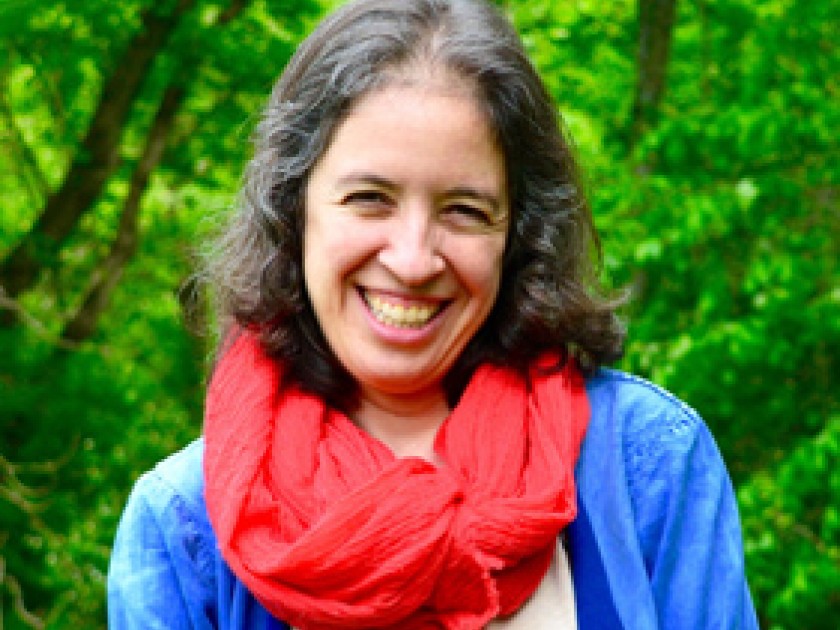 Cel­e­brate Jew­ish Book Month with #30days30authors! JBC invit­ed an author to share thoughts on #Jew­Lit for each day of Jew­ish Book Month. Watch, read, enjoy, and dis­cov­er!
Today, Pamela Ehren­berg, the author of Queen of the Hanukkah Dosas (Far­rar, Straus & Giroux, 2017), on the need for diver­si­ty in Jew­ish chil­dren's literature.
For much of 2015, I grap­pled with how to answer my rabbi's provoca­tive ques­tion, ​"Are Jews white?"
I grap­pled most strong­ly while rid­ing the Metro with my sev­en-year-old son, whose goal was to occu­py as much space as pos­si­ble while attempt­ing to swing from the poles. That year, fifty miles away, police killed Fred­die Gray. And with every indul­gent smile my son encoun­tered, I grew more con­vinced: of course my son is white — and if he's white, I guess I am too. I con­tin­ued check­ing ​"white" on school forms, though always with a pause.
In 2017, I'm wrestling less with the answer than with who is includ­ed in the ques­tion itself. When I spend time with the diverse Tot Shab­bat fam­i­lies at our syn­a­gogue, or scroll through pho­tos of my kids with their friends at Camp Havaya, or talk with new friends at B'chol Lashon, I remem­ber that the Jew­ish com­mu­ni­ty has always been diverse: what's chang­ing is that our Jew­ish insti­tu­tions are active­ly seek­ing to be more inclu­sive. And more of us rec­og­nize that advo­cat­ing for diver­si­ty should in no way stop at the door­ways of our Jew­ish insti­tu­tions — or at the book­shelves inside.
With­in Jew­ish kidlit, PJ Library, which is fund­ed through the pri­vate Harold Grin­spoon Foun­da­tion, is a unique advo­cate. Beyond its role as a resource for indi­vid­ual fam­i­lies, PJ Library makes it finan­cial­ly sus­tain­able for pub­lish­ers to take a chance on pub­lish­ing a book that fills a role for libraries and com­mu­ni­ties. Even if Queen of the Hanukkah Dosas is nev­er a best­seller, PJ Library's com­mit­ment ensures that my pub­lish­er won't lose mon­ey on its invest­ment — which then allows the book to find a wider audi­ence beyond PJ Library subscribers.*
In 2017, most of us writ­ing Jew­ish books (myself includ­ed) — as well as those pub­lish­ing and review­ing them and those who select them for syn­a­gogue libraries and Jew­ish book fes­ti­vals — do not reflect the diver­si­ty of per­spec­tives and expe­ri­ences that make our Jew­ish com­mu­ni­ties so strong. While address­ing those lim­i­ta­tions for the future, what respon­si­bil­i­ty does each of us have right now to help all Jew­ish chil­dren see them­selves and oth­ers reflect­ed in Jew­ish lit­er­a­ture, today and as they grow into adulthood?
I'd sug­gest that we each com­mit to buy­ing and cir­cu­lat­ing from the library diverse Jew­ish books for the chil­dren in our lives and for our­selves — pro­vid­ing pub­lish­ers with evi­dence that such books are not a sales risk but a good busi­ness mod­el. (The Book of Life blog has pro­vid­ed a help­ful start­ing list here). And I sug­gest that we encour­age every­one in our com­mu­ni­ties to tell their own sto­ries wher­ev­er there is a venue — the B'chol Lashon blog and the PJ Library wish list are two to con­sid­er — and to cre­ate new venues where there is a need.
Queen of the Hanukkah Dosas rep­re­sents an imper­fect com­pro­mise: a pair­ing of a Jew­ish-but-not-Indi­an author with an Indi­an-but-not-Jew­ish illus­tra­tor. My hope is that read­ers who have tra­di­tion­al­ly had few­er oppor­tu­ni­ties to see them­selves in books will be inspired by this and oth­er diverse Jew­ish books to grow up and tell their own sto­ries, com­ing ever clos­er to lit­er­a­ture that reflects the breadth and depth of our many Jew­ish experiences.
From strength to strength and sto­ry to sto­ry: it is an hon­or to share Jew­ish Book Month with all of us — and each of us — together.
—
*If any­one knows a phil­an­thropist who might like to try Harold Grinspoon's mod­el with a dif­fer­ent sub­set of the diverse books com­mu­ni­ty, I'd encour­age that per­son to reach out to weneed​di​verse​books​.org.
Orig­i­nal­ly from sub­ur­ban Bal­ti­more Pamela attend­ed the Uni­ver­si­ty of Penn­syl­va­nia and served in Ameri­Corps in Appalachi­an west­ern Mary­land. Now Pamela works at the Nation­al Asso­ci­a­tion for the Edu­ca­tion of Young Chil­dren and lives with her chil­dren near the zoo in Wash­ing­ton DC. As a tod­dler Pamela acci­den­tal­ly locked her fam­i­ly out of their house; a climb­ing neigh­bor saved the day.