Excerpt­ed from
Paper Love: Search­ing for the Girl My Grand­fa­ther Left Behind
by Sarah Wild­man, now avail­able in paper­back from River­head Books.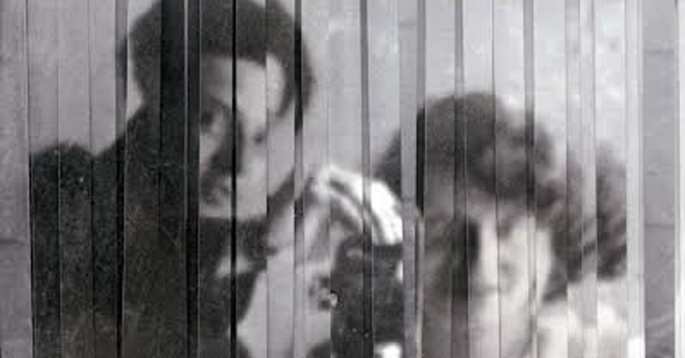 It was some years after his death when my grand­moth­er casu­al­ly told me that she had destroyed my grandfather's per­son­al cor­re­spon­dence. We were set­ting the table for din­ner. ​"They sat in a fil­ing cab­i­net for six­ty-some­thing years," she said. ​"I decid­ed that was long enough." We fought about it. ​"They are all in Ger­man," she said qui­et­ly, deri­sive­ly. But though I hissed petu­lant­ly, ​"It's not a dead lan­guage," real­ly, what was the point? There was no undoing.
"I saved the impor­tant things," she said, sly­ly. ​"Like our love let­ters." Empha­sis on our. What was destroyed? I asked.
"Oh, I don't know. Let­ters from Shang­hai. Peo­ple you've nev­er met. Peo­ple who are gone."
Shang­hai? Peo­ple who are gone? It was tan­ta­liz­ing, infu­ri­at­ing. And over time it became clear that the point of her purge was, con­scious­ly or not, to pre­serve the myth of the spot­less escape; and, in part, a care­ful­ly curat­ed history.
I'm get­ting ahead of myself.
A few years after our argu­ment, my grand­moth­er was not well. She sat in my grandfather's old home office, her move­ments manip­u­lat­ed by some ter­ri­ble sort of Parkinson's‑like dis­ease, as I root­ed around in cab­i­nets ask­ing ques­tions about ran­dom arti­facts. She had always been so metic­u­lous, in her appear­ance, in her demeanor; the last few years of her life were a blow to that — though there were some con­stants. She still per­fumed her­self with Emer­aude, a scent that had remained unchanged — like her — since the 1920s; still wore her deep pink and coral lip­sticks, still pushed her­self into pun­ish­ing gir­dles and stock­ings and heels, her Achilles ten­dons short­ened by decades of prop­ping on wedges. And she hadn't changed the office, or the house, at all since his death, as though she — as though we — believed my grand­fa­ther would walk back in at any moment, sit down at his enor­mous wal­nut desk, and slice through the mail of the day with the long, sharp let­ter open­er he kept for just that pur­pose. His mar­ble busts, of Schiller and Goethe, of Chaim Weiz­mann, the first pres­i­dent of Israel, and Theodor Her­zl still sat in one win­dowsill; on the oth­er side of the room, a black mar­ble Apol­lo flexed his mus­cles into eter­ni­ty. Vol­umes of lit­er­a­ture in Ger­man lined the shelves. The deep teal blue and green arm­chair where he pierced my ears with a nee­dle — at the age of five — was still placed exact­ly where it always sat, beneath a cop­per fly­ing-saucer-like pen­dant light. A mid­cen­tu­ry Dan­ish daybed, dressed in green and blue wool, hugged the wall; I occa­sion­al­ly slept on it when I would come to visit.
That after­noon, in the cab­i­nets beneath the bay win­dows where Goethe sat, star­ing, I came across an old album, the kind with black pages and pho­to cor­ners cradling black-and-white snap­shots with scal­loped edges. The pho­tographs ranged from for­mal — stiff fam­i­ly por­traits from the 1910s to the 1930s — to infor­mal — crowds of laugh­ing Euro­pean teens and twen­tysome­things in the late 1920s and ear­ly 1930s.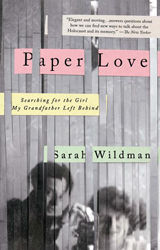 There was coun­try­side and friends, attrac­tive girls in old- fash­ioned swim­ming cos­tumes, and a cheer­ful, mus­cu­lar, incom­pre­hen­si­bly young ver­sion of the man I'd known as my grand­fa­ther, sur­round­ed in one pho­to by a dozen girls, the lit­er­al focal point, the cen­ter of attention.
Among these images were dozens of tiny pho­tos of a young woman. ​"Your Valy" was writ­ten on the back of each one, in a fem­i­nine hand I didn't rec­og­nize. Here she was, laugh­ing, rolling in the grass in Vienna's Augarten — next to my grand­fa­ther. Here she was mug­ging, posed, hands on hips. Anoth­er showed the two of them lying on a bed, smil­ing coy­ly; it was shot into a mir­ror. There were pho­tos of him and her in bathing suits, the two of them snug­gled up close, laugh­ing. They appeared, in the par­lance of teenagers, to be more than friends.
How had I nev­er seen this album before, I won­dered, turn­ing the pages, try­ing not to let the paper crum­ble. This was his life, I real­ized, before any of us, before, even, my grand­moth­er. And it was a life so — was there any oth­er word for it?—care­free. They look so hap­py, so young, so fresh in the images dat­ed 1932, 1934, 1935. This was his Euro­pean life, the life — the peo­ple, the expe­ri­ences — he had left behind.
Pub­lished by arrange­ment with River­head Books, an imprint of Pen­guin Pub­lish­ing Group, a divi­sion of Pen­guin Ran­dom House LLC. Copy­right ©2015 by Sarah Wildman.
Relat­ed Content:
Sarah Wild­man has report­ed across Europe and the Mid­dle East for The New York Times, Slate, and The New York­er, among oth­er places; she is a for­mer New Repub­lic staffer. She is the recip­i­ent of the Peter R. Weitz Prize from the Ger­man Mar­shall Fund ​"for excel­lence and orig­i­nal­i­ty in report­ing on Europe and the transat­lantic rela­tion­ship" for the series in Slate where Paper Love orig­i­nat­ed. She lives in Wash­ing­ton, DC.