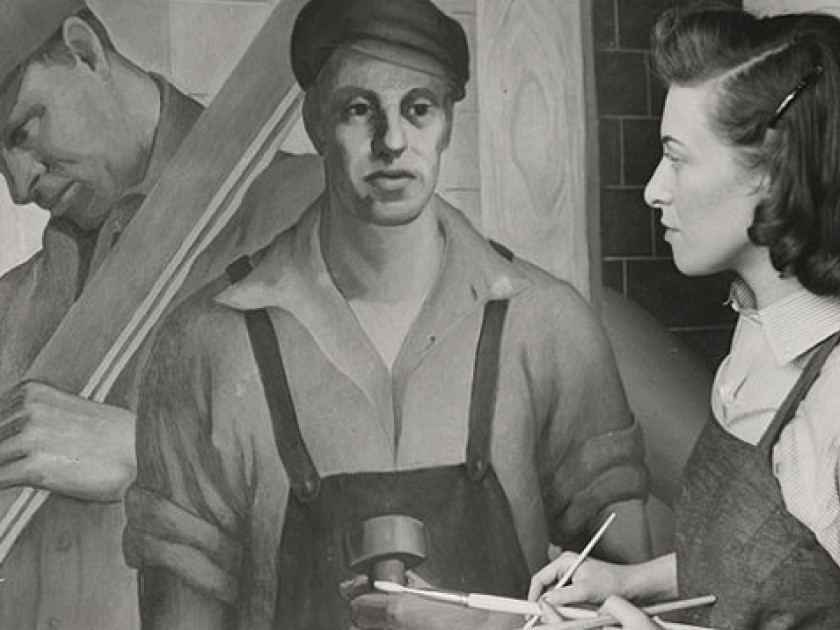 Chap­ter 2: Alizée, 1939, an excerpt from The Mural­ist: A Nov­el by B. A. Shapiro.
Alizée paint­ed at a makeshift desk, an over­turned ship­ping crate with one side sawed off to accom­mo­date her legs. Accord­ing to the label, it once held uni­forms for butch­ers; she hadn't known butch­ers wore uni­forms. She worked in a ware­house that jut­ted into the Hud­son Riv­er where eight dif­fer­ent mur­al projects were being cre­at­ed side by side, and armies of artists clutch­ing char­coal or brush­es or mar­ble pes­tles bus­tled through the yawn­ing space.
Two years ago, she'd returned to the States after sev­en years in France. Sev­en more than she would have cho­sen, but she'd learned ear­ly on that the vagaries of fate had far more pow­er than she did. She was nine­teen at the time and had been liv­ing for that moment, had done bat­tle with her fam­i­ly, her friends, even her art teach­ers, to real­ize it.
Nev­er­the­less, at the first sight of Lady Lib­er­ty, she was swamped by a wrench­ing sad­ness and that odd sense of float­ing above her own head. From afar, she watched the shad­ows dark­en the space around her as she stood on the ship's deck, search­ing for peo­ple bustling with ener­gy and oppor­tu­ni­ty, the ones she remem­bered and the ones she knew weren't there anymore.
Obvi­ous­ly, the coun­try was in the midst of a depres­sion, and she'd thought she was pre­pared for this. But the mute ship­yards bound­ed by weath­ered ware­hous­es, their wide doors swung open to reveal their lack of wares, unset­tled her. It was well into the morn­ing of a work­ing day, yet grimy men, news­boy hats cocked, sat on posts along emp­ty piers, smok­ing cig­a­rettes and watch­ing the boat's arrival with no inter­est whatsoever.
This was where the mem­o­ries lived, and that would be dif­fi­cult, but it was, she some­how knew, the only place her real life could begin. And she was right. Now, although the emp­ty ware­hous­es and grimy men were still perched on the New York City docks, she'd beat­en back most of the sad­ness and moved on.
"Looks swell." Lee leaned over her shoul­der and squint­ed at the tiny four-by-six-inch can­vas she was paint­ing. ​"If you like wood­en patriotism."
"My favorite," Alizée said dry­ly. Although she got a kick out of mak­ing fun of the stiff, over­ly enthu­si­as­tic style imposed by the WPA, she wasn't about to com­plain about receiv­ing a pay­check to pro­duce art. Even if oth­er artists actu­al­ly designed the works she was paint­ing, it was a hell of a good gig.
Lee squat­ted, looked more close­ly at the small pan­els. She'd tak­en over direct­ing the mur­al from a boy who'd gone to fight Fran­co in the Span­ish Civ­il War, receiv­ing the unac­knowl­edged and unpaid pro­mo­tion because she'd worked for the WPA longer than any of the oth­er assis­tants. She was osten­si­bly Alizée's boss, although nei­ther of them thought of it that way; they'd been friends long before this par­tic­u­lar project. Lee frowned at the six four-by-six-foot pas­tel stud­ies Alizée was minia­tur­iz­ing, the orig­i­nal WPA-approved draw­ings for the mural.
Alizée didn't like the frown. ​"What?" she demand­ed in mock dis­may, then lit a cig­a­rette. ​"Now you want to change it after I've worked my butt off for a week?"
It would take time to redo her efforts, but that was all it was: An effort. A job. Her own paint­ings were her real work. And those were very dif­fer­ent from these: less tan­gi­ble, more mul­ti­di­men­sion­al, more in the process of becom­ing some­thing else. When she worked on the mur­al, she was out­side it; it was sep­a­rate from her. With her own can­vas­es, there was no space in between.
"Some­thing queer about it." Lee cocked her head to the side. She was far from beau­ti­ful, but there was a volup­tuous­ness about her, both in body and tem­pera­ment, that made men for­get all about her plain face. Lee claimed she didn't like going to par­ties with Alizée because, as she put it, ​"Alizée cap­tures the room," which was ridicu­lous. Lee gar­nered atten­tion, par­tic­u­lar­ly male atten­tion, every­where she went.
Alizée walked up to the orig­i­nal draw­ings, thought for a moment, then rubbed her palm vig­or­ous­ly along the left legs of three ship­builders shoul­der­ing a large slab of wood until the orig­i­nal lines of the sketch were indis­tinct. Then she start­ed refash­ion­ing their calves. ​"Bet­ter?"
Lee nod­ded and point­ed to the men's shirts. ​"A lit­tle more blue mixed in with the gray, I think."
"Jum­ble Shop?" Alizée asked.
"Sure." Lee sat back down at her desk, which was next to Alizée's. After work, they often went up to the West Vil­lage for a beer dosed with argu­ments about the future of art, the mean­ing of art, the polit­i­cal in art, the abstract in art, just about any­thing in or of art. It remind­ed Alizée of the Dôme café in Paris, but with­out all the depressed faces and gloomy war talk.
A French­man might com­plain that the artists who flowed in and out of the Shop in paint-splat­tered waves drank too much, debat­ed too boor­ish­ly, laughed too loud­ly, and didn't look beyond the streets of New York for either their art or pol­i­tics, but he would also be forced to admit that they knew how to have fun. To Alizée, it was as if each per­son at the Shop was years younger than his or her Euro­pean counterpart.
She loved the lev­i­ty, the light­ness, but more than that, she rev­eled in the shared cer­tain­ty that being able to make art was the most amaz­ing gift any­one could receive. Grant­ed, it was tough for every­one these days, par­tic­u­lar­ly tough for artists, and par­tic­u­lar­ly, par­tic­u­lar­ly tough for female artists. But just last week, her usu­al­ly crit­i­cal teacher, Hans Hof­mann, pro­claimed that one of her paint­ings was so good he would nev­er have believed it was paint­ed by a girl. He'd meant it as the high­est com­pli­ment, and she'd tak­en it as such.
She had the mur­al job, which was no lit­tle thing, and she was hap­py, proud, of that, although it was dif­fi­cult to get the gal­leries to show any­thing paint­ed by a girl, espe­cial­ly if the paint­ings were abstract. But if she was going to spend her days work­ing rep­re­sen­ta­tion­al­ly, she damn well wasn't going to do the same on her own time just to please some pig­head­ed gallery own­er. So she went to the Shop to drink and gripe with her like-mind­ed comrades.
Lee leaned toward Alizée's desk, her eyes shin­ing wicked­ly. ​"For­got to tell you Bill and Jack said they can't make it to the Shop until a bit lat­er, but Mark said he'd be there around five, so let's leave here on the ear­ly side."
Alizée shrugged.
Lee grinned. ​"He's such a won­der­ful, sweet bear of a man." Alizée picked up a piece of pas­tel and bent over her work, shield­ing her face with her hair.
"Oh those soft, sen­su­ous lips …" Lee whis­pered in her ear. Alizée shook her off with an awk­ward laugh. She wasn't about to dis­cuss Mark. With Lee or with any­one else. There was noth­ing to dis­cuss. Would nev­er be.
She turned back to her mock-up: a minia­ture of the six-pan­el mur­al to be hung on the walls of a high-school din­ing hall in Wash­ing­ton, DC. Last week, she'd con­struct­ed a three-sided box, one-twelfth the size of the actu­al din­ing room with cutouts for the win­dows and doors. This week, she was using pas­tels to col­or in the six pan­els, at one-twelfth their size, and would hang them on the tiny walls exact­ly as they would be at the high school. This was the final step before the actu­al paint­ing on can­vas would begin. When the pan­els were com­plete, they would be shipped to DC and past­ed on the walls.
It felt like play­ing instead of work­ing, although it was most def­i­nite­ly work. This ware­house and much more were part of Pres­i­dent Roosevelt's New Deal: the WPA, FAP, TRAP, PWA, a whole alpha­bet of pro­grams fund­ed by the gov­ern­ment in the hope of end­ing the Depres­sion. Unfor­tu­nate­ly, these pro­grams had been going on for almost as long as Alizée had been in France, and still no one seemed to have any money.
Occa­sion­al­ly bureau­crats appeared at the ware­house and stood around look­ing decid­ed­ly ill at ease in their suits and bowler hats. The president's wife came once, but she was com­plete­ly at ease. Mrs. Franklin Roo­sevelt climbed up lad­ders, uncon­cerned that she might get paint on her dress. She stopped and talked with the artists, ask­ing ques­tions and lis­ten­ing intent­ly to the answers. Even answers from the assis­tants. You'd nev­er see Mme. Albert Lebrun or Mme. Léon Blum do any­thing like that.
Alizée didn't much miss uni­ver­si­ty in Paris or even the brief touch of suc­cess she'd had there, but she did miss her fam­i­ly. Often quite des­per­ate­ly: Oncle and Tante, who'd swooped in after her par­ents were killed and raised her as their own; Babette, who'd squeezed her hand and whis­pered, ​"I'm more than your cousin now, I'm your sis­ter," on the night she first arrived; her old­er broth­er, Hen­ri; lit­tle cousin Alain. All of them on the oth­er side of the ocean.
But Hen­ri would be com­ing to the States as soon he com­plet­ed his exams, and Babette and her fam­i­ly, cur­rent­ly in Ger­many, talked of com­ing over, too. Alizée had giv­en up a lot to return to Amer­i­ca, but it was exact­ly where she want­ed to be. She told her­self this when the sor­row and lone­li­ness she kept coiled deep inside pressed beyond the mar­gins she worked so hard to maintain.
In New York, she was free to paint in the style of the mod­erns, some­thing she'd been yearn­ing to do. To study at the feet of Hans Hof­mann with no fear of the octo­pus reach of Adolf Hitler's decrees against mod­ern art, his desire to sup­press any­thing that didn't smack of mil­i­tarism and obe­di­ence. Espe­cial­ly if it was non­fig­u­ra­tive. The impact of his 1937 exhi­bi­tion titled Entartete Kun­st Degen­er­ate Art — derid­ing Picas­so, Van Gogh, Matisse, Cha­gall, and many oth­ers, was unfor­tu­nate­ly being felt across Europe, even in Paris. In New York, she could lose her­self to the new­ness of abstrac­tion, the fever of it, drawn to its insub­stan­tial yet sub­stan­tial nature, its dif­fi­cul­ty and the won­der of the intu­itive con­nec­tions. This was worth everything.
It both­ered her that there wasn't a sin­gle abstract mur­al being con­struct­ed in the ware­house. FDR didn't like mod­ern art much more than Hitler did, and the pres­i­dent want­ed the WPA paint­ings to be rep­re­sen­ta­tions of what they were call­ing ​"the Amer­i­can Scene." Putain. Didn't they under­stand that you could rep­re­sent the Amer­i­can scene with­out being representational?
The mur­al to the right of Alizée's, head­ed for a post office in Lex­ing­ton, Mass­a­chu­setts, was even more wood­en than the ship­builders. A com­plete­ly flat depic­tion of Paul Revere's ride. The mur­al to the left was much bet­ter, in the style of the Mex­i­cans, full of col­or­ful iron­work­ers labor­ing amid exag­ger­at­ed pip­ing and sprock­ets and loom­ing machines. But for all its bold­ness and action, it, too, was com­plete­ly figurative.
There was a com­mo­tion behind her, and she turned to see Eleanor Roo­sevelt strid­ing through the door, fol­lowed by a cadre of men in busi­ness suits. The direc­tor and two super­vi­sors swooped down on them, and soon more than a dozen men sur­round­ed the First Lady.
"I thought she wasn't com­ing until next week," Alizée whis­pered to Lee, although there was no rea­son to speak soft­ly: the room was abuzz. Mrs. Roo­sevelt was a mov­ing force behind the WPA/FAP, and every artist on the floor revered her for that.
Lee stared at the president's wife. ​"She's so tall."
"That's all you can say about the most amaz­ing woman in the world?"
Lee looked at Alizée with a straight face. ​"She's so tall."
They watched the First Lady with the fawn­ing men. Although she was close to six feet, Mrs. Roo­sevelt stood upright and radi­at­ed an inter­est in her sur­round­ings that was pal­pa­ble. There was no doubt this was a woman who made things happen.
"Bet she'd like to talk to a girl," Alizée said. ​"Let's go over there." ​"Yeah, like those swelled heads are going to let us join their little
cof­fee klatch."
It was even worse than that: when it was announced that the First Lady was com­ing, the rank and file had been ordered not to both­er her. They were to pre­tend she wasn't there, to keep work­ing, even hard­er than usu­al, and only speak if spo­ken to. Like good lit­tle children.
Alizée looked at their mur­al, at Paul Revere's ride next to it, at the iron­work­ers. All so unin­spired and con­ven­tion­al. Some­one need­ed to open hori­zons, to let new ideas in. And who bet­ter than Eleanor Roo­sevelt? Alizée touched her mother's engage­ment ring, which always hung on a chain between her breasts: a con­duit. Stay with me, Maman. She stood.
"What?" Lee demanded.
"I'm going to ask her why there aren't any abstract murals. See if she can do any­thing about it."
"You could get kicked off the project," Lee insist­ed. ​"Don't." Alizée strode toward the assem­blage and edged in close to the
First Lady. Exhil­a­rat­ed by her bold­ness, she wait­ed for her moment, heart pounding.
One of the super­vi­sors, an over­weight mid­dle-aged man named Nor­ton Zim­mern, met her eye and gave his head a sharp tilt toward her desk. She hes­i­tat­ed. She couldn't afford to lose this job. But Nor­ton was an old wind­bag, full of noise and lit­tle action, and this was impor­tant. She slipped to the oth­er side of Mrs. Roosevelt.
When Mrs. Roo­sevelt stepped toward anso oth­er mur­al, Alizée inter­cept­ed her. ​"I just want to thank you for this oppor­tu­ni­ty, Mrs. Roo­sevelt." Alizée's eyes were inch­es below the First Lady's, a rare occur­rence for one who was used to being the tallest girl in any group. ​"You're most wel­come, I'm sure," Mrs. Roo­sevelt said polite­ly, but kept moving.
"I'm Alizée Benoit," she said, thrust­ing her hand out. ​"And if it weren't for you, I'd be stuff­ing envelopes — if I were lucky enough to get that job — instead of painting."
The First Lady had no choice but to shake Alizée's hand. ​"I'm so hap­py to hear that, Miss Benoit. That was exact­ly our inten­tion. If we're going to pay plumbers and car­pen­ters for their work, why not pay artists to do theirs?"
"And this way you get orig­i­nal art in the places the plumbers and car­pen­ters build." Alizée heard the arti­fi­cial­i­ty in her own voice and flushed. ​"I have a ques­tion for you."
Mrs. Roo­sevelt began to move away. ​"It was very nice to meet you, Miss Benoit," she said. ​"Please con­tin­ue your good work."
Alizée sent up anoth­er call to her moth­er and fell in step with the First Lady. ​"I noticed that all of the WPA murals are rep­re­sen­ta­tion­al," she con­tin­ued as if she hadn't just been dis­missed, ​"and won­dered why there's only one style. Why not some abstract murals, too? There are lots of us doing non­rep­re­sen­ta­tion­al work right here in New York. All over the coun­try. It's inno­v­a­tive, force­ful, and very Amer­i­can. So I was think­ing it should be includ­ed, and I won­dered if you agreed."
Mrs. Roosevelt's eyes flashed with mer­ri­ment. ​"And what is it about this abstract art that makes it so inno­v­a­tive and forceful?"
Alizée took a deep breath. ​"It goes deep. Much deep­er than just a pic­ture of what we can already see. It's not easy to make sense of— or to paint — but when you do, there's noth­ing like it. It's mag­i­cal, real­ly. Inter­pret­ing what's going on inside." She tapped her heart. ​"And then putting it on the out­side. The real expe­ri­ence of living."
The First Lady stopped walk­ing. ​"I don't understand."
Alizée vibrat­ed with the need to artic­u­late this, to make Mrs. Roo­sevelt appre­ci­ate what burned inside her. ​"We want to get at what life feels like. The emo­tions we all share. Our com­mon­al­i­ty. To make our invis­i­ble life vis­i­ble. Or," she added lame­ly, frus­trat­ed with her inabil­i­ty to put it into words, ​"or experienceable."
"I'm very sor­ry, my dear" — Mrs. Roo­sevelt gave a small laugh— ​"but the pres­i­dent likes pic­tures where he can rec­og­nize peo­ple. I'm not sure he'd rec­og­nize emotions."
"But you might." Alizée touched the ring again. ​"If you just gave it a chance."
Nor­ton tapped her arm. ​"I'm sure Mrs. Roo­sevelt would like to see the rest of the murals."
"I'm sure she would," Alizée agreed, turn­ing back to the First Lady. There was no point in retreat­ing now. ​"I know you're very busy, but if you'd like to come to my stu­dio, I can show you some of my paint­ings. That way you'll be able to under­stand bet­ter what I wasn't very good at describing."
"Why, that's a love­ly offer, Miss Benoit," Mrs. Roo­sevelt said in a tone that con­veyed she actu­al­ly meant it. ​"I may just take you up on that."
"Please do," Alizée said. ​"And if you like any­thing you see, I'd love you to have it. I'd give it to you, of course. A gift." She grabbed a small scrap of paper, scrib­bled her address, and offered it. ​"And maybe you'll decide that abstract art should be a part of the WPA." Mrs. Roo­sevelt took the address and dropped it in her pock­et­book, then looked at Alizée, obvi­ous­ly try­ing to con­tain her amuse­ment. ​"And if the WPA did deem abstract art wor­thy, I'm guess­ing you have an idea of how you'd like to be involved?"
Alizée was stunned. Had she actu­al­ly suc­ceed­ed in con­vinc­ing the First Lady? She didn't know what to say but had to say some­thing. ​"I'd … I'd love to be the first one to design and super­vise a non­rep­re­sen­ta­tion­al mur­al." She swept her arms around the ware­house. ​"And one for my friend Lee Kras­ner, too, please. Over there." She waved to Lee, who was watch­ing them wide-eyed. ​"Miss Krasner's a won­der­ful artist. If the two of us could have our own abstract projects, I'd hap­pi­ly kiss your feet."
"I don't think that will be nec­es­sary," Mrs. Roo­sevelt said, swal­low­ing a smile.
From The Mural­ist: A Nov­el by B. A. Shapiro. Reprint­ed with per­mis­sion from Algo­nquin Books.
B. A. Shapiro is the best­selling author of The Col­lec­tor's Appren­tice, The Mural­ist, and The Art Forg­er, which won the New Eng­land Book Award for Fic­tion and the Boston Authors Soci­ety Award for Fic­tion, among oth­er hon­ors. Her books have been select­ed as com­mu­ni­ty reads in numer­ous cities and trans­lat­ed through­out the world. Before becom­ing a nov­el­ist, she taught soci­ol­o­gy at Tufts Uni­ver­si­ty and cre­ative writ­ing at North­east­ern Uni­ver­si­ty. She and her hus­band, Dan, divide their time between Boston and Florida.