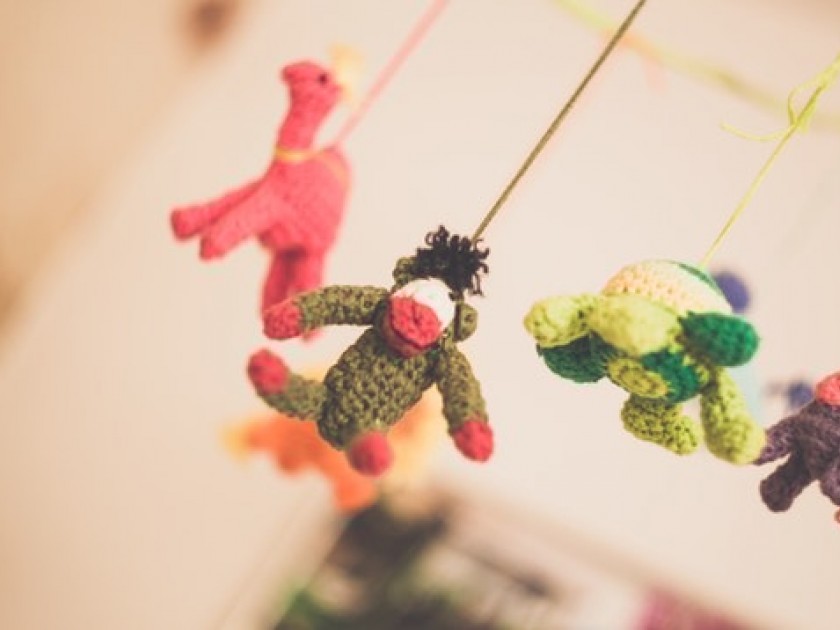 Bri­an Platzer, author of Bed-Stuy Is Burn­ing, has been guest blog­ging for the Jew­ish Book Coun­cil this week as part of the Vis­it­ing Scribe series.
Bed-Stuy Is Burn­ing is a nov­el about a fic­tion­al race riot in con­tem­po­rary Bed­ford Stuyvesant, one of the most his­tor­i­cal­ly volatile neigh­bor­hoods in New York City. The nov­el ini­tial­ly focus­es on Aaron, a dis­graced rab­bi turned Wall Street banker; Amelia, his jour­nal­ist girl­friend; and Simon, their infant son. The infu­sion of upward­ly mobile pro­fes­sion­als — like Aaron and Amelia — into Bed-Stuy's his­toric brown­stones belies the ten­sion sim­mer­ing on the streets below. After a cop shoots a boy in a near­by park, con­flict esca­lates to riot­ing — with Aaron and Amelia at its center.
Below is an ear­ly-draft excerpt from when the nov­el was writ­ten in alter­nat­ing first-per­son voic­es. Here, Amelia is more blunt and cal­low than she becomes in lat­er drafts. In this pas­sage, she thinks about her infant son and the actor Adam Driver.
I didn't want my Simon to sud­den­ly die, but if he did, I want­ed it to be Aaron's fault. I could sur­vive Simon suf­fo­cat­ing, and I could for­give Aaron if he acci­den­tal­ly suf­fo­cat­ed Simon, but I didn't know if Aaron could for­give me.
When a cou­ple gets engaged, they're repeat­ed­ly asked a series of ques­tions: How did he do it? Did she know it was com­ing? Did she cry? Can I see the diamond?
The ques­tions allow friends and fam­i­ly to share in the couple's joy, to feel part of their love. The answers mat­ter less than the con­ver­sa­tion­al enthu­si­asm they enable. When a cou­ple has a child, they're asked ques­tions that play a sim­i­lar a role: what was the birth weigh? How long was the labor? Who do you think he looks like? Do you love him so much? More than you ever loved anything?
It was hard to say I loved Simon before he knew I exist­ed. Before he knew that I was dif­fer­ent from the wall and my boyfriend and him­self. I'm not sure non-rec­i­p­ro­cal love exists. I cried when I leaned around and saw his lit­tle head stick­ing out of my body. I knew he was inside me and I felt him there for months, but when I saw the baby who would be my son for the rest of my life, it was the most pow­er­ful­ly emo­tion­al moment of my life.
But it wasn't exact­ly love.
It was pride, for one — a kind of pride that makes me won­der if adopt­ing is more sig­nif­i­cant­ly dif­fer­ent from giv­ing birth than I would have thought. I'm proud that my body — with its bad eyes and thin hair and lac­tose intol­er­ance and basal cell car­ci­no­mas — could make a new body inside it. I'm proud that I made a thing as fat and short and per­fect as Simon. But my guess is that the pride fades away and what's left is the oth­er most pow­er­ful emo­tion I feel, that of protection.
My son turned one a few weeks ago, and I've just now stopped wak­ing up every night to hov­er over his crib to make sure he is breathing.
But if he does die, I don't want it to be my respon­si­bil­i­ty. I want it to be Aaron's. But it won't be. It will be mine. I know that. Some­how I know.
I couldn't sleep so I thought about what would hap­pen if Simon were to die, and I thought about my boyfriend sleep­ing next to me, and I thought about my inter­view with Adam Dri­ver, who played Adam, Lena Dunham's boyfriend, on Girls and now is in the Star Wars movies. I inter­viewed him that day and I liked him. He had many of the same man­ner­isms as his char­ac­ter on Girls, and he even had a back­ground that I imag­ined his char­ac­ter shared — like his father in real life was a preach­er, and he joined the mil­i­tary after 9/11 — but he also had this unas­sum­ing, almost apolo­getic smile that he fell back into all the time in real life that the direc­tor or edi­tor or some­one on Girls must have worked hard to remove all traces of, because in real life he has an ath­let­ic boy­ish­ness that bal­anced his self-seri­ous­ness. That's what I'm going to write about. His boyishness.
Adam Dri­ver is mar­ried, but the whole time I was with him I knew that if I was feel­ing bet­ter about my body and I wasn't breast­feed­ing and I was feel­ing sex­u­al again and not just a moth­er and I wasn't attached to Aaron because of Simon and Aaron wasn't such a great guy and it wouldn't hurt him so much if he found out and if it wouldn't ruin Simon's life, I'd real­ly want to sleep with Adam Dri­ver. And not just as a phys­i­cal thing. I'd want to sleep with him as a life-expe­ri­ence thing. Almost as if I were doing it for Simon. For Simon's future. In the same way I think it's good for him to live in Bed­ford Stuyvesant and grow up in such a diverse neigh­bor­hood, I think it'd be good for him for his moth­er to be inti­mate with Adam Driver.
Bri­an Platzer has an MFA from the Johns Hop­kins Writ­ing Sem­i­nars and a BA from Colum­bia Uni­ver­si­ty. His writ­ing has appeared often in The New Yorker's Shouts and Mur­murs and McSweeney's Inter­net Ten­den­cy, as well as in The New York Times, the New Repub­lic, Salon, and else­where. He lives with his wife and two young sons in Bed-Stuy and teach­es mid­dle school Eng­lish in Manhattan.