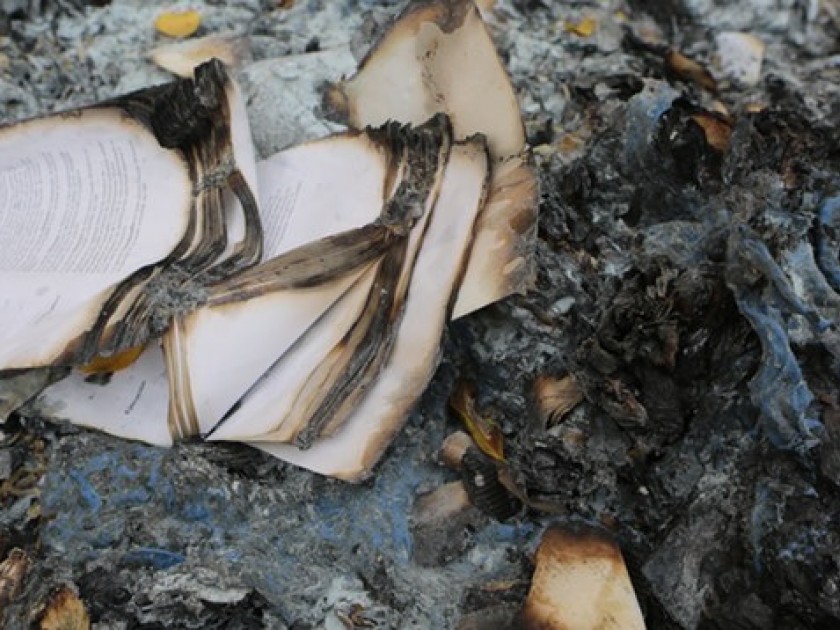 Bri­an Platzer, author of Bed-Stuy Is Burn­ing, will be guest blog­ging for the Jew­ish Book Coun­cil this week as part of the Vis­it­ing Scribe series.
Five years ago I wrote a series of intel­lec­tu­al­ly insin­cere arti­cles with the sole pur­pose of build­ing a resume. I was a few years out of my MFA and begin­ning the search for an agent to rep­re­sent my own fic­tion, and I want­ed to boost my cre­den­tials above those of my peers who, like me, had aca­d­e­m­ic accom­plish­ments but few or no pub­li­ca­tions to their names.
I'd earned my MFA from the Johns Hop­kins Writ­ing Sem­i­nars, a won­der­ful pro­gram with bril­liant teach­ers who focused on teach­ing craft over pro­fes­sion­al devel­op­ment. How­ev­er, they always implied that the prop­er step­ping-stones into pub­lish­ing were lit­er­ary jour­nals. The idea was that we were work­shop­ping our sto­ries each week both to learn skills and to pol­ish the sto­ries them­selves to the point where they'd be sub­mit­table to the jour­nals we had lying around the depart­ment offices. But aside from very rare excep­tions, we were all reject­ed. I cer­tain­ly was, over and over again. Dozens, then hun­dreds, of times.
I was eager to believe my more sophis­ti­cat­ed and cyn­i­cal class­mates when they told me that the world of lit­er­ary jour­nals was gov­erned by nepo­tism. That until I had favors to trade I wouldn't get pub­lished, and that most of these mag­a­zines had more peo­ple sub­mit­ting to them than actu­al read­ers. The truth was I didn't know if any of this was accu­rate. What I knew was, just as when I hadn't been invit­ed to the par­ty in high school, I was hap­py to hear sto­ries of how only scum­bags had been there, anyway.
So upon grad­u­a­tion I fig­ured the next best thing was to review books for rep­utable pub­li­ca­tions. I sent clip­pings from col­lege every­where, from the Times to Time Out New York to web­sites that cov­ered my Brook­lyn neigh­bor­hood, but, again, nobody responded.
I'd been query­ing agents at the time, and no one was respond­ing those emails, either, so I was grow­ing des­per­ate. I select­ed a nov­el that was receiv­ing a lot of atten­tion—The Art of Field­ing—and I wrote a reck­less take­down. I emailed the review to a ran­dom edi­tor at Salon​.com, who attached a click-bait head­line that bare­ly had to do with my piece — Eng­lish teacher: I was wrong about ​"Hunger Games" — and pub­lished with­in 24 hours. My wife and I celebrated.
But the piece was real­ly, real­ly bad.
In it, I admit to urg­ing a stu­dent to read The Art of Field­ing before I'd read it, myself. I affect the tone of a moral librar­i­an, instruct­ing read­ers on what con­sti­tut­ed more and less valu­able lit­er­a­ture. Try to make sense of this sen­tence: ​"If the lit­er­ary estab­lish­ment wants our teenagers to fall in love with lit­er­a­ture, it must stop cyn­i­cal­ly writ­ing and impru­dent­ly review­ing books like ​'The Art of Field­ing' as though they were exam­ples of adult lit­er­ary fiction."
What did I mean by any of this? What was this ​"lit­er­ary estab­lish­ment" that was both ​"cyn­i­cal­ly writ­ing" and ​"impru­dent­ly review­ing" books for ​"our" teenagers?
All that stands out to me now is my naked oppor­tunism and, most­ly, jeal­ousy. Jeal­ousy of Harbach's suc­cess, of his hav­ing accom­plished every­thing I want­ed but that seemed so far from my grasp, and of the review­ers who were blessed to be review­ing for the Times or the New York­er where they could think hon­est­ly and wise­ly about a work of art — and where they could build rep­u­ta­tions with which to pub­lish their own novels.
Har­bach, of whom I'd always been a fan (I'd cir­cu­lat­ed his essay on the Yan­kees-Red Sox rival­ry), had nev­er made any of the claims that I was so vain­ly dis­pelling. He'd sim­ply writ­ten an enter­tain­ing nov­el about base­ball, acad­e­mia, sex, love, and friendship.
Well, my strat­e­gy worked. With this piece, I was able to I pub­lish else­where. I slow­ly built a resume.
Today, July 11th, is the pub­li­ca­tion date my debut nov­el. Not only do I shud­der at the prospect of reci­procity — that some­one will use the nov­el that I've spent years writ­ing as a stack of papers to pub­licly set aflame in order to gath­er atten­tion — but also, like a job appli­cant scan­ning through Face­book at pic­tures of him or her­self mak­ing las­civ­i­ous faces and drink­ing Jager­bombs in a skimpy bathing suit, I'm hor­ri­fied not to be able to erase the wan­ton indis­cre­tion of my needy and vul­ner­a­ble years.
When I am at my most self-for­giv­ing, I allow that these ear­ly essays were a means to an end. That what real­ly mat­tered was my nov­el. I did what I had to, and peo­ple have done far worse. But I'm not sure. Why does a nov­el that a few thou­sand peo­ple will read mat­ter so much more than essays that a few thou­sand peo­ple will read? The nov­el has more cul­tur­al cache, but that's prob­a­bly just among my friends who spent years earn­ing their MFAs. I've worked hard­er on the nov­el, but that just means I should have worked hard­er on the essays. Nowhere did I, even for a moment, ele­vate any work of art — whether Harbach's or my own — over my ego or ambi­tion. And even after all this, even as I write these words, I can't help but still hope that I'll be noticed.
Bri­an Platzer has an MFA from the Johns Hop­kins Writ­ing Sem­i­nars and a BA from Colum­bia Uni­ver­si­ty. His writ­ing has appeared often in The New Yorker's Shouts and Mur­murs and McSweeney's Inter­net Ten­den­cy, as well as in The New York Times, the New Repub­lic, Salon, and else­where. He lives with his wife and two young sons in Bed-Stuy and teach­es mid­dle school Eng­lish in Manhattan.