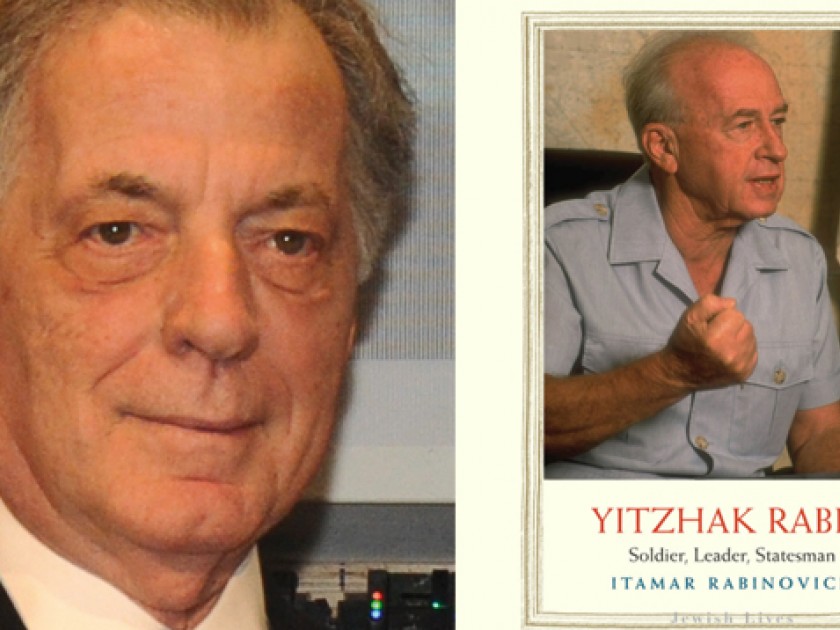 Ita­mar Rabi­novich, for­mer Israeli ambas­sador to the Unit­ed States and pres­i­dent of Tel Aviv Uni­ver­si­ty, has writ­ten sev­er­al books on Mid­dle East­ern affairs and is most recent­ly the author of Yitzhak Rabin: Sol­dier, Leader, States­man, a vol­ume in the Yale Uni­ver­si­ty Press series Jew­ish Lives. He talked with me about the book and Prime Min­is­ter Rabin.
Although he thought he knew Yitzhak Rabin well and worked close­ly with him, Pro­fes­sor Ita­mar Rabi­novich says he learned much more about him while writ­ing this biog­ra­phy. The most notable rev­e­la­tion was Rabin's fam­i­ly back­ground and the big influ­ence his moth­er had on him. Rosa Cohen — Red Rosa as a left-wing rad­i­cal in Rus­sia — was a strong-mind­ed intrigu­ing woman who became a Labor Zion­ist in Tel Aviv. Rabin also had a cer­tain sov­er­eign­ty; if he believed in some­thing, did it. He was anti-polit­i­cal par­ties, and it took him a long time to join one.
Anoth­er notable point was how ear­ly in Rabin's career his tal­ent for mil­i­tary affairs came through. Rabin had an intu­itive grasp of mil­i­tary think­ing and the abil­i­ty to impart it. He was a good instruc­tor — accord­ing to one stu­dent, the best mil­i­tary instruc­tor he ever had, includ­ing those at the pre­em­i­nent French École de guerre. Yigal Alon iden­ti­fied Rabin's skills ear­ly on and ele­vat­ed Rabin quickly.
The War of Inde­pen­dence in 1948 was a painful expe­ri­ence for Rabin. He lost half his men in the fight­ing on the road to Jerusalem. Lead­er­ship had not pre­pared for war. Rabi­novich recalls an evening in Jerusalem when Bill Clin­ton and Rabin stood on a bal­cony over­look­ing the city and Rabin recount­ed the details of the failed attack to save the Jew­ish quar­ter of Jerusalem. Almost forty years lat­er it was still in his mind. He remem­bered it vividly.
After the War of Inde­pen­dence, Rabin stayed in the IDF (Israeli Defense Force) despite its hos­til­i­ty to the Pal­mach (an elite fight­ing force in the prestate under­ground army), which Rabin had joined in 1941, and rose to the top of the mil­i­tary pyra­mid as chief of staff of the IDF. After the vic­to­ry in the Six-Day War, Rabin was a major nation­al fig­ure and had to plan his next step. He had no inter­est in busi­ness and want­ed to stay in pub­lic life; Rabi­novich says the only way for him to be part of pub­lic pol­i­cy was to move into pol­i­tics. But he need­ed to hone his skills, and Wash­ing­ton was the place to do it. He asked Prime Min­is­ter Levi Eshkol for the ambas­sador­ship to the Unit­ed States, and Eshkol gave it to him.
In Wash­ing­ton, Rabin met Hen­ry Kissinger, who in many respects became his men­tor. He also had a good rela­tion­ship with Pres­i­dent Nixon. Despite what Amer­i­cans may think of Nixon as pres­i­dent, Rabi­novich notes that he was a great geopo­lit­i­cal thinker. He saw Israel through the lens of the Cold War and in a cold, cal­cu­lat­ed way con­sid­ered Israel an asset. Rabin had treat­ed Nixon well when he was a has-been, invest­ing a whole day tour­ing him in Israel, for which Nixon was grate­ful; the time spent laid the ground­work for their rela­tion­ship. Rabin did the same for Jim­my Carter in 1973, when no one spent time with the gov­er­nor of Geor­gia. But Rabin saw him as a step­ping stone, although the time invest­ed in Carter didn't work out down the road. Rabin and Clin­ton clicked per­son­al­ly — a mutu­al love sto­ry — and had a close rela­tion­ship. Clin­ton knew that what he saw with Rabin was what he would get; he knew where Rabin stood and what the sit­u­a­tion was.
Rabi­novich describes Rabin as a polit­i­cal dove and a mil­i­tary hawk. As ear­ly as 1963, Rabin had seen that Israel would not be able to keep up an arms race with the Arab and agreed to Israel's nuclear project. But he saw the ter­ri­to­ry won in the Six-Day War as a bar­gain­ing chip to get recog­ni­tion of Israel by the Arab states, not as an area for the set­tlers to move into, which Rabin strong­ly opposed. At this point the set­tlers were a minor move­ment that did not become a force until the mid-1970s. By the 1990s Rabin believed enough was enough. It was time to make peace. And it was a good moment — the Unit­ed States was on an upswing after the defeat of Sad­dam Hus­sein, Rus­sia was down after the col­lapse of the Sovi­et Union. Rabin rec­og­nized the moment and grasped it. The cen­ter left saw oppor­tu­ni­ties to use its bar­gain­ing chips.
Of the tracks to peace that had been opened, Rabin pre­ferred to work with Syr­ia, an imme­di­ate neigh­bor, to counter the greater dan­ger he saw in Iraq. Rabi­novich, as chief nego­tia­tor with Syr­ia, was in the mid­dle of these events. He says the advan­tage of being a diplo­mat after being a pro­fes­sor of his­to­ry was that he had a crit­i­cal sense of what was hap­pen­ing. In August 1993, as nego­ti­a­tions with Syr­ia were to begin, Rabin deposit­ed with the U.S. Sec­re­tary of State War­ren Christo­pher an oral offer that Israel would leave the Golan, but dur­ing his nego­ti­a­tions Christo­pher was to keep to him­self until Syr­ia agreed to a set of con­di­tions. Rabi­novich remarked to Den­nis Ross, his US coun­ter­part, that he could hear the wings of his­to­ry in the room. Look­ing back, he says all three par­ties — Hafez al-Asad, the pres­i­dent of Syr­ia; Israel; and the Unit­ed States — made mis­takes. Christo­pher put the offer on the table; even if Asad had been inter­est­ed in mak­ing peace, he began nego­ti­at­ing, accord­ing to Rabi­novich, like the vic­tor, not the van­quished. The oppor­tu­ni­ty was missed. With the track to Syr­ia closed, the Oslo process, begun in 1992, was the only game in town.
When we spoke, Rabi­novich had just fin­ished review­ing the play Oslo. He sees it as good the­ater but not a good ren­di­tion of real­i­ty. It places too much empha­sis on the peo­ple in the nego­ti­at­ing room and not enough on the lead­ers. Rabin agreed to Oslo only because the deposit in Syr­ia failed.
Of the rela­tion­ship between Rabin and Shi­mon Peres and their rela­tion­ship with the Israeli pub­lic, Rabi­novich observes that although Rabin had a blunt man­ner, the Israeli pub­lic saw this blunt­ness as a sense of his direct­ness. He was some­one who spoke can­did­ly, and he built cred­i­bil­i­ty and author­i­ty. This was what allowed him to come back in 1992. Peres was a very gift­ed man, but he had a cred­i­bil­i­ty prob­lem with the pub­lic. Peres and Rabin did not like one anoth­er, but they com­ple­ment­ed one anoth­er and when they col­lab­o­rat­ed, they were very pow­er­ful. When he was ambas­sador to the Unit­ed State under Rabin and Peres was for­eign min­is­ter, Rabi­novich was in the mid­dle, between them, and saw both sides. He did not play games. He avoid­ed the famil­iar tech­nique of going around the for­eign min­is­ter by send­ing telegrams direct­ly to the prime min­is­ter. Peres knew who Rabi­novich was and knew he was loy­al to Rabin. They devel­oped a good rela­tion­ship that endured.
The year 1995 was a bad time. The Israeli mind set was that, if there was an assas­si­na­tion attempt, it would be by an Arab. Secu­ri­ty was planned to pro­tect the prime min­is­ter from Arabs, not Jews; Jews do not kill Jews. After the assas­si­na­tion, Israel copied the US secu­ri­ty model.
In answer to whether it was hard to go back over this mate­r­i­al, Pro­fes­sor Rabi­novich said this is life, and life goes on. He was invit­ed to be pres­i­dent of Tel Aviv Uni­ver­si­ty and after that has con­tin­ued serv­ing in aca­d­e­m­ic and pub­lic life.
Pri­or to start­ing work with Rabin, Rabi­novich had a super­fi­cial social friend­ship with him. Dur­ing near­ly four years of work with him, he was Rabinovich's leader, and the two also devel­oped a close per­son­al rela­tion­ship. Rabin was an intro­vert­ed man, but once you gained his con­fi­dence, he became acces­si­ble. He demand­ed loy­al­ty but also gave it. It was a plea­sure to work for a leader who was wise, expe­ri­enced, open, and trust­wor­thy. A word was a word. You always knew where you stood, and you also knew that you were part of a great his­tor­i­cal moment.
Maron L. Wax­man, retired edi­to­r­i­al direc­tor, spe­cial projects, at the Amer­i­can Muse­um of Nat­ur­al His­to­ry, was also an edi­to­r­i­al direc­tor at Harper­Collins and Book-of-the-Month Club.