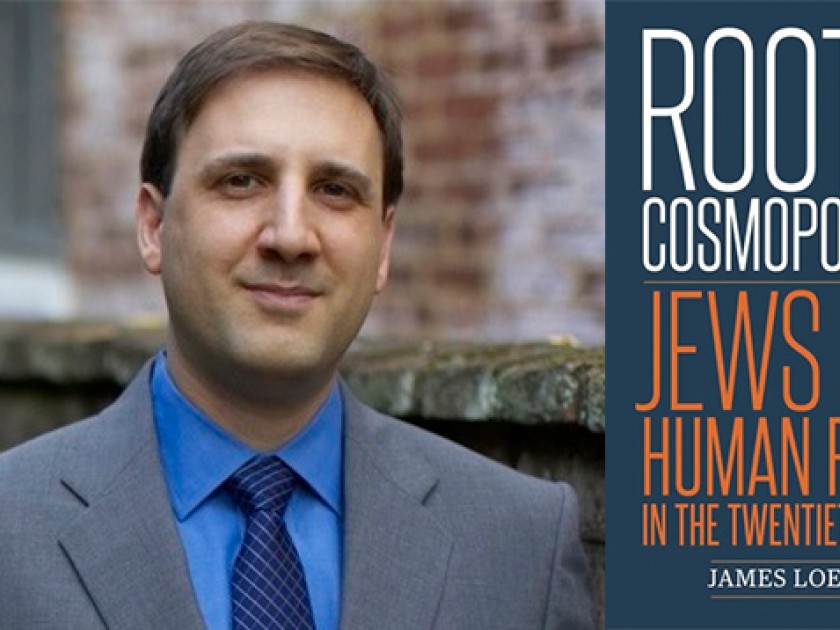 James Loef­fler​'s recent book, Root­ed Cos­mopoli­tans, com­pares two lead­ing strate­gies of twen­ti­eth-cen­tu­ry Jew­ish activism: one empha­sizes col­lec­tive rights for Jews as a minor­i­ty group; the oth­er focus­es on advanc­ing human rights for all in order to best pro­tect the rights of Jews. Bob Gold­farb spoke with Loef­fler about the impli­ca­tions of those strate­gies today.
Bob Gold­farb: It seems that there's always been a ten­sion between the view that there needs to be a Jew­ish state, and the idea that it's pos­si­ble to secure the rights of Jews as a minor­i­ty in the coun­tries where they live.
James Loef­fler: I would put it dif­fer­ent­ly. Among Jew­ish social­ists and oth­ers, there was a strong desire to inte­grate, and the sense that Zion­ism marked us as ​"too dif­fer­ent." But for the peo­ple in the sto­ry I've told, Zion­ism wasn't either/​or. It wasn't either ​"we stay here" or ​"we go." These lead­ers in East­ern Europe felt that we need­ed to pro­tect our­selves as indi­vid­u­als and as a peo­ple in the Dias­po­ra—and also want­ed to have a home­land like oth­er nations. They felt that if we don't have a coun­try of our own, we can't advo­cate for rights in the coun­tries where we live.
BG: At the begin­ning of [minor­i­ty rights advo­cate] Jacob Robinson's career, in Lithua­nia, he defend­ed the impor­tance of minor­i­ty rights for Jews, and at the same time said he was a proud cit­i­zen of Lithua­nia. It seems sim­i­lar to the way Amer­i­can Jews describe them­selves. But then he left Lithua­nia. Did his point of view change?
JL: It didn't change that much. He left Lithua­nia, but it was because the Sovi­ets invad­ed. More than he was con­cerned about Lithuan­ian anti-Semi­tism, which was very real, he was espe­cial­ly con­cerned with the Com­mu­nist threat to Jews, and to every­one in that part of the world. He stayed in Lithua­nia, even after he moved his fam­i­ly abroad, to help the Jews who had fled Poland in 1939, and also because he was still friends with many peo­ple in the Lithuan­ian gov­ern­ment. He was hyper-ratio­nal, and he always said we need to view the world as clear­ly as pos­si­ble in terms of what's going to happen.
BG: In present-day Poland, the rul­ing Law and Jus­tice Par­ty isn't so friend­ly to Jews. What do you think Jacob Robinson's take, or les­son, would be?
JL: Jacob Robin­son felt that the Jews of Europe were not mak­ing enough use of the rights they had. Many Jews were afraid that speak­ing out would trig­ger anoth­er wave of anti-Semi­tism, and accu­sa­tions that they were dis­loy­al. They felt they should keep their heads down and hope it would all pass. Robin­son, on the oth­er hand, felt that the anti-Semi­tes would think what they were going to think anyway.
As anti-Semi­tism comes more into the open in Poland today, his les­son would be that Jews should use every means at their dis­pos­al, and not be afraid to make claims against the coun­try where they live — and to seek sol­i­dar­i­ty with Jews else­where. Anoth­er les­son is that we should be accept­ed for who we are, and not feel that being reli­gious­ly, cul­tur­al­ly, and lin­guis­ti­cal­ly dif­fer­ent is some­how wrong.
BG: You used the word ​"sol­i­dar­i­ty." That's very dif­fer­ent from the approach of Jacob Blaustein of the Amer­i­can Jew­ish Com­mit­tee, isn't it? He didn't talk about sol­i­dar­i­ty, but rather the human rights of individuals.
JL: That tra­di­tion was also about sol­i­dar­i­ty, but much more about ​"let's find sol­i­dar­i­ty with oth­er groups in Amer­i­can soci­ety. Let's build a part­ner­ship with them, not empha­siz­ing how we may be dif­fer­ent from oth­er minor­i­ty groups." So it is a very dif­fer­ent approach, an Amer­i­can lib­er­al approach that was not com­fort­able with too much Jew­ish­ness — too much eth­nic Jew­ish­ness, too much Jew­ish religiosity.
I don't think they were assim­i­la­tion­ist. They were proud of their Jew­ish­ness; they just weren't com­fort­able with the idea that Jews should be seen as so different.
BG: Does that spring from a kind of anx­i­ety about difference?
JL: I think it absolute­ly does. They felt that the more Jews seem like oth­er Amer­i­cans, espe­cial­ly oth­er white Amer­i­cans, the eas­i­er it will be for Jews. The Amer­i­can Jew­ish Com­mit­tee was deeply com­mit­ted to civ­il rights and to Amer­i­can lib­er­al­ism. They also felt that Jews should not stick out too much; we shouldn't appear too tribal.
BG: It seems as though the Amer­i­can expe­ri­ence is sim­i­lar in some ways to that of Ger­man Jews, who famous­ly called them­selves ​"Ger­man cit­i­zens of the Jew­ish faith."
JL: I think so. It's strik­ing, when you look back at why Blaustein and the Amer­i­can Jew­ish Com­mit­tee were ambiva­lent about or even hos­tile to Zion­ism, that they spent very lit­tle time talk­ing about con­flicts between Jews and Arabs. They had a fear that if they talked about them­selves as a nation — if they said we're some­thing more than just a reli­gious faith — then we would be trig­ger­ing more anti-Semi­tism, draw­ing more accu­sa­tions of dis­loy­al­ty. That was some­thing they shared with the Ger­man Jews.
BG: Has that atti­tude made its way to Amer­i­can Jews today? Do you think most Amer­i­can Jews are no longer appre­hen­sive about dif­fer­ence, or is there a large seg­ment that still holds onto the idea that we shouldn't be too different?
JL: I think it's very much there. I think we can draw a line between that ear­li­er peri­od and a cer­tain Amer­i­can Jew­ish men­tal­i­ty today. In spite of a greater self-con­fi­dence, there's still a strain of Jew­ish think­ing which is hes­i­tant to fore­ground Jew­ish iden­ti­ty. There's still a cer­tain seg­ment that is less com­fort­able with the thick­er forms of eth­nic, cul­tur­al, or nation­al Jew­ish iden­ti­fi­ca­tion, and resist the idea that they're part of a ​"Jew­ish nation."
BG: How does that square with the stance of a lot of Amer­i­can Jews in favor of activism on behalf of oth­er self-iden­ti­fied groups — African-Amer­i­cans, Pales­tini­ans, LGBT peo­ple? They don't cat­e­gor­i­cal­ly reject bold group iden­ti­ty, just in the case of Jews.
JL: It comes from the kind of ear­ly mid-cen­tu­ry posi­tion tak­en by the Amer­i­can Jew­ish Com­mit­tee, and oth­er groups like the Amer­i­can Jew­ish Con­gress, which says that when we advo­cate for oth­ers we are pro­tect­ing every­one. We're ensur­ing the fate of democ­ra­cy, we're mak­ing democ­ra­cy more inclu­sive, and this will ben­e­fit us.
The cri­tique of that is that it can lead to an imbal­ance in how we think about who we care about. We're at a point now, because of the politi­ciza­tion of human rights and the polar­iza­tion that has tak­en place, that these things seem in ten­sion with one anoth­er in a way that they weren't before.
BG: Is there any sort of para­dox in the stance of a group like Jew­ish Voice for Peace, which iden­ti­fies as Jew­ish while advo­cat­ing for Palestinians?
JL: I think there is a para­dox, and I try to expose it in the book I wrote. That very quest for human rights and jus­tice has deep Zion­ist roots. To pre­tend that this activism comes from a rejec­tion of the Jew­ish expe­ri­ence, and an embrace of the oth­er, is to inflict a cer­tain vio­lence on his­to­ry and on what real­ly hap­pened. It's pre­tend­ing that Jews became cos­mopoli­tan, and that required them to check their Jew­ish­ness at the door. There's an amne­sia there.
There's an eth­i­cal prob­lem, too. The peo­ple I've stud­ied under­stood that you can best advo­cate for these con­cerns by rec­og­niz­ing your mem­ber­ship in this col­lec­tive expe­ri­ence we call the Jew­ish peo­ple. That way you're actu­al­ly bet­ter able to under­stand the needs of the Other.
The first rule of the Mid­dle East is that you have to come as who you are. That means you can't side­step the Israeli-Pales­tin­ian con­flict. You have to work through the frame­work of being part of the Jew­ish peo­ple — push­ing, if you want, for the Jew­ish peo­ple to change. If you want Israel to change its poli­cies, work through Israel rather than try­ing to dele­git­imize Israel and treat it as an enti­ty that you have no rela­tion­ship to. You don't get to sim­ply join up with the Palestinians.
BG: Was Peter Benen­son [founder of Amnesty Inter­na­tion­al] a pre­cur­sor to the Jew­ish Voice for Peace point of view? His goal was to be uni­ver­sal­ist and enforce human rights. At the same time, Amnesty was crit­i­cized for being par­tic­u­lar­ly inter­est­ed in alleged human rights abus­es by Israel, while it declined to inves­ti­gate oth­er coun­tries in the Mid­dle East in the same way. It seems to be an exten­sion of uni­ver­sal­ism to take that next step.
JL: I think that's true, and it's an inter­est­ing geneal­o­gy. Just as now, there was a lot of diver­si­ty, a lot of Jew­ish path­ways. Benenson's sto­ry shows you can cut your­self off from the Jew­ish reli­gion, and you can dream, but the Jew­ish­ness in the pol­i­tics of it doesn't go away. Benen­son tried to reject all nation­al and trib­al iden­ti­ty, becom­ing a Catholic to do it. I think that's part of the expla­na­tion of why human rights, as it chased more and more after uni­ver­sal­ist ideals, came to focus on Israel. It saw Israel as a fun­da­men­tal obsta­cle to those goals.
It also has to do with what we could call a polit­i­cal the­ol­o­gy: human rights as a kind of reli­gion. It can replace oth­er reli­gions and oth­er kinds of polit­i­cal com­mit­ments. Some­thing of Amnesty International's ori­gins, and its explic­it rejec­tion of Zion­ism, col­ors its atti­tudes, and its deter­mi­na­tion to final­ly resolve the Israeli con­flict through its own intervention.
Amnesty had a vig­or­ous inter­nal debate about exact­ly these ques­tions. Some mem­bers felt it was wrong to focus on the Pales­tin­ian con­flict, because ​"we don't work in war zones, and that's not our exper­tise, and we don't sup­port pris­on­ers who endorse vio­lence." Oth­ers said, ​"No, we have to do this." It's impor­tant to recap­ture that complexity.
BG: In the epi­logue to the book, you wrote: ​"The pro­fes­sion­al human-rights com­mu­ni­ty speaks the lan­guage of long-dis­tance sol­i­dar­i­ty, and cos­mopoli­tanism. It sees injus­tice, cri­sis, and atroc­i­ty, and favors net­works and crowds instead of nations and states." If pow­er is decou­pled from ide­al­ism, and if pol­i­tics are made irrel­e­vant to the project of human rights, then human rights activists would become prac­ti­tion­ers of rhetoric and sym­bol­ism rather than achiev­ing actu­al results. Is that what you meant by human rights becom­ing a reli­gion? Is there an implic­it belief that faith in human rights will itself bring sal­va­tion and redemption?
JL: I do think there's a cri­sis for human rights. If it's only about rhetoric, or norms, and you have pow­er­ful states which ignore them and become com­plete­ly resis­tant, you can call them names, but that doesn't force them to change. Then human rights doesn't have the pow­er that it would aspire to have.
That's a mes­sage that might be sur­pris­ing, espe­cial­ly in the Jew­ish sphere. About those involved with Israeli activism who crit­i­cize and try to dele­git­imize Israel, I believe that it doesn't actu­al­ly have the pow­er to change what the Israeli gov­ern­ment is going to do. For those peo­ple who deeply care about the Pales­tini­ans, human rights activism is not going to make up for what the Pales­tini­ans don't have, which is a state. Human rights can't replace citizenship.
It also can't stop some­thing like Syr­ia. We see now that out­rage about Syr­ia on the inter­net can't stop the war there. It can't be stopped by peo­ple sign­ing peti­tions or talk­ing about the atroc­i­ties that are being done. The war will be stopped when gov­ern­ments decide to inter­vene. I think human rights activism is wak­ing up to that.
Bob Gold­farb is pres­i­dent of Jew­ish Cre­ativ­i­ty International.