Ear­li­er this week, Wayne Hoff­man wrote about a fun­ny thing, the mean­ing behind the names of a few of his char­ac­ters, and a gay Jew­ish read­ing list.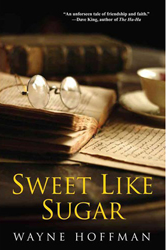 There's a scene in my nov­el Sweet Like Sug­ar where Ben­ji, the main char­ac­ter, finds him­self alone in an Ortho­dox rabbi's house. The first thing he does is check out the book­shelves that line every wall: reli­gious com­men­tary in the study, non­fic­tion (in Eng­lish and Hebrew and occa­sion­al­ly Yid­dish) cov­er­ing every­thing from ancient Jew­ish his­to­ry to the Holo­caust in the liv­ing room, cof­fee table books about Israeli art and archae­ol­o­gy in the din­ing room, kosher cook­books in the kitchen, even a shelf of poet­ry in the bed­room. Ben­ji notes the dif­fer­ences between the rabbi's col­lec­tion and that of his Con­ser­v­a­tive par­ents, which has less scrip­ture but more fic­tion (Roth, Mala­mud, Sholom Ale­ichem), as well as a smat­ter­ing of non-Jew­ish books: Civ­il War his­to­ries, Tom Clan­cy nov­els, biogra­phies of Bill Clin­ton and Mar­tin Luther King, Jr. ​"Two Jew­ish house­holds," Ben­ji mus­es to himself.
Ben­ji can tell a lot about peo­ple by the books they keep. Every­one can. But for how much longer?
We all know about the rise of dig­i­tal books, whether they're on your Kin­dle or your Nook or your iPad. Print edi­tions, mean­while, are on the decline.
E‑books have obvi­ous virtues: they're cheap­er, friend­lier to the envi­ron­ment, and take up less shelf space than tra­di­tion­al books. Paper-pre­fer­ring hold­outs fret about who los­es in this dig­i­tal rev­o­lu­tion: book­stores with no prod­ucts to sell, pub­lish­ers with declin­ing rev­enue despite healthy sales, authors whose roy­al­ties evap­o­rate, read­ers who miss the phys­i­cal plea­sures of hold­ing a real book – crack­ing the spine and dog-ear­ing the pages.
But regard­less of whether e‑books are good or bad for lit­er­a­ture, they offer a bleak future for peo­ple like Ben­ji (or me), who see books — what peo­ple read, what they keep, what they dis­play — as a win­dow into their own­ers' psy­ches. Writ­ers and read­ers may adjust to dig­i­tal for­mats, but we snoops will def­i­nite­ly suffer.
Some peo­ple peek into med­i­cine chests when vis­it­ing a house for the first time, but I linger around the book­shelves to see what books reveal about their own­ers. One might have a dis­con­cert­ing pen­chant for self-help books or Fam­i­ly Cir­cus car­toon col­lec­tions, while anoth­er has leather-bound vol­umes that, in their unopened state, seem obvi­ous­ly intend­ed only to impress onlook­ers. Some hold on to col­lege text­books, while oth­ers check out mys­tery nov­els from libraries. One might pile paper­backs hap­haz­ard­ly on a night­stand while anoth­er alpha­bet­izes books on well-ordered shelves. (Some peo­ple don't have any books in their hous­es; they are the odd­est of all.)
On a vis­it to Prague sev­er­al years ago, I met a local man and struck up an acquain­tance. We shared a few after­noons and a cou­ple of meals, talk­ing about art and pol­i­tics and pop cul­ture. We seemed in synch. When he asked if we could stop by his apart­ment on the city's out­skirts before din­ner one night, I imme­di­ate­ly accept­ed. I nod­ded along for the basic tour – the kitchen filled with slight­ly unfa­mil­iar appli­ances, the sleek­ly Euro­pean bath­room – but as soon as he excused him­self to get us a drink, I head­ed straight for his book­shelves. Philip Roth, Salman Rushdie, Hanif Kureishi, Michael Cun­ning­ham, and biogra­phies of every­one from Madon­na to Sig­mund Freud. Cul­tur­al crit­i­cism, his­to­ry, phi­los­o­phy, geopol­i­tics. In Eng­lish — which, I dis­cov­ered, was just one of about a half dozen lan­guages he spoke. There were books in Span­ish and French, Czech and his native Roman­ian, works by authors I had on my own shelves in Green­wich Vil­lage along­side those by peo­ple whose names I could nei­ther rec­og­nize nor pro­nounce properly.
I'd already had a good feel­ing about my new acquain­tance – good enough to vis­it his home. But it wasn't until I saw his books that I real­ly under­stood him, and felt cer­tain I want­ed to know him bet­ter. His books indi­cat­ed to me a shared sen­si­bil­i­ty: curios­i­ty, humor, skep­ti­cism, thought­ful­ness. Sure enough, we have remained close friends for years despite being an ocean apart.
I have dozens of sim­i­lar expe­ri­ences, and I'm sure I'm not alone. Book snoops have tak­en stock of many unsus­pect­ing people's shelves, scan­ning titles, check­ing for dust, build­ing per­son­al­i­ty pro­files based on what we find. The joy of book-snoop­ing isn't even lim­it­ed to poten­tial friends or para­mours; you can get to know a stranger just as easily.
The place I rent­ed three sum­mers ago on Cape Cod lacked air con­di­tion­ing or a bath­room door that closed prop­er­ly. Deliv­ery trucks and a faulty smoke alarm made it a dif­fi­cult place to find peace and qui­et. But nev­er mind: It was filled with books. Whole shelves of well-worn plays, a wall of non­fic­tion about local his­to­ry, an entire room for hard­cov­er nov­els. I nev­er met the books' own­er — I found the rental through an inter­me­di­ary bro­ker — but it was clear­ly some­one orga­nized, a focused col­lec­tor and avid read­er. It made an oth­er­wise unre­mark­able, small apart­ment feel like a per­fect­ly curat­ed live-in library, and I felt con­nect­ed to the unknown own­er, and his apart­ment; I've reserved the same place every sum­mer since, I'm stay­ing there again this week­end when I kick off my book tour in Province­town, and I'll go back next sum­mer, too. And I'll be check­ing the shelves again, see­ing what's been added or removed or rearranged and try­ing to deduce what those changes imply.
We are what we read. If you can't judge a book by its cov­er, you can still judge a per­son by his books. But this isn't pos­si­ble with e‑books, unless you plan to swipe someone's Kin­dle and scroll through the down­loaded titles behind his back.
So hail, or at least grudg­ing­ly accept, the e‑book – this nov­el marks my e‑book debut, so I'm not knock­ing the for­mat – but with one caveat: If, in the future, books and book­shelves have van­ished from our homes, it will be a loss for any­one who uses those objects to learn more about us. Some things, an e‑book sim­ply can't do.
Wayne Hoff­man is the author of Sweet Like Sug­ar and Hard, and the edi­tor of What We Brought Back: Jew­ish Life After Birthright- Reflec­tions by Alum­ni of Taglit-Birthright Israel Trips. He is cur­rent­ly tour­ing as a part of the Jew­ish Book Net­work. For more infor­ma­tion on book­ing Wayne, please con­tact jbc@​jewishbooks.​org.
Wayne Hoff­man is a vet­er­an jour­nal­ist, pub­lished in The New York Times, Wall Street Jour­nal, Wash­ing­ton Post, Hadas­sah Mag­a­zine, The For­ward, Out, The Advo­cate, and else­where; he is exec­u­tive edi­tor of the online Jew­ish mag­a­zine Tablet. The author of The End of Her: Rac­ing Against Alzheimer's to Solve a Mur­der, he has also pub­lished three nov­els, includ­ing Sweet Like Sug­ar, which won the Amer­i­can Library Association's Stonewall Book Award. He lives in New York City and the Catskills.