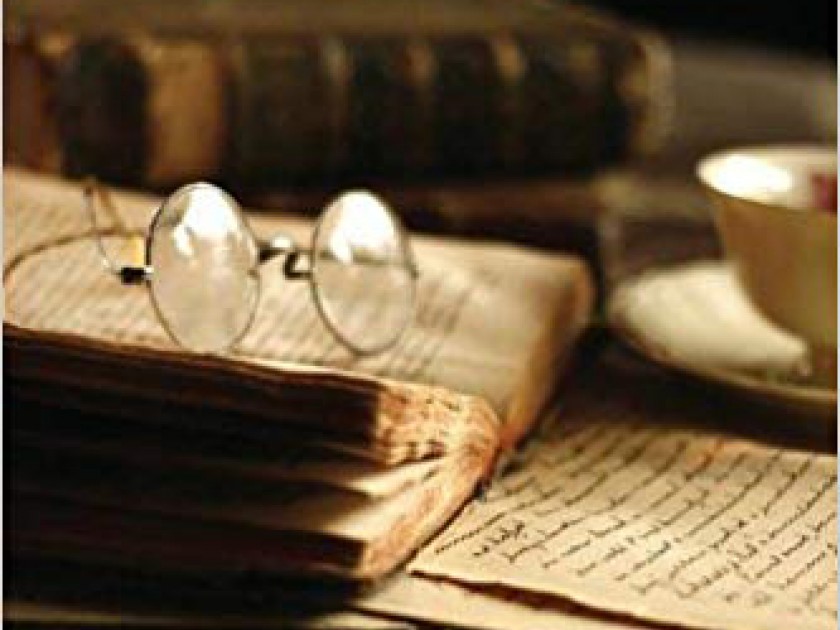 Ear­li­er this week, Wayne Hoff­man wrote about a fun­ny thing and shared the mean­ing behind the names of a few of his characters.
When I was first com­ing out 25 years ago, there were pre­cious few books about being gay and Jew­ish. Thank­ful­ly, that's not the case today. There are enough to fill whole book­cas­es. But will any­one who isn't gay read them?
Con­ven­tion­al wis­dom in the pub­lish­ing indus­try says that non-gay peo­ple won't read books with gay themes – with the notable excep­tion of works by humorists, such as David Sedaris or Augusten Bur­roughs, who play their lives for laughs. Straight peo­ple can't relate seri­ous­ly to gay life, the think­ing goes; they don't know from such things, and they don't want to know.
Even if there's a ker­nel of truth in that notion – and I fear, sad­ly, that there often is – straight Jew­ish read­ers in par­tic­u­lar should be able to bridge this cul­ture gap by choos­ing Jew­ish gay books: While some of the gay con­tent might be unfa­mil­iar, at least the Jew­ish con­tent will pro­vide a point of identification.
Where to start? Well, my own book, of course. (Here comes the plug.) Sweet Like Sug­ar includes char­ac­ters rep­re­sent­ing a diverse array of Jew­ish prac­tice, from sec­u­lar to Ortho­dox, engaged to alien­at­ed. It's a sto­ry of a young man named Ben­ji Stein­er, who's reject­ed the Jew­ish tra­di­tions he grew up observ­ing, search­ing for a place where he can still con­nect to his com­mu­ni­ty. But it also fol­lows Ben­ji on his search for Mr. Right. If you've nev­er read a book with gay char­ac­ters and themes, I hope this'll be your first.
But I also hope it won't be your last. There are dozens, per­haps hun­dreds, of books on gay Jew­ish sub­jects. At the risk of leav­ing out many books and authors whose work is worth your time, here's a brief list of GLBT books that non-gay Jew­ish read­ers will relate to. This list isn't com­pre­hen­sive, or rep­re­sen­ta­tive of any­thing more than my own book­shelf, so feel free to add your own favorites.
Start with an anthol­o­gy – it'll give you a broad sur­vey of what's out there, and turn you on to authors whose work you'll want to read more deeply. Nice Jew­ish Girls, a les­bian anthol­o­gy edit­ed by Eve­lyn Tor­ton Beck, was the first of its kind, pub­lished in 1982. Twice Blessed, edit­ed by Christie Bal­ka and Andy Rose, came out a decade lat­er, and includes dozens of per­son­al and top­i­cal essays on every­thing from com­mu­ni­ty to spir­i­tu­al­i­ty. Queer Jews, edit­ed by David Shneer and Caryn Aviv, came out sev­er­al years after Twice Blessed, and shows the con­tin­ued evo­lu­tion of think­ing around GLBT issues for Jews. These three togeth­er pro­vide a great his­tor­i­cal back­ground, as well as an intro­duc­tion to some of the most impor­tant thinkers on these subjects.
Once you've got that foun­da­tion, check out a few more recent col­lec­tions. Mentsh: On Being Jew­ish and Queer, edit­ed by Angela Brown, fea­tures essays by some of the biggest GLBT lit­er­ary names around. Found Tribe, edit­ed by Lawrence Schimel, col­lects com­ing out sto­ries from Jew­ish authors. And Bal­anc­ing on the Mechitza, edit­ed by Noach Dzmu­ra, is the first Jew­ish anthol­o­gy to focus specif­i­cal­ly on trans­gen­der issues.
If you've got a par­tic­u­lar area of Jew­ish inter­est, there's prob­a­bly a gay-themed book that's right for you. If enjoy read­ing about Israel, check out Between Sodom and Eden, by Lee Walz­er, about the (most­ly pos­i­tive) sit­u­a­tion for gay Israelis. If you're drawn to Holo­caust tales, read Gad Beck's An Under­ground Life, the true (and tru­ly amaz­ing) sto­ry of a gay Jew who sur­vived the Holo­caust in hid­ing in Berlin. If you're invest­ed in cul­tur­al pol­i­tics, Jay Michaelson's per­sua­sive God vs. Gay?: The Reli­gious Case for Equal­i­ty comes out this fall. Pre­fer books about spir­i­tu­al­i­ty? The Choos­ing, by Andrea Myers, recounts the unusu­al per­son­al jour­ney that led her from a Luther­an upbring­ing to an adult life as an ordained rab­bi – and out les­bian. If mem­oirs are your thing, here are three to start with: Lil­lian Faderman's Naked in the Promised Land, Stan­ley Ely's In Jew­ish Texas, and Lawrence Mass's Con­fes­sions of a Jew­ish Wag­ner­ite.
Lots of us pre­fer read­ing fic­tion. Sweet Like Sug­ar isn't the only nov­el about gay and Jew­ish sub­jects. Two of my favorites are The Same Embrace by Michael Lowen­thal (about twin broth­ers divid­ed by reli­gios­i­ty and sex­u­al­i­ty), and Faith for Begin­ners by Aaron Ham­burg­er (about a moth­er and her gay son on a jour­ney of sur­pris­ing self-dis­cov­ery in Israel). Oth­er great fam­i­ly-focused nov­els include The Lost Lan­guage of Cranes by David Leav­itt (set in New York City) and Light Fell by Evan Fal­l­en­berg (set in Israel). Sarah Schul­man has writ­ten dar­ing and com­plex books – fic­tion and non­fic­tion – for decades; start with her nov­el Rat Bohemia, which will make you look at ​"fam­i­ly" in a new way, and then work your way through her oth­er titles. T Cooper's Lip­shitz Six, or Two Angry Blondes, is one of the more unusu­al nov­els in recent years, com­bin­ing an old-fash­ioned Jew­ish immi­grant sto­ry with a mod­ern-day gen­der-bend­ing tale of trou­bled youth. Leslie Feinberg's Stone Butch Blues blazed a trail for oth­er trans­gen­der sto­ries almost 20 years ago, and remains a clas­sic. There's much more. When in doubt, pick up almost any­thing (fic­tion, non­fic­tion, essays, mys­ter­ies) Lev Raphael ever wrote – begin­ning with his short sto­ry col­lec­tions Danc­ing on Tisha B'Av and Secret Anniver­saries of the Heart.
Now I'm going to throw in some­one who usu­al­ly doesn't make this kind of list: David Fein­berg. His books – two nov­els and one col­lec­tion of essays – aren't ​"about" being Jew­ish in the way that many of the titles above are. But his sto­ries are steeped in Jew­ish iden­ti­ty and cul­ture, and focus on Jew­ish char­ac­ters; if you think Woody Allen makes Jew­ish movies, you'll under­stand why Feinberg's books are Jew­ish, too. Sar­don­ic yet earnest, enraged yet hilar­i­ous, Fein­berg was also one of the finest chron­i­clers of the AIDS epi­dem­ic, until his death at age 37 in 1994. (I think of him as a cross between Lar­ry Kramer and Paul Rud­nick – a front-line activist, but always on the look­out for some­thing to laugh about.) Fol­low his neu­rot­ic Jew­ish pro­tag­o­nist B.J. Rosen­thal through Eighty-Sixed, Feinberg's daz­zling debut nov­el, which con­trasts gay life in New York before the epi­dem­ic to a time when gay men start­ed dying in droves. Fol­low B.J. again in the sequel Spon­ta­neous Com­bus­tion, in which he con­tin­ues his search for love and sex in what has become an unrec­og­niz­able war zone. Or pick up Queer and Loathing, Feinberg's bit­ing col­lec­tion of non­fic­tion essays, pub­lished weeks after his death, to get a sense of just how hor­ri­ble things became – yet how humor, cou­pled with resolve and anger, helped so many peo­ple endure and even resist for as long as they could. That's some­thing every Jew should be able to understand.
Wayne Hoff­man is a vet­er­an jour­nal­ist, pub­lished in the Wall Street Jour­nal, Wash­ing­ton Post, Hadas­sah Mag­a­zine, The For­ward, Out, The Advo­cate, and else­where; he is exec­u­tive edi­tor of the online Jew­ish mag­a­zine Tablet. He has pub­lished three nov­els, includ­ing Sweet Like Sug­ar, which won the Amer­i­can Library Association's Stonewall Book Award. He lives in New York City and the Catskills.