Wayne Hoff­man​'s most recent book, Sweet Like Sug­ar, is now avail­able. Hoff­man is the deputy edi­tor of Next­book Press and will be blog­ging for the Jew­ish Book Coun­cil and MyJew­ish­Learn­ing​'s Vis­it­ing Scribe.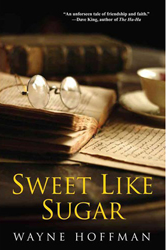 My moth­er has always been a great sto­ry­teller: In recount­ing any anec­dote, she knows exact­ly which details to leave out and which ones to exag­ger­ate for max­i­mum impact. She has a keen sense of the ridicu­lous. Plus she's got impec­ca­ble tim­ing. Meet her for the first time or the hun­dredth time, and she'll launch into a sto­ry that'll have you laugh­ing in thir­ty seconds.
Okay, maybe that makes her more of a stand-up come­di­an than a sto­ry­teller. But we're Jews. It's a fine line.
With her excel­lent sense of what makes a sto­ry com­pelling, she's always on the look­out for her son-the-writer. ​"Here's some­thing you could write about," she'll tell me as she launch­es into a new bit, almost beg­ging me to steal her mate­r­i­al. Or, after I tell her some­thing she finds par­tic­u­lar­ly amus­ing, she'll advise me: ​"You should write a book about that!"
If I wrote a book about every­thing my moth­er thinks is book-wor­thy, I'd have a very busy lit­er­ary agent. But the truth is, the things I find fas­ci­nat­ing or hilar­i­ous for a few sec­onds would rarely retain my inter­est for an entire book, while the events that inspire me to write a nov­el aren't always neat and self-con­tained anecdotes.
An exam­ple:
Sev­er­al years ago, I was work­ing as man­ag­ing edi­tor at the For­ward, an Eng­lish-lan­guage Jew­ish news­pa­per. We shared space with the leg­endary Forverts, our sis­ter news­pa­per, pub­lished in Yid­dish. One day, an edi­tor from the Forvertscame into my office and asked if one of his employ­ees could rest on my couch. I looked up and saw a man behind him, hold­ing him­self up against the wall. He had a full gray beard, thin­ning hair and spec­ta­cles and a yarmulke on his head, and I fig­ured he was some­where past his 80th birthday.
I didn't know him, didn't know his name, and didn't even know if he spoke Eng­lish – not every­one at the Forverts did. But he was very ill and clear­ly need­ed to lie down, and my office had the only couch in the news­room, so I said yes. He came in, kicked off his shoes, and lay down on my couch with­out a word.
Every few min­utes, one of my reporters would walk into my office to ask me a ques­tion or com­plain about some­thing. (That's what man­ag­ing edi­tors are for.) I'd hold up a fin­ger to shush them, and then point at the couch. They'd give me a con­fused look – they didn't rec­og­nize this man either – but they'd back out and leave him in peace.
Peri­od­i­cal­ly, I'd look over at him as he lay there, snor­ing or moan­ing or mum­bling, and I'd be amazed that the two of us were shar­ing this space, even tem­porar­i­ly. I won­dered what we could pos­si­bly have in com­mon – an elder­ly Ortho­dox man who spoke Yid­dish, and a (rel­a­tive­ly) young, gay, sec­u­lar Jew who was more com­fort­able in Span­ish. If he woke up, what would we say to each oth­er? What could we say to each other?
There's no great end­ing to this scene, no punch line; even­tu­al­ly the old man got off the couch and went back to work. But that after­noon start­ed the gears turn­ing, and even­tu­al­ly inspired the open­ing scene of Sweet Like Sug­ar. It's not what hap­pened that cap­tured my imag­i­na­tion. It's what might have hap­pened that drove me to spend the next few years writ­ing the novel.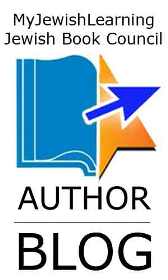 Plen­ty of oth­er fas­ci­nat­ing things hap­pened in that office. There was the night an unmarked pack­age that was tick­ing arrived in the news­room, and I was the des­ig­nat­ed per­son to deal with it. ("I'm run­ning toward the bomb as fast as I can," I assured my boss when he got on my case. Don't wor­ry, it wasn't a bomb, but an ill-advised pro­mo­tion­al toy from the NBA.) There was the time we sat around try­ing to come up with the most out­ra­geous head­lines for a sto­ry about an elder­ly Yid­dish poet­ess who'd start­ed writ­ing erot­i­ca. (Most of them were too bawdy to men­tion, but I'll include my favorite head­line-that-dared-not-be-print­ed: ​"Oy, Me So Horny.") There were all the won­der­ful typos that made it into print despite our best efforts – includ­ing an error that turned the title of a show about Gol­da Meir from Golda's Bal­cony into Golda's Baloney, which has a very dif­fer­ent ring.
Those are all great sto­ries. I tell them all the time. But I'm not going to write a book about them, no mat­ter what my moth­er thinks.
Wayne Hoff­man is the author of Sweet Like Sug­ar and Hard, and the edi­tor of What We Brought Back: Jew­ish Life After Birthright- Reflec­tions by Alum­ni of Taglit-Birthright Israel Trips. He is cur­rent­ly tour­ing as a part of the Jew­ish Book Net­work. For more infor­ma­tion on book­ing Wayne, please con­tact jbc@​jewishbooks.​org.
Wayne Hoff­man is a vet­er­an jour­nal­ist, pub­lished in The New York Times, Wall Street Jour­nal, Wash­ing­ton Post, Hadas­sah Mag­a­zine, The For­ward, Out, The Advo­cate, and else­where; he is exec­u­tive edi­tor of the online Jew­ish mag­a­zine Tablet. The author of The End of Her: Rac­ing Against Alzheimer's to Solve a Mur­der, he has also pub­lished three nov­els, includ­ing Sweet Like Sug­ar, which won the Amer­i­can Library Association's Stonewall Book Award. He lives in New York City and the Catskills.