Ear­li­er this week, Nina Sie­gal wrote about being Jew­ish in Ams­ter­dam. Her newest nov­el, The Anato­my Les­son, is now avail­able. She will be blog­ging here all week for Jew­ish Book Coun­cil and MyJew­ish­Learn­ing.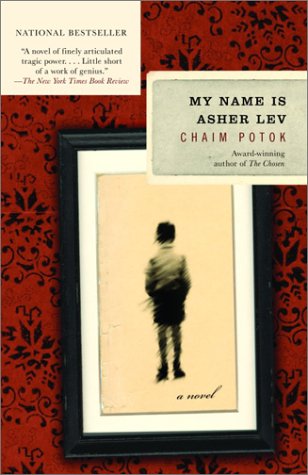 After read­ing the penul­ti­mate draft of my lat­est nov­el, The Anato­my Les­son (Nan A. Talese/​Doubleday), a trust­ed read­er and one of my clos­est friends from the Iowa Writ­ers Work­shop, author Josh Rol­nick, sug­gest­ed I take a moment to read Chaim Potok's nov­el My Name is Ash­er Lev.
At first, I couldn't quite imag­ine how a nov­el about a Hasidic Jew in twen­ti­eth cen­tu­ry New York City would relate to my sto­ry, which cen­ters around the cre­ation of Rembrandt's first mas­ter­piece, ​"The Anato­my Les­son of Dr. Nico­laes Tulp," set on a sin­gle day in Ams­ter­dam in 1632. But Josh has nev­er steered me wrong in the past, so I fol­lowed his advice.
Potok's 1972 nov­el tells the life sto­ry of a young Ortho­dox Jew with prodi­gious artis­tic tal­ent grow­ing up in a clois­tered Hasidic com­mu­ni­ty in Brook­lyn, who finds him­self torn between his family's expec­ta­tions and his artis­tic call­ing. The more he fol­lows the path that seems to be his des­tiny, the more he finds him­self in seri­ous con­flict with his father and alien­at­ed from his com­mu­ni­ty. In the end, Lev paints an image that makes it impos­si­ble for him to ever return home again: a crucifixion.
After read­ing the book, I could see cer­tain imme­di­ate par­al­lels with my own nov­el. In Potok's nov­el, Lev invokes Chris­t­ian iconog­ra­phy to explore a non-Chris­t­ian theme: Jew­ish suf­fer­ing in gen­er­al, and in par­tic­u­lar the suf­fer­ing of his own moth­er, Rivkeh, who has been at the cen­ter of the emo­tion­al tug-of-war between father and son. (Marc Cha­gall also paint­ed a cru­ci­fix­ion scene, by the way, ​"White Cru­ci­fix­ion" (1938), which is wide­ly regard­ed as a rep­re­sen­ta­tion of the suf­fer­ing of the Jew­ish peo­ple). In my nov­el, Rem­brandt brings Chris­t­ian iconog­ra­phy into a total­ly sec­u­lar set­ting: the intel­lec­tu­al and med­ical are­na of the anato­my theater.
Rather than a cru­ci­fix­ion scene, Rem­brandt paint­ed a sec­u­lar group por­trait of sur­geons, bar­bers, and appren­tices at a dis­sec­tion as though they were dis­ci­ples stand­ing around the dead Jesus. That's one inter­pre­ta­tion, of course. It's also pos­si­ble to read the dead man in Rembrandt's mas­ter­piece as a kind of Lazarus in the tomb. Schol­ars over the years have sug­gest­ed both. In either case, Rem­brandt has employed bib­li­cal imagery in a con­text where it would've been con­sid­ered high­ly provoca­tive, if not scandalous.
Rem­brandt doesn't appear to have been much of a church­go­er, but he was clear­ly a read­er of the bible, and he paint­ed scenes out of both the Old and New Tes­ta­ments. More impor­tant­ly, like Ash­er Lev, he was a stu­dent of art his­to­ry, and west­ern paint­ing begins, of course, with Chris­t­ian imagery: cru­ci­fix­ion, Madon­na-and-child, last sup­pers, ascen­sions, descents from the cross… A painter can't be a mas­ter, even today, unless he or she is famil­iar with this imagery. For Rem­brandt in the sev­en­teenth cen­tu­ry and for a painter worth his salt in twen­ti­eth cen­tu­ry New York, invok­ing clas­si­cal west­ern art tra­di­tions in this way was more about paint­ing than religion.
But this may not have been the main rea­son Josh sug­gest­ed I read My Name is Ash­er Lev. What he was offer­ing me, by way of Potok, was a mod­el for a nar­ra­tive arc that would help me take my nov­el to the next, and high­er lev­el. That is to say, a way to have the nov­el explore how a man comes to break through his per­son­al and cul­tur­al bar­ri­ers to cre­ate a work of art that is both of him­self and beyond him­self – i.e., in some way universal.
That was the fun­da­men­tal shift that my nov­el need­ed to con­tain, and after read­ing Ash­er Lev I was able to go back to The Anato­my Les­son with fresh eyes, and a clear­er per­spec­tive on the larg­er nar­ra­tive arc that my nov­el need­ed to take. I was grate­ful to Josh for the sug­ges­tion, and to Chaim Potok for show­ing me the way.
Nina Sie­gal grew up in New York City and Great Neck, Long Island, but these days she lives in Ams­ter­dam, the Nether­lands, where she works as an author and a fre­quent con­trib­u­tor to the Inter­na­tion­al New York Times. She got her B.A. at Cor­nell Uni­ver­si­ty and her M.F.A. in Fic­tion at the Iowa Writ­ers Work­shop. Although she has writ­ten exten­sive­ly about women in US pris­ons, hous­ing and home­less­ness, and all sorts of urban cul­tur­al issues, Sie­gal late­ly focus­es on the inter­sec­tion of art and soci­ety, which is also the theme of both her nov­els. Read more about her and her work here.
Relat­ed Content:
Nina Sie­gal received her MFA in fic­tion from the Iowa Writ­ers' Work­shop and was a Ful­bright Schol­ar. She has writ­ten for the Wall Street Jour­nal and the New York Times, among oth­er pub­li­ca­tions. She lives in Amsterdam.