Ear­li­er this week, Nina Sie­gal wrote about Ash­er Lev as a mod­el for Rem­brandt and being Jew­ish in Ams­ter­dam. Her newest nov­el, The Anato­my Les­son, is now avail­able. She has been blog­ging here all week for Jew­ish Book Coun­cil and MyJew­ish­Learn­ing.
Last night, I had the great hon­or of read­ing from my new nov­el, The Anato­my Les­son (Nan A. Talese/​Doubleday) inside the muse­um that holds the 1632 Rem­brandt mas­ter­piece that inspired it: ​"The Anato­my Les­son of Dr. Nico­laes Tulp."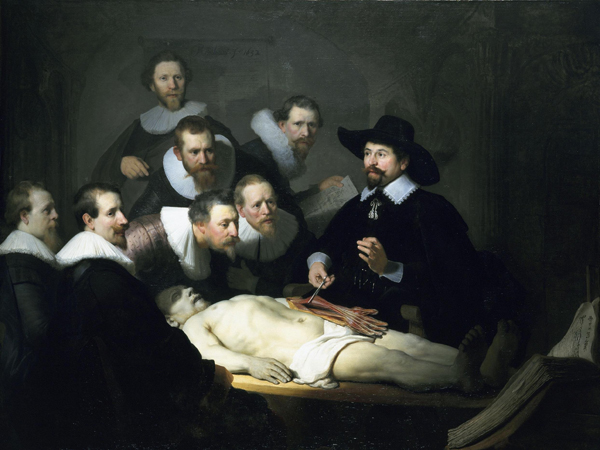 The occa­sion was the open­ing of the ren­o­vat­ed Mau­rit­shuis Roy­al Pic­ture Gallery in The Hague, a jew­el-box muse­um with a small (with just 800 art­works) but extra­or­di­nary col­lec­tion of Dutch and Flem­ish Gold­en Age paint­ings. Its hold­ings also include Vermeer's ​"The Girl With The Pearl Ear­ring" and Carel Fab­ri­tius' ​"The Goldfinch," two paint­ings that have been the inspi­ra­tion for two high­ly suc­cess­ful novels.
Late­ly, a lot of peo­ple have been ask­ing me why one muse­um con­tains so many works of art that have been explored through recent works of lit­er­a­ture. It's a good ques­tion, and one I've been mulling for a while.
First, a dis­claimer: Until I first vis­it­ed the Mau­rit­shuis in 2006 to start doing research for my own nov­el, I didn't know that ​"The Girl With The Pearl Ear­ring" was housed in the same muse­um, even though I was aware of Tra­cy Chevalier's nov­el of the same name. And I didn't hear about Don­na Tartt's nov­el, The Goldfinch, until my agent was shop­ping my book and her pub­lish­er reject­ed mine on the grounds that ​"two such deserv­ing nov­els shouldn't be com­pet­ing on the same list." I took that as a great com­pli­ment – and it's one of my favorite rejec­tion let­ters ever.
No, back in 2006, I used to vis­it the Mau­rit­shuis about once a month, trav­el­ing down to the Hague from Ams­ter­dam, sit­ting with the paint­ing for about an hour a time, look­ing, think­ing, lis­ten­ing to art patrons and docents talk about the paint­ing, scrib­bling notes in a small Rem­brandt note­book I'd bought in the gift shop down­stairs – basi­cal­ly just soak­ing in the work. It was a work I loved before I came here, of course, and I had been look­ing at it in repro­duc­tion for a long time. My father pur­chased a 9×11 inch poster in the same gift shop down­stairs in 1965, just after he fin­ished med­ical school, and he hung it in his study. That's where, as I child, I looked at it quite often.
See­ing the real work in per­son was some­thing else entire­ly. First, I was awed by the size of it – nine fig­ures on a can­vas, all life-size. In that inti­mate gallery set­ting, you real­ly feel as if you're in the dis­sec­tion cham­ber, in and among the sur­geons. Look­ing at a dead body that's right there before you. The faces of the live men are vivid, col­or­ful, rud­dy-cheeked. The dead man is pale, but fleshy, a human being too.
Sec­ond, I was amazed by how much I could dis­cov­er by just sit­ting with it in that gallery, observ­ing. It's the kind of paint­ing that's almost like a great jazz record­ing, which you can lis­ten to again and again and always dis­cov­er some­thing new. I found inspi­ra­tion sit­ting there, some­times when I was car­ry­ing around emo­tions and thoughts from my own life, a few times in moments when I was too tired to even look anymore.
One morn­ing, I was par­tic­u­lar­ly sad because a man I'd fall­en in love with in Ams­ter­dam was going off to trav­el, and was leav­ing me. I looked at the dead man in the paint­ing, stripped almost bare, his body pal­lid and naked, and I thought: some­one loved that man, too, and he left her. First, he left her through wan­der­ing – he was a thief and a vagabond – and then he left her for good. It was the start of one of the key nar­ra­tives of my book.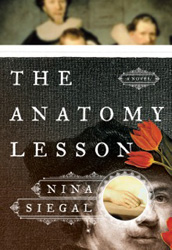 For the last two years, the Mau­rit­shuis has been closed for expan­sion and ren­o­va­tion, and in the mean­time ​"my" paint­ing has been exhib­it­ed at var­i­ous muse­ums, includ­ing the Gemeen­te­mu­se­um, anoth­er gor­geous muse­um also in The Hague. I went to vis­it it there two months ago, and felt like it was a bit far away from me, although I could still walk up to it and see it up close. The gallery spaces were just much larg­er, and in the broad­er con­text with many more works sur­round­ing it, it just felt less intimate.
Last night, before I read from my nov­el, I snuck back upstairs to the gallery to see ​"my" paint­ing in the room where I'd vis­it­ed with it so many times before. It felt like vis­it­ing a dear friend. It occurred to me then that per­haps the rea­son the Mau­rit­shuis' col­lec­tion has inspired works of lit­er­a­ture is that when you're in the muse­um you feel a kind of per­son­al inti­ma­cy with the paint­ings that's rare in larg­er muse­ums – per­haps Cheva­lier and Tartt felt that too.
For me, that moment of being alone in the room with ​"The Anato­my Les­son," eight years lat­er, now with the nov­el fin­ished, was a kind of home­com­ing, the cir­cle final­ly complete.
Nina Sie­gal grew up in New York City and Great Neck, Long Island, but these days she lives in Ams­ter­dam, the Nether­lands, where she works as an author and a fre­quent con­trib­u­tor to the Inter­na­tion­al New York Times. She got her B.A. at Cor­nell Uni­ver­si­ty and her M.F.A. in Fic­tion at the Iowa Writ­ers Work­shop. Although she has writ­ten exten­sive­ly about women in US pris­ons, hous­ing and home­less­ness, and all sorts of urban cul­tur­al issues, Sie­gal late­ly focus­es on the inter­sec­tion of art and soci­ety, which is also the theme of both her nov­els. Read more about her and her work here.
Relat­ed Content:
Nina Sie­gal received her MFA in fic­tion from the Iowa Writ­ers' Work­shop and was a Ful­bright Schol­ar. She has writ­ten for the Wall Street Jour­nal and the New York Times, among oth­er pub­li­ca­tions. She lives in Amsterdam.