The Jew­ish Book Coun­cil is delight­ed to launch a new blog series in part­ner­ship with Ask Big Ques­tions, an ini­tia­tive out of Hil­lel Inter­na­tion­al aimed at get­ting peo­ple to talk about issues of heart, soul and com­mu­ni­ty. Each month, Ask Big Ques­tions will fea­ture a JBC author on their blog, shared here on the JBC Pros­en­Peo­ple blog page, and in cam­pus pro­gram­ming reach­ing over 10,000 col­lege and grad­u­ate students.
Joshua Henkin is the author, most recent­ly, of the nov­el The World With­out You, which was named an Edi­tors' Choice Book by The New York Times and The Chica­go Tri­bune and was the win­ner of the 2012 Edward Lewis Wal­lant Award for Jew­ish Amer­i­can Fic­tion and a final­ist for the 2012 Nation­al Jew­ish Book Award. You can read more of his blog­ging for the Jew­ish Book Coun­cil here.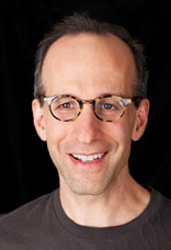 The sto­ry goes that in 1923, when my father, a shy five-year-old, arrived at Ellis Island, he refused to talk to immi­gra­tion offi­cials, and they sus­pect­ed he was a deaf mute. My grand­fa­ther couldn't get my father to talk, and the fam­i­ly was threat­ened with depor­ta­tion. But my father loved math, so my grand­fa­ther asked him some math ques­tions. My father answered the ques­tions, and the fam­i­ly was let in.
My grand­fa­ther was a well-known Ortho­dox rab­bi and, as such, a teacher of Jew­ish law, and though he would have liked my father to fol­low in his foot­steps, my father was hop­ing to teach math. Even­tu­al­ly, he went to law school, and after some years at the State Depart­ment and the U.N., he set­tled into life at Colum­bia Law School, where he was a pro­fes­sor for fifty years.
So the apple didn't fall far from the tree. And the apple spawned more apples: one of my broth­ers is a pro­fes­sor of his­to­ry, the oth­er a teacher of music. Did I have a choice but to become a teacher myself?
Yet I am, first and fore­most, a nov­el­ist. Every morn­ing, once my daugh­ters are off to school, I walk the fif­teen blocks to the Brook­lyn Writ­ers Space, where I find an emp­ty cubi­cle, and where, keep­ing a promise to myself, I haven't learned the Inter­net pass­word. No food, no drink, no cell phones: although I'm sur­round­ed by oth­er writ­ers, there might as well be no one else in the world besides the peo­ple I've invent­ed who light up my screen.
But then after­noon comes and my sta­mi­na slack­ens and oth­er oblig­a­tions call. How does a nov­el­ist retool? The way any­one else does, I sup­pose. We watch movies and read books and eat out in restau­rants. We spend time with our fam­i­ly, and with our friends. Two years ago, I start­ed to take piano lessons. I've even begun to work out with a per­son­al train­er: no sur­er sign of encroach­ing mid­dle age.
But the real way I retool is by teach­ing. It's strange, I know, to look at my day job in this way, but I do. I direct the fic­tion MFA Pro­gram at Brook­lyn Col­lege, which means that I get to teach some of the finest young writ­ers in the coun­try. In a typ­i­cal year, we get close to 500 appli­cants for fif­teen spots.
Teach­ing fic­tion writ­ing brings me back to my own roots as a writer. I'm often asked whether I always want­ed to be a writer, and the answer is, Yes, I always want­ed to be a writer, but then I also always want­ed to be a bas­ket­ball play­er, and at some point you real­ize you're nei­ther good enough nor tall enough.
I was, in fact, a decent bas­ket­ball play­er; I was the cap­tain of my high school var­si­ty bas­ket­ball team. But I went to a small Jew­ish high school in New York City, where being cap­tain put me in mind of that line from Ethics of the Fathers: He'vay zanav la'arayot, v'al t'hee rosh la'shooalim. Be the tail of the lions and don't be the head of the fox­es. Well, being the cap­tain of my high school bas­ket­ball team wasn't like being the head of the fox­es; it was like being the head of the mice.
And, so, I went off to col­lege under­stand­ing that bas­ket­ball wasn't in my future. I felt the same way about writ­ing: it was a dream. But then I grad­u­at­ed and got a job at a mag­a­zine where one of my tasks was to be the first read­er of fic­tion sub­mis­sions. I saw how many ter­ri­ble ones there were, and I felt odd­ly inspired. I thought if oth­er peo­ple were will­ing to try and risk fail­ure, I should be will­ing to try and risk fail­ure, too.
I tell this sto­ry, in part, because a fic­tion writer risks fail­ure every day. But I tell it, also, because I was intu­itive­ly good at fig­ur­ing out what wasn't work­ing in oth­er people's sto­ries long before I was good at writ­ing fic­tion myself. I had to teach myself to become a more intu­itive writer.
It's what I con­tin­ue to do when I teach my grad­u­ate stu­dents. I'm teach­ing them, but I'm also teach­ing myself. I may be more expe­ri­enced than they are, but we're all strug­gling with the same things: how to tell a sto­ry, how to make our char­ac­ters jump off the page, how to use lan­guage that sings. Writ­ing work­shop meets in the evening, and the next morn­ing I'm ready to take my own advice to heart, ready to log in the hours.
The oth­er thing about teach­ing is you're engaged with actu­al human beings. This might seem obvi­ous, but it's easy for fic­tion writ­ers to for­get this. We spend so much time with imag­i­nary human beings, it's a relief to be in the com­pa­ny of real ones. Teach­ing enlivens me. Or, in the words of my late father, whose moth­er tongue was Yid­dish, it's a mechaye.
Joshua Henkin is the author of Swim­ming Across the Hud­son, Mat­ri­mo­ny, and The World With­out You, win­ner of the Edward Lewis Wal­lant Award for Jew­ish Amer­i­can Fic­tion and final­ist for the Nation­al Jew­ish Book Award. He was raised as an Ortho­dox Jew on Man­hat­tan's Upper West Side and now lives in Brook­lyn with his wife, two daugh­ters, and their gigan­tic New­found­land puppy.