Ear­li­er this week, Ron Rubin wrote about vis­it­ing the Sovi­et Union/​Former Sovi­et Union and Peri Devaney wrote about work­ing on the Post­cript for her anthol­o­gy,
A Jew­ish Professor's Polit­i­cal Pun­dit­ry: Fifty-Plus Years of Pub­lished Com­men­tary by Ron Rubin
(Syra­cuse Uni­ver­si­ty Press). Today, Peri dis­cuss­es orga­niz­ing the mate­r­i­al for the anthol­o­gy. Peri and Ron will be blog­ging here all week for Jew­ish Book Coun­cil and MyJew­ish­Learn­ing.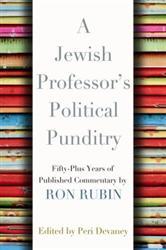 Thank G‑d for Excel!
Hav­ing worked with Ron Rubin in an edit­ing capac­i­ty since 2003, I thought I was well aware of how pro­lif­ic a writer he was when he asked me if I would put togeth­er an anthol­o­gy of his works. And then came the box­es of news­pa­pers, mag­a­zines, jour­nals and oth­er var­i­ous and sundry periodicals.
And then came the emails with e‑versions of his more cur­rent arti­cles, and an occa­sion­al new arti­cle show­ing up even after I start­ed work­ing with the material.
As I said in my ear­li­er blog, polit­i­cal sci­ence and his­to­ry are just not my baili­wick. So how was I to get through, select, and orga­nize as much of this mate­r­i­al as pos­si­ble into an inter­est­ing anthol­o­gy focus­ing on top­ics relat­ed to Judaism and Israel?
One arti­cle, op-ed, book review, paper and let­ter to the edi­tor at a time, I skimmed through it all and cre­at­ed an Excel spread­sheet with columns for list­ing where the piece fit in Rubin's bio­graph­i­cal time­line, the date of pub­li­ca­tion, the piece's pri­ma­ry sub­ject and sec­ondary sub­ject, its title, the name of the peri­od­i­cal that pub­lished it includ­ing the name of the col­umn when applic­a­ble, and the type of article.
Eighty-sev­en pieces in all were list­ed, with about six­ty of them clear­ly fit­ting into the Jew­ish theme. It was the remain­ing twen­ty-odd pieces that stumped me. Did an edi­to­r­i­al Ron Rubin wrote in 1961, as the NYU dai­ly newspaper's edi­tor-in-chief, about Mar­tin Luther King Jr.'s vis­it to the cam­pus fit in? Was the fact that he was a promi­nent sup­port­er of Israel and Sovi­et Jew­ry, a fact not men­tioned in Ron's edi­to­r­i­al, enough? (My deci­sion on that one was ​"no.")
In addi­tion to top­i­cal con­sid­er­a­tions, I also need­ed to keep in mind the publisher's ​"400 page, couri­er font, 1.5‑spaced" max­i­mum man­u­script size, so it was time to start OCR scan­ning and for­mat­ting the result­ing Word doc­u­ments to see just how many man­u­script pages the print­ed mate­r­i­al trans­lat­ed to. (This was not an easy job con­sid­er­ing the age and con­di­tion of much of the mate­r­i­al, and the fact that most of it was in either over­sized pub­li­ca­tions or mag­a­zines that wouldn't lay flat for a clean scan.)
And then the fun began. I had to read all of the arti­cles, one by one, word by word, or should I say let­ter by let­ter, first to proof­read the scans and fix all the l's that scanned in as 1's, rn's that scanned as m's, w's that became dou­ble v's, and so on — and then to actu­al­ly get to know the mate­r­i­al. To this day I'm not sure if the OCR scan­ning was eas­i­er than typ­ing in all of the mate­r­i­al or not, but I do know that although I did find some of the mate­r­i­al a big yawn, a lot of it was actu­al­ly quite interesting.
Next came the job of get­ting reprint per­mis­sions to include the mate­r­i­al I want­ed to use — a top­ic that could war­rant its own blog or two or three! As not­ed in my Acknowl­edge­ments, only one pub­li­ca­tion (not named) gave me any trou­ble, the rest will­ing­ly grant­i­ng the per­mis­sions and waiv­ing (or, in one case, great­ly reduc­ing) their nor­mal reprint fees.
In the end I was able to include six­ty-sev­en of Ron's pieces in the anthol­o­gy, four of them in abridged form, two sum­ma­rized, and one intact except for one large sec­tion I need­ed to research and rewrite because of the per­mis­sions prob­lem. By now I was get­ting the hang of online research and found the re-writ­ten sec­tion at least as good as the quote it replaced.
Fig­ur­ing out order and pre­sen­ta­tion turned out to me eas­i­er than antic­i­pat­ed once it was all in the spread­sheet. I sim­ply put the mate­r­i­al in order using Ron's bio­graph­i­cal time­line and the arti­cles' top­ics. And so came to being:
"

Part One: The Uni­ver­si­ty Stu­dent,

1957

 – 

1965

," fea­tur­ing Ron's edi­to­ri­als from the Heights Dai­ly News and mate­r­i­al he wrote dur­ing grad school;

"

Part Two: A Young Pro­fes­sor in a Young School,

1965

 – 

1969

," includ­ing a chap­ter on ​

"

The Plight of Sovi­et Jew­ry" which is the top­ic of one of Ron's blogs;

"

Part Three: An Estab­lished Pro­fes­sor and Author-At Home and Abroad,

1970

s and

1980

s," with more on Sovi­et Jew­ry and much more;

"

Part Four: The Turn of the Cen­tu­ry,

1990

 – 

2008

;"

"

Part Five" (which is actu­al­ly called ​

"

Con­clu­sion"); and
the ​

"

Post­script" dis­cussed in my last blog.
Putting togeth­er this anthol­o­gy might just make me polit­i­cal­ly-mind­ed after all!
Check back all week for more from Peri Devaney and Ron Rubin.