An anthol­o­gy of fifty-plus years of Ron Rubin​

'

s pub­lished com­men­tary on top­ics of import to world Jew­ry,
A Jew­ish Professor's Polit­i­cal Pun­dit­ry
(Syra­cuse Uni­ver­si­ty Press), is now avail­able. Ron and his anthol­o­gist, edi­tor Peri Devaney, have been blog­ging here this week for Jew­ish Book Coun­cil and MyJew­ish­Learn­ing. Read ear­li­er posts here.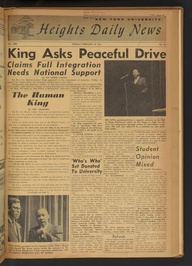 Despite the con­tri­bu­tions of the inter­net, turn­ing out a col­lege dai­ly news­pa­per today still requires human inge­nu­ity and ded­i­ca­tion, as it did more than a half cen­tu­ry ago. Com­put­ers left to them­selves don't write edi­to­ri­als, accounts of stu­dent coun­cil intrigue, reviews of dra­ma soci­ety pro­duc­tions, or play-by-play accounts of inter­col­le­giate sports events, and they don't know how to meet a deadline!
In my senior year at NYU's Bronx ("uptown") cam­pus — way back in 1960 – 1961 — I wrote a lot about the facets of col­le­giate cul­ture men­tioned above. I was edi­tor-in-chief of the stu­dent news­pa­per, the Heights Dai­ly News (HDN). Since the news­pa­per cov­ered a cam­pus of only 2,000 stu­dents enrolled in NYU's two uptown col­leges — lib­er­al arts and engi­neer­ing — the pub­li­ca­tion held the dis­tinc­tion of being ​"the small­est col­lege dai­ly in Amer­i­ca." (By con­trast, the Colum­bia Dai­ly Spec­ta­tor, which cov­ered the com­ings and goings of tens of thou­sands of stu­dents and fac­ul­ty at Colum­bia University's cam­pus in Manhattan's Morn­ing­side Heights sec­tion a dozen miles to the south, had many rich­er and more provoca­tive sources to draw from to pro­duce its dai­ly miracle.)
Whether or not NYU's small Bronx oasis war­rant­ed a dai­ly news­pa­per is not up for debate, espe­cial­ly since the HDN had already chalked up almost thir­ty years when I took over as edi­tor. Dur­ing my tenure, we put out a com­mem­o­ra­tive ​"Thir­ti­eth Anniver­sary Issue," and on the cov­er was a con­grat­u­la­to­ry telegram I received from Pres­i­dent John F. Kennedy laud­ing our ​"EXTRA­OR­DI­NARY VITAL­I­TY AS THE SMALL­EST COL­LEGE DAI­LY IN AMER­I­CA." In research­ing the tra­jec­to­ries of my pre­de­ces­sors dur­ing the prepa­ra­tion of the com­mem­o­ra­tive issue, we learned that many of them were quite suc­cess­ful. Two of my edi­to­r­i­al board col­leagues that come to mind today are a US Fed­er­al judge in Texas and a big-time real estate devel­op­er in New Jersey.
The HDN con­sist­ed of four pages — page one con­tained gen­er­al cam­pus news; page two, edi­to­ri­als, let­ters, fea­tures and ope­ds; page three, some more news, but main­ly nation­al­ly mat­ted ads (often cig­a­rettes); and page 4, sports.
Though I hope our read­ers nev­er noticed, pro­duc­ing the cam­pus dai­ly came with big dif­fi­cul­ties. Fifty-plus years lat­er, three obsta­cles stand out:
Get­ting News: If the essence of news in Amer­i­can jour­nal­ism was con­tro­ver­sy, not much of a news­wor­thy nature was hap­pen­ing on cam­pus in the com­pla­cent ear­ly 1960s. I often end­ed up ​"mak­ing news" myself by dig­ging behind the scenes, inter­view­ing would be trou­ble­mak­ers, and doing what would be termed today ​"inves­tiga­tive journalism."

I want­ed to keep the news­pa­per pure, focused on the Heights cam­pus and keep­ing out sto­ries on nation­al or munic­i­pal pol­i­tics. We report­ed on cam­pus aca­d­e­mics, stu­dent activ­i­ties, col­lege finan­cial issues, the com­ings and goings of fac­ul­ty. To give the HDN more depth, I arranged for var­i­ous series such as ​"The Future of the Amer­i­can Uni­ver­si­ty," for which nation­al­ly known edu­ca­tors and thinkers — includ­ing U.S. Sen­a­tor Hubert Humphrey, polit­i­cal the­o­rist Rus­sell Kirk, and nov­el­ist Leslie Fiedler — penned orig­i­nal pieces.

But not every­thing we wrote was so heavy. On a lighter note we start­ed a ​"Miss Heights Dai­ly News" con­test in response to the cam­pus hav­ing gone coed.
Get­ting Reporters: Few Heights stu­dents were bent on careers in jour­nal­ism, so attract­ing staffers was always a prob­lem. Some­times the lure of a byline, or an edi­to­r­i­al title such as Assis­tant Fea­tures Edi­tor, helped, but not very often. What we nev­er had a prob­lem get­ting were sports reporters because many stu­dents were drawn by the prospect of attend­ing games and trav­el­ing with the team at no cost and with pref­er­en­tial treat­ment. Dit­to for fill­ing the posi­tions for review­ers of cam­pus dra­ma and musi­cal productions.
Heights Dai­ly News to the Stands: Unlike in today's dig­i­tized world, every word we pub­lished back in the ear­ly 1960s was typed by hand and edit­ed by hand. Every pho­to was cropped by hand, every page laid out by hand, and the press­men print­ed every­thing by hand.

Deliv­er­ing copy to City­wide Print­ing, at the oth­er end of New York in low­er Man­hat­tan, always proved a hur­dle. The ear­ly deliv­ery run was at 4 p.m., and a Heights­man, usu­al­ly a Low­er East Side local (these were days when most stu­dents lived at home) was paid $3 to bring mate­r­i­al to the print­ers. Office staff tried to fin­ish by a 7 p.m. dead­line, and on a once-a-month rota­tion one of us trav­elled to City­wide, usu­al­ly by sub­way, to deliv­er the rest of the next day's issue.

Deliv­er­ing final copy meant stay­ing at the printer's until mid­night or 1 a.m. wait­ing for the entire issue to be print­ed and proof­read. Some­times we had to wait for last minute sports results or dra­ma pro­duc­tion reviews to be phoned in and then we had to type it up for the press­men. If arti­cles came out too long or too short, head­lines need­ed to be rewrit­ten and cap­tions changed. Remem­ber, these were the days when print jobs had to be ​"type­set" — before word pro­cess­ing and page lay­out pro­grams enabled us to know in advance how things would layout.

The cama­raderie of the earthy, cig­ar-smok­ing print­ers served as a diver­sion for the tired, vol­un­teer HDN tomb­stone shift.
The press run of the Heights Dai­ly News end­ed about fif­teen years after I grad­u­at­ed, when NYU sold its Bronx cam­pus. I owe this deceased news­pa­per a great debt. The thou­sands of hours I put into its life great­ly enhanced my peo­ple, com­mu­ni­ca­tion and writ­ing skills and set the ground­work for my inter­ests in polit­i­cal science.
And more impor­tant­ly, while my def­i­n­i­tion of excite­ment may be insipid, more than a half cen­tu­ry lat­er I still con­sid­er the chal­lenges of the nine months between ages eigh­teen and nine­teen, as edi­tor of the Heights Dai­ly News, among the most excit­ing times of my life. (And yes, for those of you who noticed, I was already a senior in col­lege at age eigh­teen. As Peri quotes me in the book's Pref­ace, ​"I wasn't bril­liant, but ambitious…".)
A Jew­ish Pro­fes­sor's Polit­i­cal Pun­dit­ry: Fifty-plus Years of Pub­lished Com­men­tary by Ron Rubin
is now available.