Post­ed by Nat Bern­stein
I always have an eye out for good books for young Jew­ish read­ers — sto­ries that break the mold of what we con­sid­er ​"Jew­ish chil­dren's lit­er­a­ture" and intro­duce inter­est­ing ideas along with evoca­tive imagery that appeals to the artis­tic sen­si­bil­i­ties of kids and adults alike. Com­bine those qual­i­ties with my love for all things Leonard Nimoy, and you can see why I'm excit­ed for Richard Michel­son and Edel Rodriguez's new illus­trat­ed biography: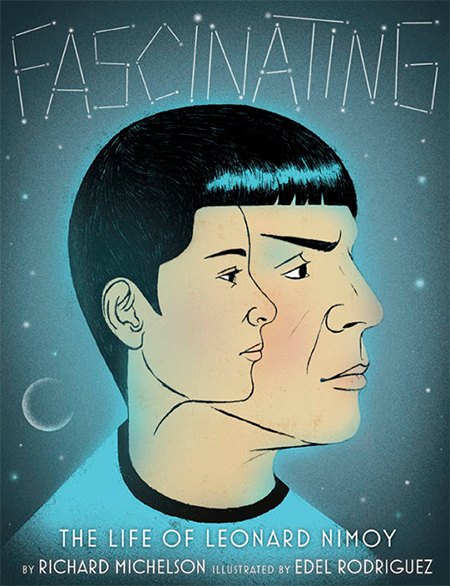 Acces­si­ble to read­ers of all reli­gious or Trekkie affil­i­a­tions, Fas­ci­nat­ing: The Life of Leonard Nimoy deliv­ers strong Jew­ish con­tent with­out over­pow­er­ing the uni­ver­sal sto­ry of first-gen­er­a­tion achieve­ment in the Unit­ed States. Explor­ing Nimoy's child­hood in Boston's West End, Fas­ci­nat­ing depicts the assid­u­ous actor's deci­sion to take on his icon­ic half-Vul­can role in light of the alienation his par­ents expe­ri­enced as Amer­i­can immi­grants from Iziaslav — reflect­ed in the cov­er illus­tra­tion of Mr. Spock­'s pro­file super­im­posed with the face of young Leonard.
Intrigued? Richard Michel­son will share more about the book as a Vis­it­ing Scribe here on The ProsenPeo­ple over the first week of Elul — the week after next!
Relat­ed Content:
Nat Bern­stein is the for­mer Man­ag­er of Dig­i­tal Con­tent & Media, JBC Net­work Coor­di­na­tor, and Con­tribut­ing Edi­tor at the Jew­ish Book Coun­cil and a grad­u­ate of Hamp­shire College.