Yes­ter­day, Josh Lam­bert wrote about how he came to write his newest book, Unclean Lips: Obscen­i­ty, Jews, and Amer­i­can Cul­ture (NYU Press). He will be blog­ging here all week for Jew­ish Book Coun­cil and MyJew­ish­Learn­ing.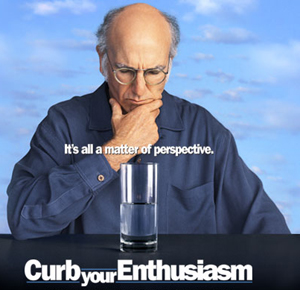 There's a lit­tle exper­i­ment I'd like to try, know­ing that this blog post will be pub­lished by the Jew­ish Book Coun­cil and a MyJew­ish­Learn­ing blog.
The fol­low­ing is a pas­sage from the con­clu­sion of my book, describ­ing the third sea­son finale of Lar­ry David's tele­vi­sion show Curb Your Enthu­si­asm, which aired in 2002:
The episode cen­ters on the grand open­ing of a restau­rant in which David's fic­tion­al char­ac­ter, also called Lar­ry David, has invest­ed. In the mid­dle of the meal, the chef, who suf­fers from Tourette's syn­drome and cooks in an open kitchen, invol­un­tar­i­ly shouts a string of taboo words: ​"Fuck-head, shit-face, cock­suck­er, ass­hole, son-of-a-bitch." A strained silence descends, and David recalls a group of high school stu­dents he saw ear­li­er in the episode who had all shaved their heads in sol­i­dar­i­ty with a class­mate under­go­ing chemother­a­py. He decides to act on the stu­dents' exam­ple, show­ing his sup­port for the chef by mim­ic­k­ing his behav­ior, bel­low­ing, ​"Scum-suck­ing, moth­er­fuck­ing whore!" David's assem­bled friends and loved ones fol­low suit: ​"Cock, cock, jiz­zum, grand­ma, cock.… Bum, fuck, turd, fart, cunt, piss, shit, bug­ger, and balls.… Dammit, hell, crap, shit.… Fel­la­tio, cun­nilin­gus, French kiss­ing, rimjob." David's father on the show, played by the vet­er­an come­di­an Shel­ley Berman, chimes in to add a set of Yid­dish taboo words — ​"Shmuk, putz, tukhis-lekher" — to the episode's cat­a­log of obscen­i­ties before the cam­era zooms in on David's sat­is­fied face, and the episode comes to an end.
What I'd like to know is whether the two web­sites who are sched­uled to pub­lish this post will repro­duce the taboo lan­guage in the post's title and in that quo­ta­tion. Will they bowd­ler­ize this with dash­es or stars or oth­er sym­bols? Will they euphem­ize words like ​"moth­er­fuck­er" and ​"cunt," but leave in words like ​"bum" and ​"fart" and ​"putz"? Will they print a warn­ing at the top of the post, alert­ing read­ers that taboo lan­guage fol­lows (and, if so, how will they phrase that warn­ing)? Or will they refuse to pub­lish the piece entire­ly, to avoid hav­ing to make fin­er deci­sions about taboo language?
I don't mean to be dis­re­spect­ful to two pub­li­ca­tions who have been kind to offer to pub­lish my writ­ing (and for whom I'm writ­ten before). Not at all. But one of the con­ver­sa­tions I'm inter­est­ed in start­ing with my book is pre­cise­ly about what is fit to print now, today, and how Jews feel about that.
I'm not exact­ly a free-speech abso­lutist, thought I often feel that it's pret­ty sil­ly when The New York Times bends itself out of shape to avoid print­ing four-let­ter words, or when This Amer­i­can Life makes an announce­ment every time one of its radio sto­ries with even ​"men­tion the exis­tence of sex." But I now have a three-and-a-half-year-old at home who is lin­guis­ti­cal­ly pre­co­cious, and I under­stand bet­ter than I did when I start­ed writ­ing my book why some peo­ple might feel uncom­fort­able when taboo lan­guage spews forth from a news­pa­per that shows up at the front door, or a radio pro­gram that goes out to mil­lions of homes on week­end after­noons. I under­stand that every pub­li­ca­tion has to make deci­sions — not just once, but con­tin­u­al­ly — about what is appro­pri­ate to pub­lish, and what isn't.
That's why I think it might be inter­est­ing to see how the taboo lan­guage above is reproduced.
Josh Lam­bert is the Aca­d­e­m­ic Direc­tor of the Yid­dish Book Cen­ter and as Vis­it­ing Assis­tant Pro­fes­sor of Eng­lish at the Uni­ver­si­ty of Mass­a­chu­setts, Amherst. He is the author of Unclean Lips: Obscen­i­ty, Jews, and Amer­i­can Cul­ture (2013) and Amer­i­can Jew­ish Fic­tion: A JPS Guide (2009), and a con­tribut­ing edi­tor to Tablet magazine.
Josh Lam­bert (web/twit­ter) is the Sophia Moses Robi­son Asso­ciate Pro­fes­sor of Jew­ish Stud­ies and Eng­lish, and Direc­tor of the Jew­ish Stud­ies Pro­gram, at Welles­ley Col­lege. His books include Unclean Lips: Obscen­i­ty, Jews, and Amer­i­can Cul­ture (2014), and The Lit­er­ary Mafia: Jews, Pub­lish­ing, and Post­war Amer­i­can Lit­er­a­ture (2022).