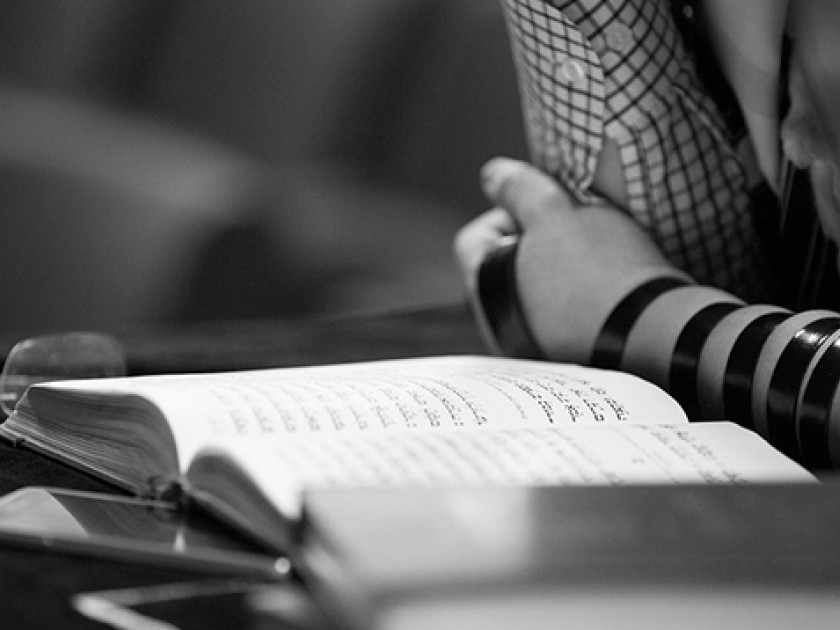 "Jews don't lis­ten — they wait." Joseph Epstein's joke about Jews' eager­ness to talk will res­onate with any­one who has spent time study­ing Jew­ish texts. Many peo­ple like to talk back to their books; they make notes in mar­gins or high­light lines for future ref­er­ence. But Jew­ish com­men­tary does not mere­ly talk back to books. It screams, sighs, argues, jokes, jibes, and rolls out end­less expan­sions and crit­i­cisms. A book is not a dor­mant object in Judaism — it is a goad and a tar­get. Unlike the mar­gin­al notes we make in our every­day books, Jew­ish com­men­tary is not lost when a book is sold or giv­en away. Instead, the com­ments become part of the text.
Con­sid­er the sto­ry of Moses Isser­les. A Pol­ish schol­ar of the six­teenth cen­tu­ry, Isser­les planned to write a defin­i­tive legal work. In the mean­time, how­ev­er, he dis­cov­ered that the great Tal­mud­ist Joseph Caro had beat­en him to the punch with the pub­li­ca­tion of his own legal code, the Shulchan Aruch. Isser­les could not hope to write a com­pet­ing work. He eas­i­ly might have aban­doned his project, but instead he took note of the instances in which Caro, a Sephardic Jew, had record­ed prac­tices that were dif­fer­ent from his own Ashke­naz­ic cus­toms. In time, no one print­ed Caro's code with­out Isserles's gloss­es — the com­ments were incor­po­rat­ed into the book.
Objec­tions are an essen­tial part of the com­men­tary process; it is not sweet har­mo­ny. When the great­est Jew­ish schol­ar, Mai­monides, wrote his mon­u­men­tal code of law, a for­mi­da­ble sage of the time known as the RABaD (Rab­bi Abra­ham ben David) so dis­ap­proved of Maimonides's atti­tudes and con­clu­sions that he wrote his has­sagot—tech­ni­cal­ly ​"gloss­es," although in fact many are sharply word­ed rebukes and cor­rec­tions. In our age, in which it is often dif­fi­cult to know what is meant by a ​"Jew­ish book," a slight­ly tau­to­log­i­cal def­i­n­i­tion presents itself: a Jew­ish book is a book that com­ments on oth­er Jew­ish books.
Jew­ish tra­di­tion rejects the con­cept of solo scrip­tura ("by Scrip­ture alone"). The Bible is a book of silences and spaces. It tells us not to do melachah on the Sab­bath, but doesn't say what melachah means. It tells us that Abra­ham and Isaac trav­eled three days togeth­er toward the moun­tain where Abra­ham was sup­posed to sac­ri­fice his son, but doesn't report any­thing about what they dis­cussed along the way. The rab­bis rush into these lacu­nae with com­ments, ques­tions, and sto­ries. The study of Tal­mud becomes a dia­logue down the cor­ri­dors of time.
Jew­ish learn­ing is not about cre­at­ing some­thing new, but rather about find­ing some­thing new. A unique inter­pre­ta­tion of a sto­ry, an inno­v­a­tive twist on a law — this is the kind of orig­i­nal­i­ty that char­ac­ter­izes the Jew­ish schol­ar­ly quest.
Recent­ly I sat behind a man on a plane who had a Tal­mud app opened on his com­put­er. On the screen flashed the Ara­ma­ic text, the com­men­tary, the Eng­lish trans­la­tion, and a note about the Eng­lish trans­la­tion. He was essen­tial­ly read­ing four texts simul­ta­ne­ous­ly, but all of them were com­ments on a fifth text (the Mish­nah), which was only present as a frag­ment embed­ded in the oth­er four. The split-screen com­mu­nica­tive chaos of the mod­ern world is not pre­cise­ly par­al­lel to Jew­ish tex­tu­al­i­ty. And yet, from ear­ly days, Jews have rec­og­nized the pow­er of lay­ers of text. Our tech­no­log­i­cal age feels famil­iar to the stu­dent of bib­li­cal lit­er­a­ture. The Tal­mud, after all, is an his­tor­i­cal hyperlink.
And so each gen­er­a­tion absorbs and adds to a vast ascend­ing web of words, seek­ing to cap­ture the inef­fa­ble, vital­ize tra­di­tion, and reach toward God.
David Wolpe is the Max Webb Senior Rab­bi of Sinai Tem­ple and the author, most recent­ly, of David: The Divid­ed Heart (Yale Uni­ver­si­ty Press).