Beth Kissileff recent­ly spoke with David Wolpe about his newest book, David: The Divid­ed Heart, pub­lished by Yale Uni­ver­si­ty Press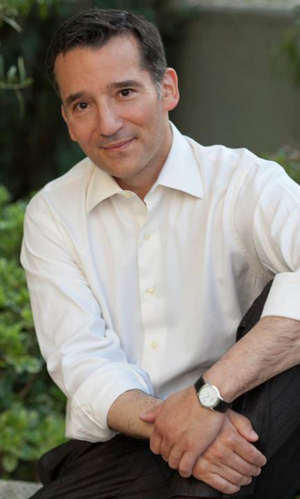 At one point dur­ing our phone inter­view, I asked Rab­bi David Wolpe, author of a new book on King David, about why he wrote on the famous­ly lust­ful Israelite king. He replied that he told his edi­tor not to wor­ry about the time­li­ness of the book: there would be a polit­i­cal scan­dal along the lines of the David and Bathshe­ba sto­ry at some point when his book was com­ing out. In fact, he was so con­fi­dent of it, he would write the edi­to­r­i­al now! The time­less­ness of human foibles when pow­er is gained, cou­pled with the extra­or­di­nary human abil­i­ty to grow and change and write about it as King David did in the Psalms, per­son­al poet­ry and prayer tra­di­tion­al­ly attrib­uted to him, is the sub­ject of Wolpe's lat­est book, David: The Divid­ed Heart, the newest vol­ume in the Jew­ish Lives series by Yale Uni­ver­si­ty Press.
Wolpe is the author of sev­en pre­vi­ous books, all like this one, in which he attempts to engage with seri­ous Jew­ish ideas for a gen­er­al audi­ence. He is the rab­bi of Sinai Tem­ple in Los Ange­les, and known by many for his huge Face­book and Twit­ter fol­low­ings, as well as hold­ing the acco­lade of being many years on the influ­en­tial rab­bi list that had been com­piled by Newsweek, hit­ting the top slot in 2012. In our inter­view, he spoke of how he brought his work as a rab­bi to his telling of David's sto­ry, relat­ing his abil­i­ty to under­stand people's lives at dif­fer­ent ages and see not only the effect of par­ents on chil­dren, but as they age, chil­dren on their par­ents. The book comes from a deeply per­son­al place too, ded­i­cat­ed to his uncle David, after whom he is named, the man who raised his father (also a rab­bi, Ger­ald Wolpe z"l) after his father's own father passed away at a young age. When David Wolpe grad­u­at­ed high school, he writes in the book's intro­duc­tion, his father inscribed his year­book with a pas­tiche of ideas about his Bib­li­cal name­sake. He writes that although his father did not quote any par­tic­u­lar verse he con­veyed an ​"essen­tial mes­sage" about the David who ​"sang many songs."
It is fit­ting that the char­ac­ter of David, who encom­pass­es both the nation­al aspi­ra­tions of the Jew­ish peo­ple as well as his own per­son­al fam­i­ly strug­gles, has these dif­fer­ent aspects, both pub­lic and pri­vate, for the writer as well. Here are some high­lights of Jew­ish Book Coun­cil's phone con­ver­sa­tion with this most artic­u­late rabbi.
Beth Kissileff: You say in the book that in the rab­binic text Pesik­ta DeR­av Kahana, the rab­bis con­fessed, ​"We are unable to make sense of David's char­ac­ter". If even they are unable to, what got you to write this book?
David Wolpe: Because he was so intrigu­ing. I was also try­ing to unrav­el the cen­tral mys­tery: Why does David get to be the most impor­tant char­ac­ter, the ances­tor of the Messiah?
In one sense, the tra­di­tion is split between David and Moses. We have a good idea of the lega­cy of Moses, but know less about David, even though the Bible tells us more about the char­ac­ter. The David sto­ries feel his­tor­i­cal, they don't feel like myth. So much apol­o­giz­ing for David only makes sense if there are peo­ple around attack­ing him.
For me at least, David is the most intrigu­ing character.
BK: How did you decide to divide up the chap­ters and cre­ate the themes for each of them? Each chap­ter is a role: Fugi­tive, King, Sin­ner, Father, Care­tak­er, and The Once and Future King.
DW: Because as I read through it, I thought it is such a big, messy,F won­der­ful sto­ry that it will help the read­er to have some the­mat­ic break­down, as opposed to run­ning through the narrative.
I thought of David the way I think of some­one when I con­duct a funer­al. This is the same per­son, but with lots of dif­fer­ent roles. You hear from the spouse, the kids, they can be a lot of dif­fer­ent things to dif­fer­ent peo­ple in their lives. That's what David was.
BK: Why does David speak to mod­ern Jews?
DW: He speaks to mod­ern Jews about the state and all the con­tra­dic­tions of the state. War and sav­agery and plot­ting and manip­u­la­tion and all of that. But at same time, he is a cen­tral reli­gious fig­ure. He is cred­it­ed with writ­ing the only per­son­al prayers in the Bible, the Psalms. If you are look­ing for a book to express the indi­vid­ual human soul, you have only the Psalms in the Bible.
His lega­cy endures – Jerusalem is cel­e­brat­ing the 3000th year as the City of David.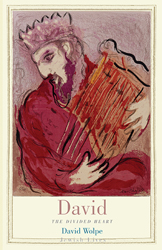 And final­ly and most pow­er­ful­ly, David is a deeply flawed fig­ure who is still a hero. That idea, that we don't think a per­son can be great and flaw­less, is some­thing we strug­gle with every sin­gle day. There will soon be a David and Bathshe­ba scan­dal – I should write the edi­to­r­i­al now! He is an exquis­ite­ly rel­e­vant as well as fas­ci­nat­ing character.
BK: What are the top three books to read to learn more about the David story?
DW: If they want a fuller account, read Samuel I and II. I think Jonathan Kirsch's book King David: The Real Life of the Man Who Ruled Israel is fuller and eas­i­ly read. Then, it depends how seri­ous you want to be. The most com­pre­hen­sive and learned book is Bible schol­ar Baruch Halpern's David's Secret Demons. He deals with the archae­ol­o­gy, but tells you where to skip if you don't want all the detail. An effec­tive case against David is Stephen Mazcken­zie, King David: A Biog­ra­phy.
Beth Kissileff is the edi­tor of Read­ing Gen­e­sis (Con­tin­u­um Books, 2014) an anthol­o­gy of aca­d­e­m­ic writ­ing about Gen­e­sis. Her nov­el Ques­tion­ing Return is under review for pub­li­ca­tion and she is writ­ing a sec­ond nov­el and vol­ume of short sto­ries. She has taught at the Uni­ver­si­ty of Pitts­burgh, Car­leton Col­lege, the Uni­ver­si­ty of Min­neso­ta, Smith Col­lege and Mount Holyoke College.
Relat­ed Content:
Beth Kissileff is in the process of fundrais­ing and writ­ing grants to devel­op a pro­gram to assist rab­bis of all denom­i­na­tions with writ­ing and pub­lish­ing books. Kissileff is a rab­binic spouse and author of the nov­el Ques­tion­ing Return as well as edi­tor of the anthol­o­gy Read­ing Gen­e­sis: Begin­ings.