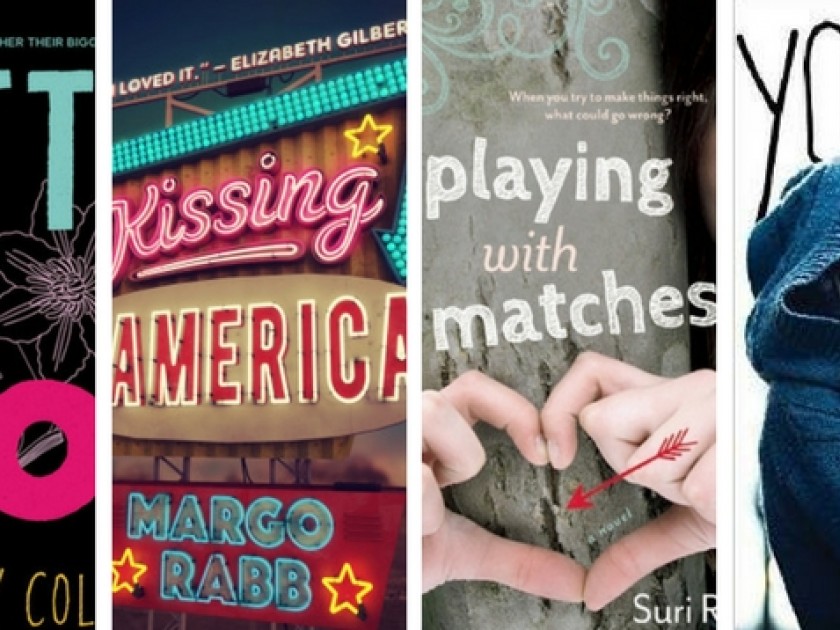 Grow­ing up, I only saw Jew­ish pro­tag­o­nists in Holo­caust lit­er­a­ture. The kind of books I loved — real­is­tic YA — occa­sion­al­ly had a main char­ac­ter with a Jew­ish friend, but that was it.
While I don't believe we should ever stop writ­ing about the Holo­caust, for a long time, that was the only nar­ra­tive I thought we had as Jew­ish peo­ple. Peo­ple like me didn't get to be pro­tag­o­nists. For a while, this stuck in my mind: the first four man­u­scripts I wrote before my debut, You'll Miss Me When I'm Gone, had no Jew­ish characters.
But there is so much rich­ness to explore in a mod­ern set­ting that hasn't been explored near­ly enough. The fol­low­ing nov­els fea­ture my favorite rep­re­sen­ta­tions of Judaism in con­tem­po­rary real­is­tic YA.
Lit­tle & Lion by Brandy Colbert
There is so much inter­sec­tion­al­i­ty in this book: most notably, the pro­tag­o­nist, Suzette, is queer, Black, and Jew­ish. She con­vert­ed when her moth­er remar­ried a Jew­ish man, and there's a scene with the fam­i­ly prepar­ing Shab­bat din­ner, includ­ing a descrip­tion of braid­ing the chal­lah, that is so, so love­ly. Lit­tle & Lion cen­ters on a tense sib­ling rela­tion­ship — Suzette's broth­er has bipo­lar dis­or­der — but it's also a book about iden­ti­ty and fig­ur­ing out where you fit when you can­not be con­tained in just one box.
Your Voice is All I Hear by Leah Scheier
Scheier's raw, dark sopho­more nov­el deals with men­tal ill­ness, too. April isn't sure what to do when her boyfriend is diag­nosed with schiz­o­phre­nia, push­ing their new rela­tion­ship to its lim­its. April is Jew­ish, and Scheier folds the reli­gion into the book so nat­u­ral­ly; April cel­e­brates Hanukkah and observes Shab­bat. It's infor­ma­tive but nev­er didac­tic, and the book as a whole packs a pow­er­ful punch.
Play­ing with Match­es by Suri Rosen
This is one of the few rep­re­sen­ta­tions of Mod­ern Ortho­dox Judaism in con­tem­po­rary YA — and it's so much fun. Play­ing with Match­es effort­less­ly dis­man­tles stereo­types about Ortho­dox Judaism sim­ply by act­ing as a win­dow into the life of six­teen-year-old Raina, who finds she has a tal­ent for match­mak­ing. Through­out, there are casu­al ref­er­ences to mezuzahs and the family's dairy sink with­out halt­ing the nar­ra­tive for an expla­na­tion. I'd nev­er heard it described this way, but the con­cept of the ​"Jew­ish grapevine" is too real. The book is fresh, charm­ing, and hilar­i­ous— proof that Jew­ish lit­er­a­ture does not have to cen­ter on tragedy.
Kiss­ing in Amer­i­ca by Mar­go Rabb
The title, while adorable, is a bit of a mis­nomer, as there isn't actu­al­ly very much kiss­ing in the book. Romance nov­el-obsessed Eva is on a mis­sion to track down a boy who abrupt­ly left town, but Kiss­ing in Amer­i­ca focus­es more on friend­ship, fam­i­ly, and grief. While on a cross-coun­try road trip with her best friend, Eva learns more about her Jew­ish her­itage through rel­a­tives they meet along the way.
It's a Whole Spiel, edit­ed by Kather­ine Locke and Lau­ra Silverman
Okay, I cheat­ed on this one because the book isn't out yet, but I'm just so excit­ed about it! This col­lec­tion of con­tem­po­rary inter­sec­tion­al Jew­ish short sto­ries by Jew­ish authors will be pub­lished by Knopf in fall of 2019. Some of the con­trib­u­tors include David Levithan, Nova Ren Suma, Dana Schwartz, Adi Alsaid, Lance Rubin…and me! I'm so hon­ored to be part of this project. I would have loved to read some­thing like this as a teen, and I'm so glad it will exist.
Rachel Lynn Solomon is the New York Times best­selling author of The Ex Talk, Today Tonight Tomor­row, and oth­er roman­tic come­dies for teens and adults. Her next book, Busi­ness or Plea­sure, will be pub­lished in June 2023. Orig­i­nal­ly from Seat­tle, she's cur­rent­ly nav­i­gat­ing expat life in Ams­ter­dam, where she can often be found explor­ing the city, col­lect­ing sta­tionery, and work­ing up the courage to knit her first sweater. Con­nect with her on Insta­gram @rlynn_solomon or online at rachel​solomon​books​.com.