Ear­li­er this week, Nan­cy Rich­ler dis­cussed the per­spec­tive of her nov­el The Imposter Bride. She will be blog­ging here for Jew­ish Book Coun­cil and MyJew­ish­Learn­ing all week.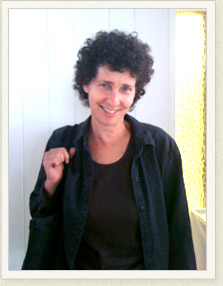 One of the great plea­sures of writ­ing for me is research­ing his­tor­i­cal events and details that help me under­stand and more ful­ly real­ize the lived expe­ri­ence of my char­ac­ters. The research I did for my sec­ond nov­el, Your Mouth is Love­ly, for exam­ple, opened up a world to me — that of ear­ly 20th cen­tu­ry life in the vil­lages and pris­ons of the Russ­ian Pale of Set­tle­ment — that I had pre­vi­ous­ly only encoun­tered fil­tered through the imag­i­na­tions of the great fic­tion writ­ers of that era. For my most recent nov­el, how­ev­er, I decid­ed not to do to any for­mal research. The Imposter Bride is set in the Jew­ish com­mu­ni­ty of Mon­tre­al in the years imme­di­ate­ly fol­low­ing the Sec­ond World War. It is told from the per­spec­tive of a young woman named Ruthie who is the daugh­ter of a Holo­caust sur­vivor. I want­ed to stay true to the knowl­edge Ruthie would have had at that time — the 1950's and ear­ly 60's — both with­in her own fam­i­ly and with­in the larg­er Jew­ish com­mu­ni­ty, rather than super­im­pose onto her nar­ra­tive the knowl­edge that we now have about the Holo­caust. I want­ed to con­vey what it was like to be a child — as I myself was — at a time when the truth of what had hap­pened to many of the adults in the com­mu­ni­ty was just slow­ly begin­ning to emerge.

In the years imme­di­ate­ly fol­low­ing the war the details about what had hap­pened in Europe were not wide­ly dis­cussed and taught as they are today. The refugees com­ing over from Europe faced a wide vari­ety of reac­tions, includ­ing com­pas­sion, of course, but also aver­sion, a cer­tain con­de­scen­sion and vary­ing degrees of igno­rance. What had hap­pened dur­ing the Holo­caust was not yet taught in schools, and was not writ­ten down in his­to­ry books, nor did the adult sur­vivors who lived among us express­ly artic­u­late what they had expe­ri­enced. The truth of what hap­pened in Europe was revealed to us slow­ly and often indi­rect­ly, through behav­iors, the lin­ger­ing fears and reac­tions that we wit­nessed, the tat­tooed num­bers that we could see on the arms of some of our teach­ers and par­ents, and only the occa­sion­al ver­bal com­ment or descrip­tion. It was Ruthie's expe­ri­ence of that time that I want­ed to con­vey and to do that I relied on my own mem­o­ries of that era and those of my sib­lings, friends and cousins, rather than doing for­mal research about the facts of the time.
Find out more about Nan­cy here.