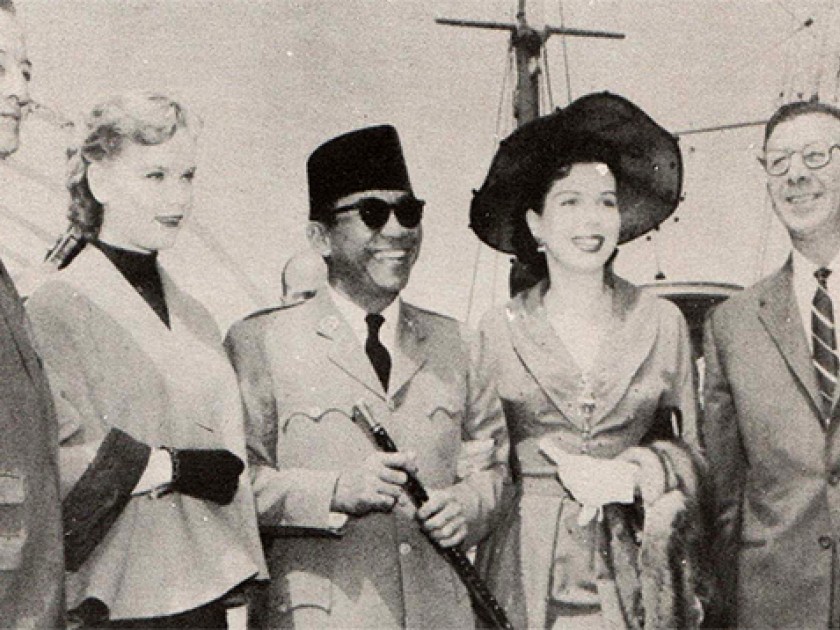 Ear­li­er this week, Glenn Frankel con­sid­ered the over­whelm­ing­ly Jew­ish his­to­ry of the Hol­ly­wood Black­list, the sub­ject of his new book High Noon: The Hol­ly­wood Black­list and the Mak­ing of an Amer­i­can Clas­sic. Glenn is guest blog­ging for the Jew­ish Book Coun­cil all week as part of the Vis­it­ing Scribe series here on The ProsenPeo­ple.
While most of Hollywood's found­ing fathers were Jew­ish, they weren't exact­ly the kind of proud, high-pro­file Amer­i­can Jews we know and cel­e­brate today. Most were immi­grants or first-gen­er­a­tion Amer­i­cans, and they gen­er­al­ly tend­ed to hide their Jew­ish iden­ti­ty (and their pol­i­tics) out of per­son­al embar­rass­ment or fear.
One notable excep­tion, as I found out while research­ing and writ­ing my new book, High Noon: The Hol­ly­wood Black­list and the Mak­ing of an Amer­i­can Clas­sic, was Dore Schary, an out­spo­ken lib­er­al Demo­c­rat and ardent Zion­ist. Schary inter­est­ed me because he attempt­ed to nav­i­gate a mid­dle course in per­ilous times: although he was an anti-Com­mu­nist him­self, he he fought the Hol­ly­wood inqui­si­tion out of firm belief in civ­il liberties.
Born in Newark to Russ­ian Jew­ish immi­grants, Schary had risen from wait­ing tables at his family's run-down resort hotel to writ­ing and act­ing in floor shows in the Borscht Belt and lat­er on Broad­way. He arrived in Hol­ly­wood in 1932 at age 27 and was an imme­di­ate suc­cess at writ­ing screen­plays and pro­duc­ing films. In 1947 he became head of RKO, a small, feisty stu­dio, promis­ing to make social­ly mean­ing­ful pic­tures for mod­ern post-war audi­ences. He quick­ly com­mis­sioned the noir-ish Cross­fire (1947), one of the first main­stream films to focus on anti­semitism, despite warn­ings from estab­lish­ment groups like the Amer­i­can Jew­ish Com­mit­tee that the film would only inflame reli­gious hatred. (Instead, the film made a size­able prof­it and gar­nered five Oscar nom­i­na­tions, includ­ing Best Pic­ture.) Lat­er that year, when the House Un-Amer­i­can Activ­i­ties Com­mit­tee staged its first pub­lic hear­ings into alleged Com­mu­nist infil­tra­tion of Hol­ly­wood, Schary was the only stu­dio head to pub­licly defend employ­ing left­ist screen­writ­ers, actors and direc­tors. Unless they advo­cat­ed the vio­lent over­throw of the gov­ern­ment, Schary tes­ti­fied, peo­ple should be hired and fired based on their qual­i­fi­ca­tions and not their politics.
But politi­cians in both par­ties fanned pub­lic fears about waves of Sovi­et agents and secret sub­ver­sives who were under­min­ing Amer­i­ca. After Con­gress issued con­tempt cita­tions against ten wit­ness­es who refused to coop­er­ate in answer­ing the Committee's ques­tions, Schary's fel­low stu­dio heads and their lawyers met secret­ly and issued a state­ment pledg­ing to fire any­one found to be a Com­mu­nist. Schary opposed the idea but was out­vot­ed and ulti­mate­ly felt com­pelled to go along: he wound up fir­ing the direc­tor and pro­duc­er who had made Cross­fire, despite his great admi­ra­tion for them both. And when he moved to head of pro­duc­tion at MGM the fol­low­ing year, Schary faith­ful­ly enforced the new rules to the let­ter, requir­ing employ­ees to sign loy­al­ty oaths or lose their jobs.
Still, Schary found him­self brand­ed as Com­mie sym­pa­thiz­er. In a 1947 FBI memo, a con­fi­den­tial infor­mant report­ed that ​"Mr. Schary in all respects has been a fol­low­er of the Com­mu­nist Par­ty line for many years." Three years lat­er, in a meet­ing with the head of the FBI's Los Ange­les office, Schary pledged to coop­er­ate whole­heart­ed­ly with the bureau. He even made an anti-Com­mu­nist pro­pa­gan­da film for the government.
After he was fired by MGM in 1956, Schary moved to New York, where he became Nation­al Chair­man of the Anti-Defama­tion League of B'nai B'rith and wrote the hit play Sun­rise at Cam­po­bel­lo, about Franklin Roosevelt's tri­umph over polio. It was his ode to enlight­ened lib­er­al lead­er­ship. But the Red Scare had defeat­ed well-mean­ing lib­er­als like Schary. His last word on the Hol­ly­wood black­list in his mem­oirs was one of deep regret: ​"A heavy cost in courage was paid by the indus­try, and a dread­ful price was paid by those we could not protect."
Glenn Frankel worked for near­ly thir­ty years for
The Wash­ing­ton Post
, as a reporter, a for­eign cor­re­spon­dent, and edi­tor of
The Wash­ing­ton Post Mag­a­zine
. As Jerusalem bureau chief, he won the
1989
Pulitzer Prize for ​
"
sen­si­tive and bal­anced report­ing from Israel and the Mid­dle East."