Jamie Geller's new cook­book, Joy of Kosher (William Mor­row), is now avail­able. Read her pre­vi­ous posts for the Vis­it­ing Scribe here. She is blog­ging here today for Jew­ish Book Coun­cil and MyJew­ish­Learn­ing.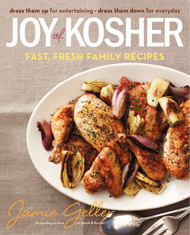 So every­body knows that Chanukah is all about mir­a­cles, right? I think when it comes to mir­a­cles we're each enti­tled to our own, so I'd like to nom­i­nate my per­son­al best mod­ern day mir­a­cle: step­ping on the scale after Chanukah and not­ing that the num­ber is low­er than it was before the holiday.
This year, we're com­bin­ing our Thanks­giv­ing feast with Chanukah treats. That's right. I know Chanukah is ​"sup­posed" to hap­pen at the end of Decem­ber, but this year the Hebrew date falls in Novem­ber, on Turkey Day! It's all about cross­ing lunar cal­en­dars with solar cal­en­dars and some­how this year we wind up mak­ing latkes out of yams and tying paper drei­dels to roast­ed drum­sticks. I just know we're going to wad­dle away from that table, ful­ly stuffed, prayin' for a real­ly big mama miracle.
Some­how we'll have to stag­ger through the next sev­en days and nights too. But we can han­dle it. Real­ly. Strat­e­gy is impor­tant, as well as a few sim­ple rules.
1. Eat your latkes stand­ing over the sink. Every­one knows calo­ries con­sumed over a sink don't count.
2. For good­ness sake, make those latkes small­er! No big­ger than a quar­ter is good.
3. Choose unsweet­ened apple sauce over sour cream (like choos­ing water over cham­pagne). It's real­ly great once you get used to it; so, um, subtle.
4. Eat no more than one latke for every can­dle you lit in the meno­rah that night. When you get to four, start eat­ing ½ a latke for every can­dle. Bet­ter yet, eat the can­dles and light the latkes.
5. Drink two diet sodas for every Jew­ish Star cook­ie you consume.
6. Eat a car­rot and pre­tend it's a jel­ly dough­nut. With frost­ing. And, oooh, pow­dered sugar.
7. Okay, if you must eat that dough­nut, just suck out the jel­ly. Then do five hun­dred jump­ing jacks or jog three miles. Do that for each dough­nut you eat.
8. Choco­late Chanukah gelt is so cute. Eat only the small coins and put the rest in a char­i­ty box.
Armed with these pre­ven­tive tac­tics, it's time to get down to craft­ing the per­fect latke. I've got my gourmet grand­par­ents' recipe, though I con­fess to tak­ing a short­cut or two. I don't grate the pota­toes by hand because I don't like the taste of my own knuck­les in the food. So I use a food proces­sor. Then there's the ago­niz­ing ques­tion: do latkes of the purée vari­ety, or shoe­string? They're both ter­rif­ic, but such dif­fer­ent tex­tures! It's a big deci­sion. Some­times I wor­ry about it for days.
Any­way, when I do par­ties I always go with my grandma's clas­sic latke; then I dress it up by pro­vid­ing a top­ping bar, so my guests can mix and match. Some will go with guac and a poached egg, or slices of mozz, toma­to, and a few fresh basil leaves, a shmear of brie, a dol­lop of jam, or a crum­ble of blue cheese… hey, the list is as end­less as your imag­i­na­tion. Calo­rie coun­ters will feel vir­tu­ous stick­ing with just the latke, in all its tra­di­tion­al sim­plic­i­ty. Or maybe they'll just grab a basil leaf from the top­ping bar.
I've been known to wow my guests with ​"dressed up" Latkes with Caviar and Cream. Kid­dies at my par­ty table get my ​"dressed down" Sweet Cin­na­mon Latkes with Maple Sour Cream. Eas­i­er to make than they sound. Trust me: I'm your best friend in the kitchen.
Of course, you don't have to cook up those incred­i­ble dish­es, if you don't want to. Just an idea. And you're free to weigh in on your own mir­a­cle, your very own this-could-nev­er-hap­pen ‑but-it-did-so-let's‑party expe­ri­ence. We'll cel­e­brate it together.
Known as the ​

"

Queen of Kosher" (

CBS

) and the ​

"

Jew­ish Rachael Ray" (New York Times), Jamie Geller is Founder and Chief Cre­ative Offi­cer of the Kosher Media Net­work, pub­lish­er of the award-win­ning Joy of Kosher with Jamie Geller mag­a­zine and the Joy​ofKosher​.com web­site. Her newest cook­book,
Joy of Kosher
(William Mor­row), is now available.
Known as the ​
"
Queen of Kosher" (
CBS
) and the ​
"
Jew­ish Rachael Ray" (
New York Times
), Jamie Geller is Founder and Chief Cre­ative Offi­cer of the Kosher Media Net­work, pub­lish­er of the award-win­ning
Joy of Kosher with Jamie Geller
mag­a­zine and the Joy​ofKosher​.com web­site. Also the host of the
Joy of Kosher with Jamie Geller
cook­ing show and
Joy of Israel with Jamie Geller
food and trav­el show on
JLTV
and the Israel Hidab­root Chan­nel. Author of the best­selling Quick
&
Kosher cook­book series, she is an inter­na­tion­al­ly favored media per­son­al­i­ty appear­ing on
ABC
,
NBC
,
FOX
,
CBS
, and Martha Stew­art Liv­ing Radio and fea­tured in the
New York Dai­ly News
,
Wash­ing­ton Post
,
Mia­mi Her­ald
,
Dai­ly News Los Ange­les
,
Chica­go Tri­bune
,
Jerusalem Post
,
Reader's Digest Cana­da
, and more. She and her hus­band recent­ly moved their fam­i­ly to Israel, where their five chil­dren give her plen­ty of rea­sons to get out of the kitchen — fast.