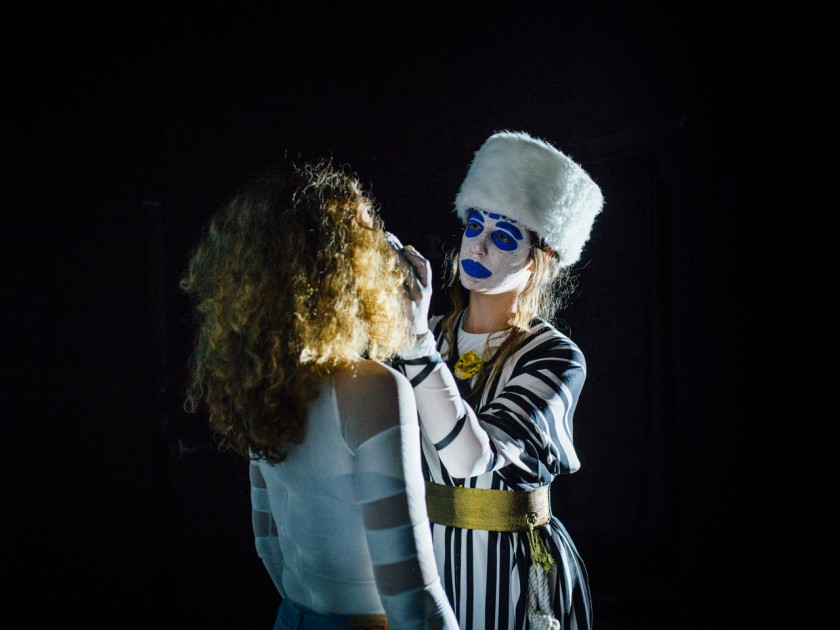 The Ryte Slide Pod­cast, host­ed by Marky Millor
[Tran­script]
Wel­come back to the Ryte Slide, y'all. Slide on into your seats, grab a beer, and pre­pare to have your mind blown, once again. I'm your host, Marky Mil­lor, and this is episode forty-six. This week, we're going to talk about some­thing called ​"the Golem."
So, as many of you know, my fam­i­ly is eth­ni­cal­ly Jewish.
Not in the Khaz­ar sense.
We're the real shit. I did DNA testing.
The rea­son I bring this up is because I've recent­ly seen some chat­ter on the mes­sage boards that this thing, the Golem, is, like, in Amer­i­ca, so I want to set the record straight about what this thing is, and who it works for. I want to tell you about the Golem's true his­to­ry. First off, the Golem doesn't rep­re­sent real Jew­ish Amer­i­cans. The Golem rep­re­sents the Glob­al­ists, the vast major­i­ty of whom are actu­al­ly Khaz­ar­i­an. It was cre­at­ed by the Roth­schilds in 1776, no coin­ci­dence, which is some­thing a lot of peo­ple don't know, and I've got mul­ti­ple sources that show that S***s him­self was behind fund­ing its recent trip to Amer­i­ca. Real shit, it usu­al­ly lives in an attic in Hun­gary, which is obvi­ous­ly not a coin­ci­dence either, but like I said, there are reports that it's been spot­ted recent­ly on these beau­ti­ful, beau­ti­ful shores.
So, why do I tell you this? Let me tell you a sto­ry. I'm a vet, yeah? I served in the IDF. Tac­ti­cal spe­cial weapons divi­sion, and also intel, so not some­thing I'm real­ly allowed to talk about on air, but if you DM me, I've got plen­ty of info I think lis­ten­ers would find help­ful. Any­way, I'm proud of my ser­vice, but I'm proud­er of my great-great grand­fa­ther, Abra­ham P. Mil­lor, who was a sol­dier in the Con­fed­er­ate Army from 1861 to 1865. One night, dur­ing a par­tic­u­lar­ly sav­age bat­tle the Rebels were this close to win­ning, and he saw this fig­ure on the hori­zon, this huge thing that looked like it was made out of like, clay, or mud, or some shit like that, and it was ram­pag­ing, destroy­ing our forces, like, lit­er­al­ly pick­ing up hors­es and eat­ing them whole and shit, like have you ever read that com­mie agit­prop kids book by Pete Seeger? Not a coin­ci­dence. He told my grand­fa­ther, who told me, that it was the Khaz­ars' Golem, fight­ing for the treach­er­ous Union, and I recent­ly found a num­ber of sources that back that up. And now that I men­tion it, this sto­ry total­ly relates to tes­ti­monies I've heard from Char­lottesville, that after the ral­ly, peo­ple kept see­ing this clay or mud thing, like, creep­ing around the build­ings and stuff. Every­thing is con­nect­ed, guys, remem­ber that. Any­way, my great-great was pret­ty sure, or, like, com­plete­ly sure, the South would have won if it weren't for that thing, which claimed to be a Jew, but like I said, hash­tag not a real one. And not just that bat­tle, folks: the whole war. And imag­ine where we'd be then? Any­way, the point is, this thing, this Golem, is not here to rep­re­sent actu­al Jew­ish Amer­i­can inter­ests. It's been sent to dri­ve a wedge between us and oth­er White Amer­i­can patri­ots. And we can't let that hap­pen, right? Because enough of this ZOG shit, y'all. We all know that Israel is America's truest friend in the fight against Islamo-Left­ism, and that we are on the same team. Get your shit togeth­er. Judeo-Chris­t­ian val­ues are our only hope in a time like this. We can­not be eat­ing one anoth­er alive. That's what the Libs do. Like, lit­er­al­ly. Like I said, DM me. I've got some shit to discuss.
Also, please love me?
I don't think I can begin to tell you how lone­ly I am.
Or was.
After Jan Six, I final­ly felt like I had some­one out there, you know?
You all know that feel­ing, right? Like, I'm not alone any­more. Like, some­one hears me, sees me, gets me. Like, I am loved and val­ued and spe­cial. All these idiots in the media take Our King's words on face val­ue, and these are the same cucks and SJWs who claim to read a bunch of books and shit, they're all about look­ing for the sub­text, but they're so busy lis­ten­ing to their own whine-fest that they can't hear any­thing three inch­es past their own noses. You all know what I'm talk­ing about.
You do love me, right?
Please love me.
Ahem.
I want to talk for a sec­ond about replace­ment. I know this is going to be con­tro­ver­sial, but I think we maybe should start get­ting our shit right, like, it's the S***s and Roth­schild Khaz­ars, using things like this Golem, who are work­ing toward that. It is not real Jew­ish Americans.
Look at my face. I mean, ha, you can't look at my face, of course, because this is a pod­cast, but if you could, you would see how truth­ful I am. I swear to God, and we have the same Judeo-Chris­t­ian God, right? I swear to God that I am work­ing on the right side. I am not your enemy.
Shit, no, no. Scratch all of this. Scratch the face part, and the love part. I don't know where I'm going with this. Maybe let's cut before I said that shit about ​"love me," you know I was just kid­ding, any­way, right? Let's wrap this episode up. I keep hear­ing these weird noises.
How about this for an end­note, ahem.
Hem.
Y'all. One more sto­ry before I sign off. I've got it on record from mul­ti­ple sources that, uh, that the wild­fires? Our Qom­rade was right about that, almost. It was the Roth­schild Golem who start­ed them, that's the only detail she missed. And: also Domin­ion, obvi­ous­ly. This thing does have com­put­ing abil­i­ties, not only horse-eat­ing jaws. And you know what Golem stands for, right? ​"Goal of Lying et Manipulating."
"Et" as in the French ​"and," yeah?
Okay. Alright.
That's all for this week. Next week, I'll be back with a very spe­cial guest–
Hel­lo?
Uh, I'm using this room, bro. The door's locked for a reason.
Can you stop rat­tling the door han­dle? I'm recording?
Seri­ous­ly. Who is–
Shit.
It's you.
Marky Mil­lor is the host of the pop­u­lar pod­cast The Ryte Side. He was present on Jan 6, but of course didn't actu­al­ly go in any­where or any­thing, you know? He was just there, like, out­side. In spir­it. He may or may not have served in the IDF. Details are for cucks. (Marky Mil­lor is also a fic­tion­al char­ac­ter invent­ed by author and poet Moriel Roth­man-Zech­er, as part of the series, What We Talk About When We Talk About the Golem.)
–
The Marky Mil­lor fic­tion­al char­ac­ter and asso­ci­at­ed con­tent are com­pan­ion lit­er­ary respons­es to Julie Weitz's Golem V. Golem, pro­duced by Asy­lum Arts for Dwelling in a Time of Plagues, made pos­si­ble with the gen­er­ous sup­port of
CAN­VAS

. In

2017

, in response to the Char­lottesville protests, Artist Julie Weitz cre­at­ed her per­for­ma­tive project My Golem, which cen­ters on her embod­i­ment of the myth­i­cal crea­ture drawn from Jew­ish folk­lore. A futur­is­tic high­­­ly-styl­ized fig­ure cov­ered with white mud, she was brought to life to respond to con­tem­po­rary chal­lenges includ­ing cli­mate cat­a­stro­phe, white suprema­cy, antisemi­tism and xenophobia.
The project is pre­sent­ed at the Vil­na Shul, Boston's Cen­ter for Jew­ish Cul­ture in part­ner­ship with the Jew­ish Arts Col­lab­o­ra­tive. Addi­tion­al dig­i­tal part­ners include the Con­tem­po­rary Jew­ish Muse­um in San Fran­cis­co, Jew­ish Muse­um Mil­wau­kee and the Jew­ish Muse­um of Flori­­da-FIU. The work is part of a North Amer­i­can project – Dwelling in a Time of Plagues – a coast-to-coast Jew­ish artis­tic response to con­tem­po­rary plagues. To see the oth­er works on dis­play, vis­it plagued​welling​.com.
–
A Passover sup­ple­ment pro­duced for Dwelling in a Time of Plagues, includ­ing ten authors and ten artists respond­ing to ten mod­ern plagues, can be down­loaded here. Con­tribut­ing authors include Sarah Blake, Mar­ra B. Gad, Ayelet Gun­­­dar-Goshen, Let­ty Cot­tin Pogre­bin, Rebec­ca Sof­fer, Rab­bi Abby Stein, Darin Strauss, Michael Twit­ty, Rab­bi Dr. Shmu­ly Yan­klowitz, and Moriel Rothman-Zecher.