In this three-part series for the Vis­it­ing Scribe, inter­na­tion­al­ly best­selling nov­el­ist Pam Jenoff explores how her years in Poland changed her life and led her to writ­ing books. Her most recent book, The Win­ter Guest, is now available.
Part I: Liv­ing the War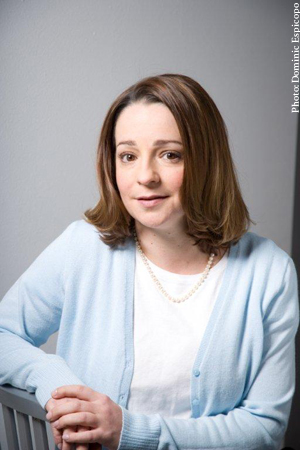 I did not go to Poland to work on the Holo­caust. A first tour For­eign Ser­vice Offi­cer, I was sent to the U.S. Con­sulate in Krakow, Poland in the mid-1990s to stamp visas and pass­ports, and help U.S. cit­i­zens who were arrest­ed or hos­pi­tal­ized or oth­er­wise in trou­ble. But I found myself in a unique moment in his­to­ry: Poland had just come out of decades of Com­mu­nism, where issues remain­ing from the Holo­caust — impor­tant ques­tions of anti-Semi­tism, prop­er­ty resti­tu­tion, and preser­va­tion of the con­cen­tra­tion camps — had been unre­solved because open dia­logue was sup­pressed and exchange between east and west was cut off dur­ing the decades fol­low­ing the war. These issues need­ed to be resolved for polit­i­cal rea­sons in order for Poland to join NATO and the Euro­pean Union.
I'd arrived in Poland, a young woman alone in my ear­ly twen­ties, half way around the world and tru­ly iso­lat­ed in a pre-cell phone, pre-inter­net uni­verse. So I did what any nice Jew­ish girl would do: I grav­i­tat­ed toward the sur­viv­ing Jew­ish com­mu­ni­ty; I went to shul on Fri­day night (and it was Ortho­dox, a huge edu­ca­tion for this girl raised in a sub­ur­ban Reform com­mu­ni­ty) and to the rabbi's house for cholent on Sat­ur­days. The elder­ly Holo­caust sur­vivors became like grand­par­ents to me. And the U.S. Con­sulate, see­ing my nat­ur­al affin­i­ty for the peo­ple and issues, said ​"You han­dle Pol­ish-Jew­ish issues." (We were only eight Amer­i­cans; it wasn't ter­ri­bly formal.)
So for the next two-and-a-half years, that became my job. When Elie Wiesel was upset about well-inten­tioned Pol­ish boy scouts putting up stars and cross­es on a field at Birke­nau, I went there to try and resolve the issue. When then-First Lady Hillary Clin­ton want­ed to tour Auschwitz, I spent a week there with the Secret Ser­vice. There were many dif­fi­cult con­ver­sa­tions about who had done what dur­ing the war. But there were reward­ing moments too, like see­ing the first prop­er­ty resti­tu­tion law passed and bring­ing togeth­er Pol­ish and Amer­i­can school teach­ers to talk about how to teach the Holo­caust to their students.
My own life in Poland was sim­i­lar­ly con­flict­ed: on one hand, prac­tic­ing as a Jew in Poland was reward­ing, defi­ant in the face of what Hitler had tried to do. Despite the vast shad­ows, I could feel the Yid­dishkeit on every street. But the war was so prox­i­mate, that in order to take my car to the mechan­ic, I had to dri­ve past the camp in Schindler's List. And you may be pre­pared to tour the gas cham­ber once, but what toll does it take on your psy­che when you walk in for the 50th time? For me, the con­stant chal­lenge was how to live life with the appro­pri­ate solem­ni­ty for what had hap­pened there, but not see every­day as a graveyard.
I came back from my years in Poland pro­found­ly changed by what I had expe­ri­enced and I knew I want­ed to write a book about it. Not just any book – I knew it would be a novel.
In my next post, I will talk about how my years in Poland led me to becom­ing a novelist.
Pam Jenoff is the inter­na­tion­al­ly best­selling author of six nov­els, includ­ing The Kom­man­dan­t's Girl. Her lat­est is The Win­ter Guest, which will be pub­lished August 26, 2014. A grad­u­ate of GWU, Cam­bridge and Penn Law, Pam for­mer­ly worked at the Pen­ta­gon, as a diplo­mat for the State Depart­ment and as an attor­ney. She lives out­side Philadel­phia with her hus­band and three chil­dren where, in addi­tion to writ­ing and speak­ing, she is on the fac­ul­ty of Rut­gers Law School.
Relat­ed Content:
Pam Jenoff is the author of sev­er­al books of his­tor­i­cal fic­tion, includ­ing the NYT best­sellers The Lost Girls of Paris and The Woman with the Blue Star. She holds a degree in inter­na­tion­al affairs from George Wash­ing­ton Uni­ver­si­ty and a degree in his­to­ry from Cam­bridge, and she received her J.D. from UPenn. She lives with her hus­band and three chil­dren near Philadel­phia, where, in addi­tion to writ­ing, she teach­es law school.