In this three-part series for the Vis­it­ing Scribe, inter­na­tion­al­ly best­selling nov­el­ist Pam Jenoff explores how her years in Poland changed her life and led her to writ­ing books. Ear­li­er this week we fea­tured Part I: Liv­ing the War, which you can read here.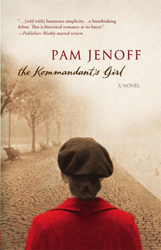 I came back from my years in Poland pro­found­ly changed by what I had expe­ri­enced. I knew I want­ed to write a book about my time in Poland. And not just any book; I knew it would be a nov­el. How did I know? Because I was one of those lit­tle kids who always want­ed to be a writer, scrib­bling down sto­ries and show­ing them to any­one who would lis­ten. And it was nev­er short sto­ries or poet­ry, always novels.
I took a course at Tem­ple night school called ​"Write Your Nov­el This Year" (seri­ous­ly) and began to write. I began with a scene of a young woman cross­ing Krakow's main mar­ket square with a small child dur­ing the war. As I wrote, I dis­cov­ered that she was a Jew in hid­ing and she was pro­tect­ing this child of great rab­binic lineage.
Then the most serendip­i­tous thing hap­pened: I was on a train from Wash­ing­ton to Philadel­phia when I met two very well-known Holo­caust sur­vivors, man and wife. (I've nev­er pub­licly named them because the man has since passed on and I nev­er got to ask if he mind­ed.) I was telling them about this nov­el I was writ­ing set dur­ing the war, and the woman said, ​"Sure­ly you know the sto­ry of the Krakow resis­tance." I stopped, dumb­found­ed. We all know the sto­ry of the War­saw upris­ing. But I had just come back from two and a half years of liv­ing in Krakow, work­ing on Holo­caust issues, and I had nev­er heard of the Krakow Jew­ish resis­tance. I went back to Poland for more research and I was amazed to dis­cov­er a rich his­to­ry of Jew­ish upris­ing on the very streets where I had lived and worked (a his­to­ry which is large­ly unknown, since vir­tu­al­ly every­one who was a par­ty of the resis­tance in Krakow per­ished dur­ing the war.) This true sto­ry of the Krakow resis­tance became the inspi­ra­tion for my first nov­el, The Kommandant's Girl.
Even after hon­ing my top­ic, the actu­al deci­sion to per­sist in writ­ing a nov­el set dur­ing the war so did not come eas­i­ly. I wres­tled with a huge sense of inad­e­qua­cy for the sub­ject I was address­ing. I remem­ber watch­ing Band of Broth­ers (which I con­sid­er the finest thing ever put on film) and there was a scene where they were lib­er­at­ing the camps, and I thought, ​"Who am I to be writ­ing din­ner par­ties and scenes at the sym­pho­ny, when such atroc­i­ties were tak­ing place 60 kilo­me­ters away?" Because, I con­clud­ed, such mer­ri­ment real­ly did per­sist dur­ing the war, and show­ing that is part of paint­ing the big­ger picture.
There is, of course, the larg­er issue of whether we should be writ­ing sto­ries set dur­ing the Holo­caust at all. I'm often asked at talks whether by fic­tion­al­iz­ing the Holo­caust, we are feed­ing into the Holo­caust deniers. I think just the oppo­site: that by not telling the sto­ries we would be sti­fling the dia­logue, which is exact­ly what the Nazis would have wanted.
Once one decides to write a book set dur­ing the Holo­caust, there is the huge ques­tion of ​"get­ting it right." This means both the details of his­tor­i­cal accu­ra­cy (read­ers armed with Wikipedia will sure­ly let you know if you haven't) and also big­ger ques­tions of por­tray­ing dif­fer­ent peo­ples and their roles.
For this lat­ter ques­tion, there is no right answer. Take, for exam­ple, the ques­tion of the Poles dur­ing the Holo­caust. In my work, I try to show the gray areas in peo­ple: the Jews in my book are flawed, the Ger­mans are real peo­ple and the Poles are good and bad and between. As a result, I get e‑mails say­ing I'm too hard on the Poles and e‑mails say­ing I'm too easy on them. You get the idea.
I've writ­ten sev­er­al nov­els set dur­ing the war now and it doesn't get any eas­i­er. But I try to approach all of it with respect and dig­ni­ty and I think read­ers respond to that. To me, each book is a love song to Jew­ish Poland, and the Jews of Cen­tral and East­ern Europe.
Pam Jenoff is the inter­na­tion­al­ly best­selling author of six nov­els, includ­ing The Kom­man­dan­t's Girl. Her lat­est is The Win­ter Guest, which will be pub­lished August 26, 2014. A grad­u­ate of GWU, Cam­bridge and Penn Law, Pam for­mer­ly worked at the Pen­ta­gon, as a diplo­mat for the State Depart­ment and as an attor­ney. She lives out­side Philadel­phia with her hus­band and three chil­dren where, in addi­tion to writ­ing and speak­ing, she is on the fac­ul­ty of Rut­gers Law School.
Relat­ed Content:
Pam Jenoff is the author of sev­er­al books of his­tor­i­cal fic­tion, includ­ing the New York Times best­seller The Orphan's Tale. She holds a degree in inter­na­tion­al affairs from George Wash­ing­ton Uni­ver­si­ty and a degree in his­to­ry from Cam­bridge, and she received her JD from the Uni­ver­si­ty of Penn­syl­va­nia. Her nov­els are inspired by her expe­ri­ences work­ing at the Pen­ta­gon and as a diplo­mat for the State Depart­ment han­dling Holo­caust issues in Poland. She lives with her hus­band and three chil­dren near Philadel­phia, where she teach­es law.