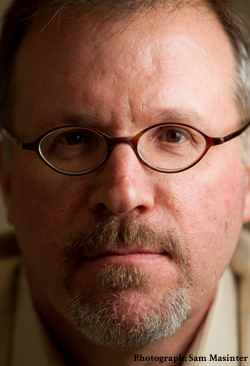 Philip K. Jason: What binds your inter­est in com­ic strips and graph­ic nov­els on the one hand and more tra­di­tion­al crit­i­cal explo­rations on the oth­er?
Ilan Sta­vans: Sto­ry­telling is a form of midrash. I love telling sto­ries, ana­lyz­ing them, see­ing them in con­text. I grew up in a cul­ture that jux­ta­posed the word and the image. As a writer, I don't see one as supe­ri­or to the oth­er. I also don't see the dis­tinc­tion between high­brow and pop­u­lar read­er­ships. The capac­i­ty to enthrall knows no boundary.
PKJ: Prof. Sta­vans, as a char­ac­ter in your graph­ic nov­el El Ilu­mi­na­do (Basic Books, 2012), is direct­ly involved in a real world adven­ture. What do you say to those who feel that peo­ple in aca­d­e­m­ic life some­how have removed them­selves from real world expe­ri­ences?
IS: For me the noun aca­d­e­m­ic is deroga­to­ry: it denotes affec­ta­tion, pos­tur­ing, pre­tense. Aca­d­e­m­ic life is shame­ful­ly aloof, removed from the nuts-and-bolts affairs of dai­ly Amer­i­cans. I feel uncom­fort­able with such elit­ism: I pre­fer to get my hands dirty, to delve into the fry­ing pan.
PJK: Tell me some­thing about the back­ground of the fam­i­ly name.
IS: In vain I've sought my roots in nine­teenth-cen­tu­ry Europe. My con­so­la­tion is the knowl­edge that my ances­tors have roots in the Pale of Set­tle­ments, although I don't know how deep those roots are. My full name (oy gevalt!) is Ilan Kalmen Stavchan­sky Slo­mi­an­s­ki Altchuler Eisen­berg. Stavchan­sky prob­a­bly refers to Stavchany, in the Ukraine. My father, Abra­ham Sta­vans, a stage and soap-opera actor in Mex­i­co, short­ened the name for artis­tic rea­sons, although he nev­er made the move to change it offi­cial­ly. I chose Ilan Sta­vans to empha­size my debt to him. I dis­cuss this debt in my mem­oir On Bor­rowed Words (Pen­guin, 2002).
Philip K. Jason is pro­fes­sor emer­i­tus of Eng­lish at the Unit­ed States Naval Acad­e­my. A for­mer edi­tor of Poet Lore, he is the author or edi­tor of twen­ty books, includ­ing Acts and Shad­ows: The Viet­nam War in Amer­i­can Lit­er­ary Cul­ture and Don't Wave Good­bye: The Chil­dren's Flight from Nazi Per­se­cu­tion to Amer­i­can Free­dom.