Yos­si Klein Hale­vi's first book, Mem­oirs of a Jew­ish Extrem­ist, was first pub­lished in 1995 and was reprint­ed in fall 2014. At the Entrance to the Gar­den of Eden: A Jew­'s Search for Hope with Chris­tians and Mus­lims in the Holy Land appeared in 2001. His lat­est book, Like Dream­ers: The Israeli Para­troop­ers Who Reunit­ed Jerusalem and Divid­ed a Nation, won the Jew­ish Book Council's 2013 Everett Fam­i­ly Foun­da­tion Jew­ish Book of the Year Award and was released in paper­back in fall 2014. Hale­vi is a senior fel­low at the Shalom Hart­man Insti­tute. Philip K. Jason recent­ly spoke with Yos­si about his writ­ing and his cur­rent project.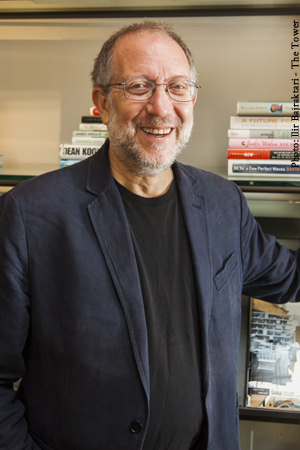 Philip K. Jason: In the course of your research and inter­views for Like Dream­ers, what were your most sur­pris­ing discoveries?
Yos­si Klein Hale­vi: I was con­stant­ly amazed at the inten­si­ty of life in Israel, from the very found­ing of the state. I kept won­der­ing how one small coun­try could con­tain so much his­to­ry. One of the char­ac­ters in the book, Arik Achmon, par­tic­i­pat­ed in every one of Israel's wars, begin­ning in 1948. Where else does life make such demands on the cit­i­zens of a nation? Some­times it seemed to me as if we were try­ing to com­pen­sate for cen­turies of Jew­ish life with­out sov­er­eign­ty by cram­ming as much expe­ri­ence into our nation­al life as possible.
I was struck too by the man­ic depres­sive nature of the Israeli expe­ri­ence. In 1967 we were euphor­ic with vic­to­ry; in 1973, only six years lat­er, we were in despair. And yet, mil­i­tar­i­ly at least, the Yom Kip­pur War was in some sens­es more impres­sive than the Six Day War.
One pat­tern emerged in the post-67 sto­ry of Israel that has par­tic­u­lar rel­e­vance today, and that is this: When Israelis feel that the inter­na­tion­al com­mu­ni­ty is against them, they retreat into hard­line posi­tions. When they feel more accept­ed, they are ready to take risks for peace. The Oslo process was launched in an atmos­phere of grow­ing accep­tance of Israel, after the fall of the Sovi­et Union and the first Gulf War. By con­trast, the set­tle­ment move­ment became main­stream in the weeks fol­low­ing the 1975 UN Zion­ism-Racism res­o­lu­tion. Israelis pushed back by embrac­ing the settlers.
PKJ: In Like Dream­ers, you posi­tion your­self as a cen­trist, some­one who is oblig­at­ed to lis­ten to both (or all) sides – per­haps more than lis­ten. Has this stance helped you gain you access as a journalist?
YKH: Being open to hear­ing oppos­ing voic­es gave me emo­tion­al access – allowed me to empathize with oppos­ing camps. I moved to Israel at the begin­ning of the first Lebanon War in 1982, when Israelis were lit­er­al­ly shout­ing at each oth­er on the streets. That was the first time that war had failed to unite the coun­try – worse, the war itself was divid­ing us. As a new immi­grant I had two choic­es. I could either choose a camp, or learn to lis­ten. I chose the sec­ond option and forced myself to lis­ten deeply to what all of Israel's polit­i­cal and cul­tur­al and eth­nic groups were real­ly say­ing. What were the fears of left and right? The visions of Israel being expressed by sec­u­lar­ists and reli­gious Zion­ists and ultra-Ortho­dox and Arab Israelis? I not only tried to become absorbed into Israeli soci­ety, but to absorb Israel, in all its com­plex­i­ty, into my being. That's how I became an Israeli.
PKJ: I believe it was Jabotin­sky who most vig­or­ous­ly argued that social democ­ra­cy was not and would not be a bless­ing for Jew­ish sur­vival. Anti-Semi­tism would always trump ide­o­log­i­cal puri­ty. Has that writer-thinker-politi­cian been an influ­ence on your thinking?
YKH: I grew up in the Betar youth move­ment found­ed by Jabotin­sky: In Betar we called him ​"Rosh Betar," head of Betar, a title reserved only for him. So yes, love for Jabotin­sky goes deep in me. As for the ide­o­log­i­cal influ­ence: I sup­port ter­ri­to­r­i­al com­pro­mise, and Jabotin­sky of course was a ter­ri­to­r­i­al max­i­mal­ist. Though I'm not sure that Jabotin­sky him­self would be a max­i­mal­ist today. He envi­sioned solu­tions for a dif­fer­ent time. He was try­ing to save Europe's Jews, and Israel was not yet a sov­er­eign state. Today we face threats that Jabotin­sky couldn't imagine.
It's inter­est­ing to go back to the great Jabotin­sky-Ben-Guri­on debates of the 1930s. Each of them won a dif­fer­ent argu­ment. Ben-Guri­on won the argu­ment over par­ti­tion. But Jabotin­sky won the argu­ment over what he called the ​"iron wall" — the need for a pow­er­ful mil­i­tary pres­ence against those who would destroy us. Today we have a lit­er­al wall – I see it from my porch on the edge of Jerusalem, bor­der­ing the West Bank.
For me, what endures as an exam­ple is Jabotinsky's courage, his will­ing­ness to go against the con­ven­tion­al wis­dom and try to save Europe's Jews. He was the only Jew­ish leader, the only Zion­ist leader in the 30s, to fore­see a com­ing cat­a­stro­phe and try to mobi­lize the Jew­ish world. He failed of course, and died of a heart attack in 1940.
PKJ: You have tak­en a close look at Israel's wars, espe­cial­ly the Six-Day (1967) War, and explored how the con­duct and res­o­lu­tion of those wars affect­ed the course of Israel's iden­ti­ty, polit­i­cal and oth­er­wise. In one way or anoth­er, this peren­ni­al­ly stressed nation finds ways of rein­vent­ing and reimag­in­ing itself – some­times los­ing its mem­o­ry in the process. From your own expe­ri­ences, and from those para­troop­ers and oth­ers whose lives you have researched, what do you see is the most like­ly direc­tion for the future?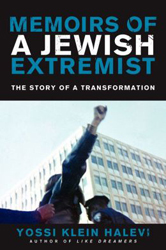 YKH: The ques­tion that became increas­ing­ly urgent for me as I was writ­ing Like Dream­ers is: Where will the next great mes­sian­ic Jew­ish dream come from? The sto­ry that the book tells is not only about the divide between left and right but about the fate of Israel's great dreams. Two utopi­an dreams suc­ces­sive­ly defined Israel. The first was the kib­butz move­ment, the dream of an egal­i­tar­i­an Israel that would be a lab­o­ra­to­ry for cre­at­ing the world's purest demo­c­ra­t­ic com­mu­nism. Then came the set­tle­ment move­ment, which believed that the mes­sian­ic era was upon us. Each of those move­ments helped shape Israel as we know it – from the country's bor­ders to the qual­i­ty of its army. In the end though, both failed to win the trust of main­stream Israel.
We've paid a price for the utopi­an delu­sions of the Jews. But we've also been tremen­dous­ly ener­gized by these two utopi­an move­ments. This is the first time in the his­to­ry of the state – the his­to­ry of Zion­ism – when there is no utopi­an avant-garde try­ing to lead the nation. The result is a grow­ing sense of drift among Israelis.
My sense – maybe it's only a hope – is that the next great out­break of utopi­an ener­gy in Israeli soci­ety will be spir­i­tu­al, not polit­i­cal, and will focus on cre­at­ing the next phase of Judaism. What kind of Judaism will we live as a sov­er­eign peo­ple in its land? So far, we've most­ly import­ed forms of Judaism that emerged under con­di­tions of a per­se­cut­ed, ghet­toized minor­i­ty. We need forms of Judaism that are wor­thy of the pro­found trans­for­ma­tion in Jew­ish life we've expe­ri­enced over the last two cen­turies, and espe­cial­ly since the cre­ation of Israel.
PKJ: In Mem­oirs, you write: ​"To be an Amer­i­can Jew meant being inher­ent­ly inau­then­tic, a spec­ta­tor to Jew­ish his­to­ry." This out­look grows, in part, out of you expe­ri­ence while in Israel dur­ing the Yom Kip­pur War. Do you mean to root this view­point in that time, or do you feel that it is a gen­er­al truth? Is there no Jew­ish his­to­ry unfold­ing in the diaspora?
YKH: That was def­i­nite­ly a reflec­tion of my think­ing as a young Amer­i­can Jew. It is cer­tain­ly not my think­ing today. Iron­i­cal­ly, I feel more con­nect­ed to Amer­i­can Jews since becom­ing an Israeli than I did grow­ing up in Amer­i­ca. My Amer­i­can Jew­ish expe­ri­ence was high­ly pecu­liar. I grew up in Bor­ough Park, in a sur­vivor com­mu­ni­ty, on the edges of Amer­i­can Jew­ish life. I had a great deal of anger against Amer­i­can Jew­ry. My father, a sur­vivor from Hun­gary, blamed Amer­i­can Jews for not try­ing to res­cue Euro­pean Jew­ry, and I turned his anger into polit­i­cal alien­ation. That's why I joined Betar, and then the Jew­ish Defense League – I delib­er­ate­ly posi­tioned myself on the fringes of Amer­i­can Jewry.
Since mov­ing to Israel, I've got­ten to know Amer­i­can Jew­ry far bet­ter than I knew it when I was actu­al­ly liv­ing in Amer­i­ca. I spend a good deal of time lec­tur­ing about Israel in Jew­ish com­mu­ni­ties and I've come to love and respect Amer­i­can Jew­ry. Our gen­er­a­tion is blessed with two unimag­in­able Jew­ish options. The first is to live in a sov­er­eign Jew­ish state, where we can deter­mine the nature of our pub­lic space. The sec­ond is to live in the most free and accept­ed Dias­po­ra in his­to­ry, where Jews are invit­ed to help shape the pub­lic space of the most pow­er­ful coun­try in the world. Our great-grand­par­ents would have been amazed if only one of those options had emerged. We are over­whelmed with riches.
PKJ: What are your respon­si­bil­i­ties to / ben­e­fits from your posi­tion as a senior fel­low at the Shalom Hart­man Institute?
YKH: I'm a mem­ber of the Institute's iEn­gage sem­i­nar, which cre­ates a cur­ricu­lum on Israel for Dias­po­ra Jews. iEn­gage is an attempt to give Dias­po­ra Jews a rich­er lan­guage in speak­ing about Israel – less polit­i­cal and more con­cep­tu­al, an attempt to cre­ate a shared val­ues conversation.
Also, I co-direct the institute's Mus­lim Lead­er­ship Ini­tia­tive, or MLI, togeth­er with Imam Abdul­lah Antepli of Duke Uni­ver­si­ty. MLI aims at edu­cat­ing young emerg­ing Mus­lim Amer­i­can lead­ers about the mean­ing of Israel in Judaism and for Jews today. We've grad­u­at­ed our first cohort of 15 par­tic­i­pants – a remark­able group of peo­ple – and we have two new groups.
Along with those respon­si­bil­i­ties, I spend my morn­ings at the insti­tute writ­ing. It's a won­der­ful arrange­ment for a writer.
PKJ: When/​why did you add Hale­vi to your name? [I real­ize that it could have always been part of your ​"rit­u­al" name.]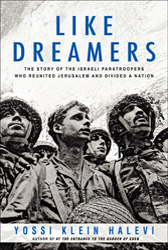 YKH: When my wife, Sarah, and I moved to Israel, we decid­ed to Hebraize our name. We chose Hale­vi because, well, I'm a Levi, and the Levites were a caste of ser­vice in the Tem­ple, play­ing music, and Sarah and I were drawn to the idea of serv­ing God through cre­ativ­i­ty. Sarah and I met in a writ­ing pro­gram – at City College.
PKJ: Any new book projects on your to do list?
YKH: I've just begun a new book project, which is about the Pales­tini­ans. I'll say only that I intend this to be much short­er than Like Dream­ers – both in terms of book length and the amount of time I'll invest in it. Like Dream­ers took eleven years to research and write. As we used to say in JDL – nev­er again.
Philip K. Jason is pro­fes­sor emer­i­tus of Eng­lish at the Unit­ed States Naval Acad­e­my. A for­mer edi­tor of Poet Lore, he is the author or edi­tor of twen­ty books, includ­ing Acts and Shad­ows: The Viet­nam War in Amer­i­can Lit­er­ary Cul­ture and Don't Wave Good­bye: The Chil­dren's Flight from Nazi Per­se­cu­tion to Amer­i­can Free­dom.