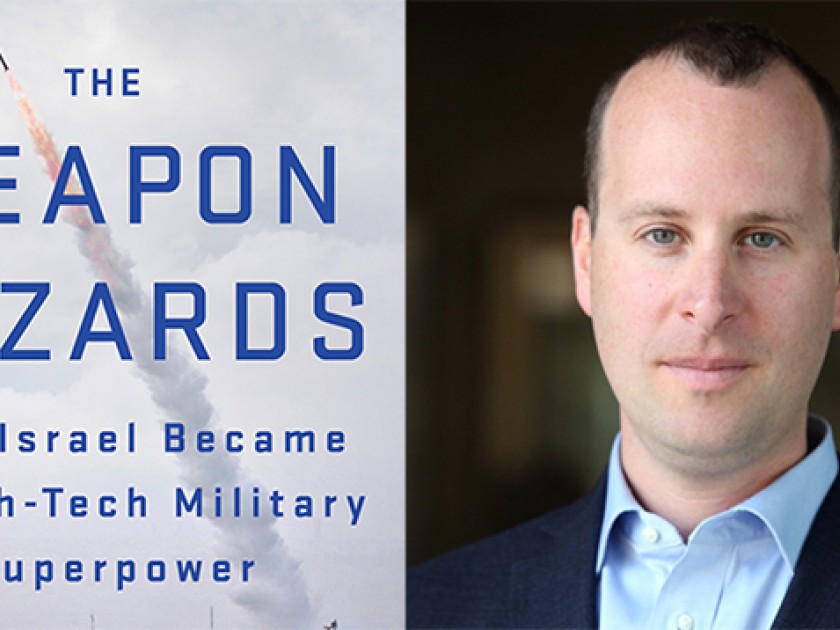 Yaakov Katz is edi­tor-in-chief of The Jerusalem Post. He pre­vi­ous­ly served for close to a decade as the paper's mil­i­tary reporter and defense ana­lyst. Katz was a 2012 – 2013 fel­low at the Nie­man Foun­da­tion for Jour­nal­ism at Har­vard Uni­ver­si­ty and is cur­rent­ly a fac­ul­ty mem­ber at Har­vard's Exten­sion School, where he teach­es an advanced course in jour­nal­ism. He is the co-author of two books, The Weapon Wiz­ards: How Israel Became a High-Tech Mil­i­tary Super­pow­er and Israel vs. Iran: The Shad­ow War.
Philip K. Jason: In The Weapon Wiz­ards, you observe that Israel's ene­mies have not ceased build­ing arse­nals of rock­ets and mis­siles, even though Israel's Iron Dome and Arrow sys­tems have ren­dered such stock­piles inef­fec­tive. Is any hope that more elab­o­rate defen­sive (or offen­sive) weapons will change the oper­a­tions of Hezbol­lah and Hammas?
Yaakov Katz: Orig­i­nal­ly, when Israel devel­oped its mis­sile defense sys­tems, it hoped that their suc­cess would make Israel's ene­mies — par­tic­u­lar­ly Hamas and Hezbol­lah — recon­sid­er their invest­ment in mis­sile sys­tems. The the­o­ry was that they would see that their mis­siles are inef­fec­tive and would under­stand that it is not worth invest­ing in. That has not happened.
This does not mean that the mis­sile defense sys­tems are not effec­tive. They are and they save Israeli lives. They have also giv­en the gov­ern­ment what we call ​"Diplo­mat­ic Maneu­ver­abil­i­ty", the abil­i­ty to think before respond­ing to rock­et attacks, rather than being drawn into a con­flict imme­di­ate­ly. The sys­tems have tak­en a weapon that could be of strate­gic con­se­quences and turned them into a tac­ti­cal issue that does not nec­es­sar­i­ly need to evolve into war.
PKJ: If there is no mil­i­tary solu­tion to Israel's quest for an end to war, can resources be allo­cat­ed to pro­grams more like­ly to be successful?
YK: Mil­i­tary means are not an end to con­flict but a means to be used to reach a diplo­mat­ic res­o­lu­tion. Although this has not yet hap­pened for Israel when it comes to Hamas and Hezbol­lah, it has worked though with the two coun­tries Israel made peace with, Egypt and Jor­dan. Both coun­tries under­stood, after defeat on the bat­tle­field, that war will not over­come Israel. Israel con­tin­ues to invest in addi­tion­al defense and offen­sive pro­grams, which will help keep Israelis safe and ensure that wars are fought quick­er. But they will not defeat an ene­my's desire to destroy Israel.
PKJ: What are the ben­e­fits to Israel of its astound­ing suc­cess in weapon devel­op­ment, man­u­fac­ture, and sales?
YK: The first clear bene­git is that by devel­op­ing top-tier weapon­ry, Israeli ensures its qual­i­ta­tive mil­i­tary edge in a very volatile region and as more poten­tial con­flicts loom on the hori­zon. The sec­ond ben­e­fit is eco­nom­ic: Israel today is one of the world's top arms exporters and brings in about $6.5 bil­lion annu­al­ly to the Israeli econ­o­my in arms sales.
PKJ: How did you and your coau­thor, Amir Bohbot, ​"share the load" of cre­at­ing this book?
Amir and I are both vet­er­an mil­i­tary cor­re­spon­dents who have worked close­ly togeth­er cov­er­ing Israel's dif­fer­ent wars and oper­a­tions since the ear­ly part of the 2000s. We split up the writ­ing based on chap­ters: I wrote one chap­ter and he wrote anoth­er. The process was a bit more com­pli­cat­ed. First, we would meet before start­ing to work on a new chap­ter. We would brain­storm for a while and the draft a chap­ter out­line togeth­er — what sto­ries will be there, who needs to be inter­viewed, etc. After spend­ing one or two months research­ing and writ­ing, when the chap­ter was done we'd share it with one anoth­er. Each of us would then add what was need­ed, make oth­er com­ments, and then meet again to com­plete it. It was a gen­uine partnership.
PKJ: In the process of writ­ing this book, did you dis­cov­er any sur­pris­es? Did your research lead you to mod­i­fy your views on any­thing, or any­one, con­nect­ed with this topic?
YK: Com­ing into the project, both Amir and I were inti­mate­ly famil­iar with the IDF and its dif­fer­ent units. What we dis­cov­ered while doing the research for this book was just how inno­v­a­tive the mil­i­tary was when it comes to the tech­nol­o­gy that it uses. Our research also gave us the oppor­tu­ni­ty to meet the sci­en­tists, engi­neers and offi­cers who invent­ed and came up with the ideas for some of Israel's unique weapon sys­tems like the first drones, Iron Dome or the Ofek satel­lite. The sto­ries behind each and every one of these weapons is what sur­prised us.
PKJ: Have any of Israel's devel­op­ments in weapon tech­nol­o­gy been applied in oth­er areas?
YK: Yes. Cam­eras and sen­sors, for exam­ple, orig­i­nal­ly devel­oped for weapon sys­tems like satel­lites or drones, can also be used for agri­cul­tur­al pur­pos­es. One com­pa­ny took a cam­era from a mis­sile and inte­grat­ed into a pill that a per­son can swal­low so doc­tors can see what is hap­pen­ing inside that per­son­'s stomach.
PKJ: Who would you con­sid­er the ide­al read­ers for your book? What are the most impor­tant ideas or pieces of infor­ma­tion you'd like them to come away with?
We envi­sion four dif­fer­ent audi­ences: peo­ple inter­est­ed in Israel, peo­ple inter­est­ed in mil­i­tary affairs, entre­pre­neurs and busi­ness exec­u­tives, and any­one look­ing to under­stand the future of the Mid­dle East. We would like read­ers to walk away with a deep­er under­stand­ing of just how impor­tant a role tech­nol­o­gy and weapons play when it comes to Israel's sur­vival and its con­tin­ued qual­i­ta­tive edge in a very volatile region. The sto­ries told in this book show an amaz­ing sense of inno­va­tion, cre­ativ­i­ty, and inge­nu­ity in a coun­try that was the estab­lished with­out any resources. When Israel was found­ed in 1948 there was only one resource — the Jew­ish brain — and that is what enabled Israel to sur­vive. We are all famil­iar with the say­ing ​"Neces­si­ty is the moth­er of inven­tion." But we like to stick to the dic­tum told to us by the IDF colonel who came up with the idea in 1977 for Israel to build its own satel­lite: ​"The shad­ow of the guil­lo­tine sharp­ens the mind."
Philip K. Jason is pro­fes­sor emer­i­tus of Eng­lish at the Unit­ed States Naval Acad­e­my. A for­mer edi­tor of Poet Lore, he is the author or edi­tor of twen­ty books, includ­ing Acts and Shad­ows: The Viet­nam War in Amer­i­can Lit­er­ary Cul­ture and Don't Wave Good­bye: The Chil­dren's Flight from Nazi Per­se­cu­tion to Amer­i­can Free­dom.