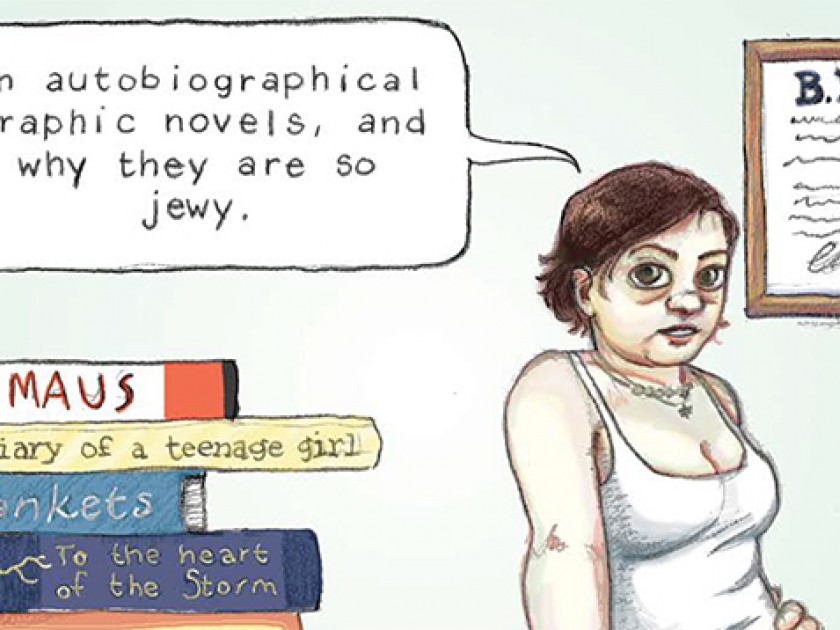 Jew­ish Book Coun­cil had the plea­sure of fea­tur­ing Miri­am Libic­ki as part of Ink Bleeds His­to­ry: Reclaim­ing and Redraw­ing the Jew­ish Image, a pan­el of graph­ic sto­ries on the rep­re­sen­ta­tion of Jews in comics and graph­ic nov­els. We fol­lowed up with Miri­am to dis­cuss her col­lec­tion of drawn essays, Toward a Hot Jew.
Michelle Zau­rov: I notice you talk a lot about graph­ic artists who are Jew­ish. Do you feel like being Jew­ish has had any influ­ence on your rela­tion­ship with comics or being a com­ic artist?
Miri­am Libic­ki: We read Mar­vel comics when I was young, but I think it was Peter David who put a lot of Jew­ish con­tent in in his ​'80s comics and I was aware pret­ty ear­ly on that comics were a Jew­ish medi­um. I grew up Mod­ern Ortho­dox, so it wasn't super strict, but I felt like in my school­ing and com­mu­ni­ty there was a sense that visu­al art wasn't real­ly a thing that Jews do. The notion was that it's nice for kids to have col­or­ing books, but art is not a seri­ous or intel­lec­tu­al pur­suit. I was into fine arts and his­to­ry of West­ern art, and that didn't feel very Jew­ish to me, where­as com­ic art man­aged to feel Jew­ish some­how and have some Jew­ish sen­si­bil­i­ty to it.
MZ: These essays seem to be on dis­parate top­ics: you have one about art and anoth­er about Jew­ish iden­ti­ty. Did you mean for them to all go into a cohe­sive graph­ic novel?
ML: Well, I did them all sep­a­rate­ly. It was 10 years' worth of essays, so I did them all as self-pub­lished zines. I was doing comics and going to com­ic cons, I had an ongo­ing series, job­nik!, which is about my time in the Israeli army, that mor­phed into a graph­ic nov­el. When­ev­er I had some rant or thought that I want­ed to put in com­ic form, I would put out one of these drawn essays and sell it at a con­ven­tion. Once I had two or three of them, I decid­ed that once I had enough of these graph­ic essays, I would sub­mit the full col­lec­tion to publishers.
MZ: Why did you decide on these subjects?
ML: It just seems to be what I care about. I didn't real­ly intend to focus on Jew­ish sub­jects, and I think it was a reac­tion to leav­ing Israel and com­ing to Van­cou­ver. I felt that Van­cou­ver was not real­ly a Jew­ish place after being in Israel, and I was afraid of becom­ing just anoth­er white per­son. Peo­ple wouldn't even per­ceive me as Jew­ish, and some­how that both­ered me. So, my art at that time start­ed becom­ing more Jew­ish. I found myself mak­ing excus­es to have Jew­ish themes in my art as a way of assert­ing my iden­ti­ty that felt com­fort­able to me. This seemed like an authen­tic way to express and explore my Judaism on my own, when I didn't have my com­mu­ni­ty or my whole coun­try rein­forc­ing it.
MZ: How did you feel when you returned to Israel and inter­viewed actu­al Israeli cit­i­zens after being away?
ML: It was very dif­fer­ent. I was grap­pling with my iden­ti­ty because I had made aliyah, served in the Israeli army, and the idea was to become a real Israeli and not an Amer­i­can tourist, and some­how earn my place in Israeli soci­ety. But I moved to Cana­da right after the army. So, I under­mined that whole project and I felt very ambiva­lent about it for a long time. I still won­dered how I could be a part of the Israeli con­ver­sa­tion, and that is what the ear­ly essays were about: if I can under­stand the Israeli mind­set, then maybe I am still par­tial­ly Israeli. But, each time I go back, I get more root­ed in Cana­da. I got mar­ried, had Cana­di­an kids, and now when I trav­el with my fam­i­ly to Israel, I won't even speak Hebrew most of the time. I real­ly feel like a tourist with pret­ty good Hebrew. And I guess that's ok. Now I am more inter­est­ed in defin­ing my Judaism as a Dias­po­ra sort of Judaism rather than an Israeli one. I stopped strug­gling with it; I don't feel the need to prove myself as an Israeli anymore.
MZ: On a more gen­er­al note, what was the most dif­fi­cult part of the artis­tic process with this novel?
ML: The part that takes longest is always the art. In order for me to do the art, I need some­thing to keep me going, like a strong sto­ry that can sus­tain all these hours work­ing on art. It's dif­fi­cult in the begin­ning to fig­ure out what I'm writ­ing and why I am writ­ing it. Once I get over that, the rest comes pret­ty quick­ly, but the art is still long because I don't draw or paint fast.
MZ: I noticed that some of your essays lack in col­or while oth­ers are col­or­ful, is there a tact­ful rea­son for that?
ML: It was more prac­ti­cal. ​"Towards a Hot Jew" was meant to be a drawn essay, and it was a break­through in what I want­ed to do in comics. It's in black-and-white because I didn't want to make it more com­pli­cat­ed, and it was more about the writ­ing and the ideas rather than the art. I felt like if I added col­or, I would have wor­ried about the real­ism of the art. The oth­er ones atr in water­col­or because I want­ed to teach myself water­col­or, and the ​"Jew­ish Mem­oir" was com­mis­sioned for an aca­d­e­m­ic anthol­o­gy pub­li­ca­tion, and I couldn't put that in col­or for cost rea­sons. The final essay is in a lim­it­ed orange palette, and that was kind of for the same rea­son. When I was still two-thirds of the way through the art, I didn't have a pub­lish­er for it, but the idea was that I want­ed to get it pub­lished in an aca­d­e­m­ic con­text, like a jour­nal or an anthol­o­gy. I also knew that this was the essay that would put me over the top for the essay col­lec­tion in terms of page count.
MZ: In the book, you say that ​"com­ic style edi­to­ri­al­izes human appear­ance" and ​"fic­tion­al­izes it in order to bring cer­tain aspects of human­i­ty to light." How have you done that with some of the char­ac­ters you drew up in this book, and what aspects of human­i­ty did you hope to bring to light?
ML: My avatar in the essays is based on the char­ac­ter that I drew for job­nik!. I kept draw­ing that char­ac­ter until one felt right to me. Her looks did under­go a trans­for­ma­tion over the course of the first few issues and sto­ries I wrote about my army expe­ri­ence. I gave her big­ger eyes than mine, but she cer­tain­ly isn't glam­orous. She's short­er than me, which is kind of how I feel. Some­times I feel more slight and obser­vant, and not phys­i­cal­ly dominating.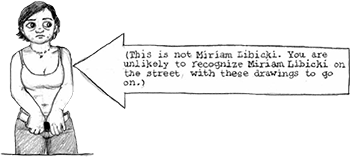 The eyes are empha­sized but the rest of the face is fleshy as well because in my late teens and ear­ly twen­ties I didn't like my appear­ance very much. It's not that she's hideous; the point that she's just not glam­orous and put togeth­er, and her body is sort of lumpy. After that, I didn't pay atten­tion to how much she looked like me. When I did the essay ​"Jew­ish Mem­oir Goes Pow! Zap! Oy!," it was the first time I had that char­ac­ter address­ing the read­er and express­ing thoughts on lit­er­ary crit­i­cism. I picked the appear­ance of what I was redraw­ing at the time of the job­nik! sto­ries, which was the Miri­am char­ac­ter with the short bob cut and casu­al­ly half out of the army uni­form. That suit­ed the tone I was going for with writ­ing the essay about mem­oirs — it was in the author­i­ty of lec­tur­ing but in the form of some­one human and vul­ner­a­ble. She not only has a body, but a flawed body, and even when I'm talk­ing about the his­to­ry of race rela­tions it's still com­ing from a human.
MZ: In the ​"Towards a Hot Jew" essay, you touch upon the sex­u­al stereo­types of Jew­ish men and women. Do you feel like Jew­ish stereo­types, specif­i­cal­ly of young Israeli sol­diers, dif­fer from those of the aver­age young Jew?
ML: Def­i­nite­ly! I feel like there's a whole thing about sol­diers who were the guards in the Ben Yehu­da Pedes­tri­an Mall in Jerusalem: those are the sol­diers who would get all the action. Now, for the past 15 years, it's been the armed escort on a Birthright tour. Every­one wants to have their ​"sex with an Israeli sol­dier" expe­ri­ence. Among Israelis, sol­diers aren't nec­es­sar­i­ly seen as sexy, but they know that they're per­ceived as such in the rest of the world. I feel like Israelis have caught on that their sex appeal is one of their sell­ing traits, and there's def­i­nite­ly more of an inter­nal fetish as well. Which is a lit­tle bit dis­turb­ing because it's one thing when out­siders think Israelis are sexy and it's quite anoth­er when offi­cial branch­es of the Israeli gov­ern­ment are putting up sexy sol­dier pictures.
MZ: You also talk about how there's an imper­fec­tion that goes with Jew­ish cul­ture. Do you feel like that plays a role in the sex­u­al­i­ty of Jews?
ML: I think so. I feel like sex­u­al­i­ty influ­enced by Chris­t­ian doc­trine, you get the Madon­na-whore com­plex: either the woman is ide­al or total­ly dirty. I would hope that in Judaism, espe­cial­ly since we don't have a Madon­na, that we would have less of that, that some­one could be human and still be desir­able. Maybe we can avoid putting each oth­er on pedestals; maybe we can acknowl­edge that we are all not per­fect and that we all have big noses and are sexy anyways.
MZ: In one of your essays, you say that ​"psy­cho­analy­sis is a quin­tes­sen­tial Jew­ish pur­suit." What do you mean by that?
ML: A lot of peo­ple have made the point that Freud's mid­dle-class Jew­ish upbring­ing was why he had his spe­cif­ic thoughts on famil­ial rela­tion­ships, that if it weren't for the very spe­cif­ic Ger­man-Jew­ish fam­i­ly struc­ture Freud grew up with, he wouldn't have had all those the­o­ries about what par­ents and chil­dren rela­tion­ships are. I def­i­nite­ly feel like psy­cho­analy­sis caught on among Jew­ish peo­ple ear­li­er than it did with the main­stream, who were ini­tial­ly large­ly anti-psy­cho­analy­sis or found it dis­gust­ing that peo­ple went to talk to psy­cho­an­a­lysts about their pri­vate life — which is rem­i­nis­cent of the way they found Jews to be dirty and dis­gust­ing. It's a Jew­ish thing to believe that you should talk about your­self and acknowl­edge your flaws, and that talk­ing or com­plain­ing about a sub­ject end­less­ly is a method of tak­ing action to solve problems.
MZ: Do you feel like these Jew­ish stereo­types were fad­ing when you moved to Canada?
ML: I think peo­ple on the West Coast and in Cana­da had less of these stereo­types than what you might find on the East Coast and the Unit­ed States. A lot of peo­ple aren't famil­iar with the Jew­ish stereo­types out here, let alone Jews. In ​"Towards a Hot Jew," I talked about the con­cept of the Jew­ish Amer­i­can Princess ("JAP") being shal­low and mate­ri­al­is­tic. I was doing that project in Cana­da that asked non-Jew­ish Cana­di­ans if they had a ver­sion of the JAP, like a Jew­ish Cana­di­an Princess, and they uni­form­ly claimed that there isn't. So I would say there's a lit­tle bit less awareness.
MZ: In the lat­er essays, you were point­ing out the down­falls of the Israeli gov­ern­ment, like how they have alien­at­ed Ethiopi­an Jews and the Sudanese through­out history.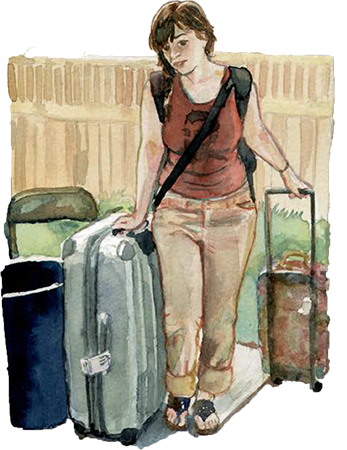 As an Israeli cit­i­zen, do you feel a per­son­al guilt on behalf of the gov­ern­ment? Or do you feel like you removed your­self from that because you moved away?
ML: I have that guilt, but it's not huge. Even if I tried to make things dif­fer­ent I can't have that much of an effect: there is no absen­tee vot­ing in Israel, so I can't vote unless I made a date to be in Israel on Elec­tion Day. I could have more of an influ­ence, but I feel like I can't be that much of an activist out­side of Israel. I do tweet and say ​"Shame on Netanyahu!" but I feel like there is a real sense in Israel that the rest of the world can't judge them. The Amer­i­can Jew­ish com­mu­ni­ty does have a place in talk­ing about Israeli poli­cies, but inso­far as to actu­al­ly effect what hap­pens inside Israel, I'm not sure I can have that much effect as an American/​Canadian.
MZ: Why did you decide to end the book on the quote ​"How can we deliv­er a mes­sage about our human­i­ty from behind the bars of quo­ta­tion marks?" What does this mean?
ML: That is a quote from the Jew­ish philoso­pher Emmanuel Lev­inas. He was a World War II refugee who sur­vived a pris­on­er of war camp, and a philoso­pher before and after the war. His core idea is empa­thy, and he was one of the peo­ple to real­ly try to define it. He was also an Ortho­dox Jew and talks about it in spir­i­tu­al terms, like the image of God. He talks about the need to look beyond cat­e­gories — when he thinks about cat­e­gories he thinks of the Ger­mans walk­ing out­side of his camp who pre­sumed they were a dif­fer­ent kind of human­i­ty than he was. If you have those cat­e­gories then there's no way you'll be able to com­mu­ni­cate, and every­thing you say will just become a sym­bol of how that per­son has already defined you. In the essay I was grap­pling with the ideas of iden­ti­ty pol­i­tics, that you need to have iden­ti­ty pol­i­tics because oth­er­wise you have iden­ti­ties and cat­e­gories and hier­ar­chies that are left unspo­ken. It's bet­ter to have them spo­ken, but it's also impor­tant not to retreat so far into them that the only thing you can express is the iden­ti­ty you have been sort­ed into. It's impor­tant to exam­ine struc­tures and hier­ar­chies but it's also impor­tant to take those and put them in their place and try to see the infi­nite in all of us, as well.
MZ: Iden­ti­ty and cat­e­gories and how they shouldn't be at the fore­front of soci­ety seems to be a huge empha­sis in your essays. Were you raised with this notion?
ML: I think so. My par­ents were Ortho­dox, how­ev­er nei­ther of them grew up Ortho­dox. My moth­er was a con­vert and my dad was more Con­ser­v­a­tive-Reform. Their atti­tudes towards Ortho­doxy was more about how they chose to live their life and acknowl­edg­ing that every­one has their own paths in life. They gave me spir­i­tu­al­i­ty and tra­di­tion but their moral sense was much more uni­ver­sal. I feel like I have the ideas of uni­ver­sal moral­i­ty and empa­thy. We all believe there are many paths to the truth and ways to be a good person.
MZ: What are you work­ing on now?
ML: I'm work­ing on a bunch of projects right now. I just worked with the orig­i­nal under­ground com­ic artist and com­ic fem­i­nist his­to­ri­an, Tri­na Rob­bins. She is putting out a col­lec­tion of fic­tion by her father that was pub­lished orig­i­nal­ly in Yid­dish, which she found, trans­lat­ed, and adapt­ed as a com­ic script, which she gave it to dif­fer­ent artists to draw. I'm also work­ing on anoth­er short piece about graph­ic ‑nov­el respons­es to the Holo­caust. It is clos­er to fic­tion than non-fic­tion, so it's more of a nar­ra­tive than an essay. I'm also doing my Mas­ters right now and work­ing on my the­sis, which is also a graph­ic novel.
Michelle Zau­rov is Jew­ish Book Coun­cil's pro­gram asso­ciate. She grad­u­at­ed from Bing­ham­ton Uni­ver­si­ty in New York, where she stud­ied Eng­lish and lit­er­a­ture. She has worked as a jour­nal­ist writ­ing for the Home Reporter, a local Brook­lyn pub­li­ca­tion. She enjoys read­ing real­is­tic fic­tion and fan­ta­sy nov­els, espe­cial­ly with a strong female lead.