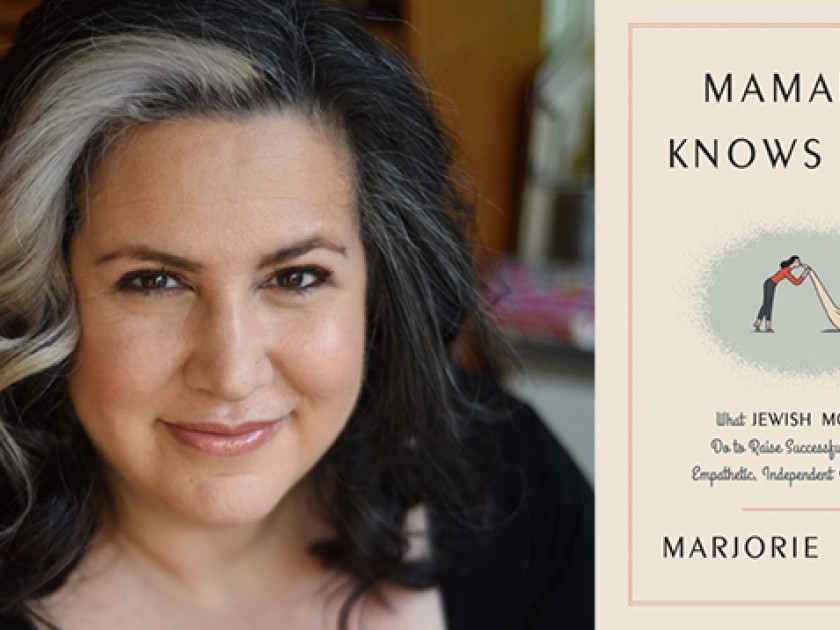 Jew­ish Book Coun­cil had the oppor­tu­ni­ty to talk with Mar­jorie Ingall about the impor­tance of read­ing for plea­sure, Mark Twain's philosemitism, the his­to­ry of mar­ket­ing books to Jew­ish women, and her par­ent­ing guide, Mamaleh Knows Best: What Jew­ish Moth­ers Do to Raise Suc­cess­ful, Cre­ative, Empa­thet­ic, Inde­pen­dent Chil­dren, an excel­lent and enjoy­able resource for Jew­ish and non-Jew­ish par­ents alike.
Nat Bern­stein: Nefer­ti­ti Austen recent­ly wrote an essay about author­ing par­ent­ing guides for women of col­or and how no pub­lish­er has embraced that mar­ket. Do you see the same scarci­ty for Jew­ish women, or has Judaism staked a claim on a par­ent­ing tech­nique that has a wider appeal in the pub­lish­ing world?
Mar­jorie Ingall: Pub­lish­ing is con­stant­ly seek­ing the widest audi­ence human­ly pos­si­ble. For Mamaleh Knows Best, there was a con­stant push­back from my edi­tor, who kept ask­ing, ​"Why do you want to talk about Philip Roth all the time?" For her, it was not uni­ver­sal; she want­ed a book on how to use Jew­ish par­ent­ing to make a good goy­ish child. And I under­stand that: pub­lish­ing is so risk-averse now that a niche mar­ket is not going to get you a book deal. I can imag­ine the same thing is hap­pen­ing if pub­lish­ers assume that only black women will buy a black par­ent­ing book. But the sto­ries of my black moth­er friends — espe­cial­ly moth­ers of sons — and how the kinds of wor­ries they have are not any­thing like the kinds of wor­ries I have, that would be ben­e­fi­cial for all Amer­i­cans to read.
NLB: Since we're talk­ing about how to mar­ket books, can you share more about the his­to­ry of mar­ket­ing books and read­ing to Jew­ish women?
MI: When pub­lish­ing became more scal­able — when print­ing press­es became more wide­spread — in the late nine­teenth cen­tu­ry, it cre­at­ed a colos­sal mar­ket — and not just with­in the Jew­ish com­mu­ni­ty — of trans­la­tions into Yid­dish of pop­u­lar books, a lot of them Romance nov­els. I write for the Times Book Review, and I think it's hilar­i­ous that the Times pre­tends that the Romance genre doesn't exist. Romance is a humon­gous part of the pub­lish­ing mar­ket, and that was true in the late 1800s, too! Jew­ish women drove pop­u­lar fiction.
We also have, in our spir­i­tu­al line, tchines, these prayer books writ­ten by and for Jew­ish women, and that too was a huge mar­ket. They includ­ed prayers for a healthy preg­nan­cy, prayers that your child will mar­ry well, prayers for suc­cess­ful breast­feed­ing. All of this stuff was part of our cul­ture, and it would be cool if more Jew­ish women knew about it. There were ear­ly mar­ket­ing attempts to get women to buy these tchines: ​"Women! If you only have a few pen­nies, isn't this a good way to spend them, for your own spir­i­tu­al enlight­en­ment for the whole future?" (If this is some­thing that inter­ests you, the index in the back of my book will give you a lot more places to go with that.)
NLB: You have a real­ly love­ly and clever chap­ter on spir­i­tu­al­i­ty, in which you observe that tak­ing your kids to reli­gious ser­vices is like tak­ing your kids to a restaurant?
MI: As your kid gets old­er, you teach them how to behave. I don't believe you should whisk your kid out the first time they make a peep, but you also don't let a kid scream and dis­turb every­one else's spir­i­tu­al expe­ri­ence. The only way to accul­tur­ate a kid is by giv­ing them the expe­ri­ence: no one is born know­ing how to behave in shul! One thing I think the Ortho­dox Jew­ish com­mu­ni­ty, in par­tic­u­lar, has done real­ly well is tol­er­at­ing noise and chaos in shul. The first shul I went to with my baby — I want­ed to join a Con­ser­v­a­tive shul that was clos­est to my house — I was get­ting such a fish­eye when she made any noise that I nev­er went back. I tried join­ing the fam­i­ly ser­vice, but I felt that it was cliquey. I found anoth­er con­gre­ga­tion where the women in front of me kept turn­ing around and mak­ing goo­gly eyes at Josie out of delight, and that's such a small thing, but it made all the difference.
NLB: In one of the ear­ly chap­ters of Mamaleh Knows Best, you point out that ​"The world is con­stant­ly telling us we're doing par­ent­ing wrong." Is that ​"we" spe­cif­ic to women?
MI: Yes. We've all seen the dudes in the play­ground, and every­one says, ​"You are so awe­some for babysit­ting your kids." You're not babysit­ting, it's your child! We also see the eight zil­lion Dis­ney movies that all mirac­u­lous­ly have miss­ing moth­ers. It's not just Jew­ish women, it's all women who are told that how­ev­er they're doing things is wrong, which is a func­tion of misog­y­ny. It's not unique to the Jew­ish Moth­er stereo­type: if you troll Buz­zfeed and all these oth­er media sites now, you see Tiger Moms and black moms — it's a mom thing, which is a problem.
NLB: It's inter­est­ing how much this anx­i­ety over per­pet­u­al per­fec­tion is trans­mit­ted to kids — you write that you ​"wor­ry that kids today don't want to be begin­ners, don't want to be imper­fect, don't want to ever to look clueless."
MI: We are always new­ly shocked when there are cheat­ing scan­dals at all these fan­cy schools, but it hap­pens because we have told these kids that they're not allowed to fail. Sur­veys of Amer­i­can teenagers in gen­er­al show that they see their par­ents as say­ing one thing and real­ly think­ing anoth­er when it comes to what their val­ues are: when it is ​"be Num­ber One at all costs," you set up your kid if not to fail, then to cer­tain­ly think I have to do what­ev­er it takes to be Num­ber One.
NLB: I love the Yid­dish proverb you dis­cov­ered: ​"The woods would be very silent if no birds sang except the best." You include it in a chap­ter about teach­ing kids to dis­trust author­i­ty, which I imag­ine runs counter to a lot of the par­ent­ing advice out there?
MI: Kids are expect­ed to know what they want to be real­ly ear­ly, and aren't encour­aged to mess around and explore and be dream­ers and fig­ure out what they real­ly love and val­ue. I don't think our cul­ture, or the pop cul­ture they absorb, helps them with that. One of my reg­u­lar rants is about live-action TV aimed at kids, where being a quirky, weird, geeky kid is a sub­ject of mock­ery. His­tor­i­cal­ly, Jews have been geeks, and it's been real­ly good for us! We should encour­age our kids to have obses­sions and pas­sions and not be embar­rassed about them.
Always hav­ing a lit­tle bit of dis­tance and view­ing author­i­ty with a gim­let eye has always been a good thing for the Jews, as well. It is cer­tain­ly counter to the stereo­type of the Tiger Mom, where the view is that the class­room is a fief­dom in which you do what your teacher wants. For the Jews, dis­re­spect­ing author­i­ty is a thread that has gone through our cul­ture from the begin­ning, whether we have lived in a time when we had ten­sion with the rul­ing par­ties or dur­ing a peri­od in his­to­ry when we were very accul­tur­at­ed and had pow­er­ful jobs with­in the rul­ing cul­ture. I think it's telling that we don't have the equiv­a­lent of a pope, that we are a dia­log­ic and diverse and frac­tured-in-a-good-way kind of peo­ple. For a par­ent and for a cre­ative or sci­en­tif­ic mind, being a lit­tle bit of an out­sider is a good thing.
NLB: On the sub­ject of dis­trust­ing author­i­ty… What do you see as the great­est chal­lenge fac­ing Jew­ish par­ents in the next four years?
MI: Despite the title being in present tense, the inten­tion behind Mamaleh Knows Best was to look back through Jew­ish his­to­ry and exam­ine what child-rear­ing traits seem to have served us well. I feel like I'm not entire­ly qual­i­fied to talk about pol­i­tics or the future, but I do think that one thing that has been essen­tial for Jews is that we are a peo­ple who take care of oth­ers. Mark Twain wrote this great essay about why you don't see Jew­ish beg­gars — and it's not because there aren't Jew­ish poor peo­ple, it's because Jews take care of their com­mu­ni­ty. As we are enter­ing the age of a leader who uses Twit­ter to say mean things about peo­ple, we want to be sure that we are talk­ing to our kids about being kind. There are oth­er polit­i­cal fig­ures we can point to and say, ​"Look at this mentschy behav­ior." Mak­ing sure that our kids are aware of oth­er people's suf­fer­ing and help­ing oth­er peo­ple ame­lio­rate that suf­fer­ing will help us all: every­body feels bet­ter when they are do some­thing good, and we can all do that as both par­ents and citizens.
NLB: In the book you men­tion the Hebrew Benev­o­lent Soci­eties of the mid-nine­teenth cen­tu­ry, which as you note popped up in Jew­ish com­mu­ni­ties across the Unit­ed States — on either side of the Mason-Dixon line — real­ly quite rapid­ly. These soci­eties were found­ed by women! And run by women! And they were actu­al­ly the first instance of Amer­i­can — not just Jew­ish, Amer­i­can — women mobi­liz­ing and estab­lish­ing their own insti­tu­tions and assum­ing posi­tions of lead­er­ship in an orga­nized way: the Hebrew Benev­o­lent Soci­eties were real­ly the first inde­pen­dent women's move­ment in Amer­i­can his­to­ry, and this is what opened the door for women abo­li­tion­ists and suf­frag­ists across faiths with­in the same gen­er­a­tion. Reli­gious­ly, the­o­log­i­cal­ly, these char­i­ta­ble orga­ni­za­tions weren't nec­es­sar­i­ly shak­ing up a whole lot, but the social fab­ric of Amer­i­can Judaism was sud­den­ly and dras­ti­cal­ly being rewo­ven by Jew­ish moth­ers at the time that Twain was writ­ing: the stan­dards he saw in Jew­ish com­mu­ni­ties were set by its women. (And his appre­ci­a­tion for those stan­dards allowed him to rec­og­nize and even con­front anti­semitism in oth­er parts of the world, which you write about elsewhere.)
MI: Also, let's talk about Amer­i­can Jew­ish edu­ca­tion: no one real­ly talks about it, but so much of where Amer­i­can Jew­ish edu­ca­tion start­ed was from Jew­ish women. An unfor­tu­nate thing I dis­cov­ered was that the women who cre­at­ed Jew­ish edu­ca­tion and the women who cre­at­ed these benev­o­lent soci­eties, a lot of them weren't moth­ers. Just as lead­ers of the fem­i­nist move­ment were not moth­ers. It's real­ly hard to have a career and to ​"have it all."
NLB: And to find time to read?
MI: A thread through­out the book is to not be a ​"Do as I say, not as I do" par­ent. It's impor­tant that our kids see us read­ing, and see that we enjoy it, and see us read­ing for plea­sure as well as bet­ter­ment. I include in Mamaleh Knows Best all the sta­tis­ti­cal back­up about how impor­tant read­ing is, how a love of books increas­es empa­thy, makes your kid do bet­ter in all aspects of school. Inter­na­tion­al stud­ies that cor­rect for income and back­ground still find that in hous­es where every­body reads, the kids do bet­ter. For Jews in gen­er­al, we are the Peo­ple of the Book, and lit­er­a­cy has often been our tick­et into anoth­er class, or to not being so quick­ly killed. Read­ing is real­ly, real­ly important.
And read­ing at home should serve a very dif­fer­ent func­tion from read­ing at school: at home, you need to cre­ate a safe space for your kid to real­ly enjoy read­ing. They want to read the same book a gazil­lion times, fine. My librar­i­an friends have so many sto­ries about par­ents com­ing in and say­ing, ​"She's ready for chap­ter books, can you not let her take out any more pic­ture books?" I still read pic­ture books, I still bring home pic­ture books for my 12-year-old, and the snob­bery about graph­ic nov­els makes me want to cry: all read­ing is good reading.
NLB: You also empha­size the impor­tance of humor in par­ent­ing — and in trans­mit­ting val­ues. How do you view the cur­rent gen­er­a­tion of Jew­ish come­di­ans in pop­u­lar culture?
MI: In gen­er­al, accul­tur­a­tion is a dou­ble-edged sword. On one hand, it's great to have peo­ple not killing us, but on the oth­er hand, the dis­trust of author­i­ty and the gim­let eye has worked in our favor: that is a great place for com­e­dy to come from. Com­e­dy is a great tool for ques­tion­ing author­i­ty, for mak­ing peo­ple like you even when you're not like them, and for gain­ing respect. Look at stud­ies about the use of com­e­dy in the office: boss­es who have a sense of humor, who embrace a sense of humor, are reviewed much more favor­ably by their staffs than boss­es with no sense of humor or ones who have belit­tling sens­es of humor. I think that's telling.
NLB: I was par­tic­u­lar­ly heart­ened to read not only how many female come­di­ans you named among the future of Jew­ish humor, but also how they are chang­ing Jew­ish humor.
MI: One of the chap­ters in the book looks at the his­to­ry of the Jew­ish Moth­er stereo­type. It's impor­tant to note that the first Jew­ish Moth­er in Amer­i­can cul­ture was not this grasp­ing, neu­rot­ic stereo­type. It was Mrs. Gold­berg! This is a woman who was the first recip­i­ent of the first Best Actress Emmy, who had a wild­ly suc­cess­ful radio show fol­lowed by a wild­ly suc­cess­ful TV show. I don't think it's a coin­ci­dence that she was the exec­u­tive pro­duc­er of the show. She cre­at­ed a per­sona that was, yes, a med­dler, but she was smart, she was com­pe­tent, and she was caring.
Now, we are start­ing to see Amer­i­can Jew­ish women as exec­u­tive pro­duc­ers of com­e­dy shows once again. If you look at the Broad City girls, if you look at Crazy Ex-Girl­friend, if you look at Girls, yes, the moth­er char­ac­ters are still flawed, but they are flawed in inter­est­ing, com­pli­cat­ed ways. And you're going to have flaws, because com­e­dy requires flaws, but not this knee-jerk, dumb, schticky, mock­ing, dis­parag­ing kind of thing. I would like to think that as more and more Jew­ish women are in charge of their own sto­ry­telling, the Jew­ish Moth­er fig­ure will become more nuanced — again.
NLB: You've suc­ceed­ed in rais­ing two kick­ass fem­i­nist daugh­ters of your own. Do you have any advice for rais­ing fem­i­nist sons?
MI: Nip­ping any kind of misog­y­nist behav­ior in the bud and mak­ing sure your kid is aware of sex­ist lan­guage, mak­ing sure they treat all peo­ple with respect, and talk­ing about women's achieve­ments despite bar­ri­ers — they should know that his­tor­i­cal­ly it has not been a lev­el play­ing field for women and men, which is some­thing that anti-fem­i­nists will not acknowl­edge. And, this sounds flip­pant, but it's not: the best way to raise a fem­i­nist son is to let him have an old­er sis­ter. I can point to my broth­er as proof.
Nat Bern­stein is the for­mer Man­ag­er of Dig­i­tal Con­tent & Media, JBC Net­work Coor­di­na­tor, and Con­tribut­ing Edi­tor at the Jew­ish Book Coun­cil and a grad­u­ate of Hamp­shire College.