With the recent release of her book ​"How Come Boys Get to Keep Their Noses?": Women and Jew­ish Amer­i­can Iden­ti­ty in Con­tem­po­rary Graph­ic Mem­oirs, author (and fre­quent Jew­ish Book Coun­cil review­er) Tah­neer Oks­man is guest blog­ging all week as a Vis­it­ing Scribe here on The ProsenPeo­ple.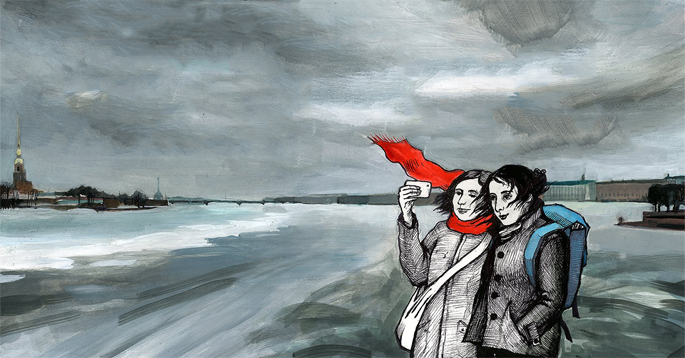 Image from Lena Fin­kle's Mag­ic Bar­rel by Anya Ulinich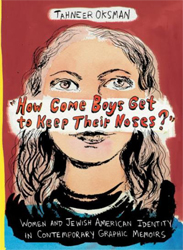 Some­times I like to think of comics as a medi­um that pro­vides women with rooms of their own.
What I mean by this is that in comics women have the oppor­tu­ni­ty to draw them­selves, or oth­ers like them, and the sur­round­ing world, in ways that reflect their own points of view. These drawn-and-writ­ten worlds pro­vide alter­na­tives to images and per­spec­tives passed on by oth­ers, the points of view that shape us from child­hood and con­tin­ue to fig­ure through­out our life­times. Indi­vid­ual comics have the capac­i­ty to act almost as worm­holes: in graph­ic nar­ra­tives, you can bridge var­i­ous moments in time, pulling them side-by-side, or you can cre­ate an alter­na­tive uni­verse that takes you far, far from the present. You can con­nect fan­ta­sy with real­i­ty, or inter­nal and exter­nal spaces.
This might be one rea­son I'm often attract­ed to comics that zero in on inte­ri­ors, and espe­cial­ly domes­tic spaces. Anya Ulinich's fic­tion­al work, Lena Finkle's Mag­ic Bar­rel, is one book that does this to great effect. In many ways, this graph­ic nov­el is all about space and place. Its cen­tral char­ac­ter is Lena Fin­kle, a 37-year-old Jew­ish immi­grant who is twice divorced and liv­ing with her two teenage daugh­ters in an apart­ment in Brook­lyn when the sto­ry begins. Ear­ly on she explains how now, since her recent divorce, she has a room of her own for the first time in her life. The images of inte­ri­ors pep­pered through­out the book yield just enough detail to sug­gest the con­fined, woozy com­fort of a lived-in Brook­lyn apart­ment. In one image we see her daugh­ters perched on their bunk-beds, one with a book on her lap and the oth­er with her legs in the air. Lena stands off to the side, hands in her pock­ets, calm­ly implor­ing, ​"Jack, feet off the ceil­ing please!" These are char­ac­ters liv­ing in close quar­ters, some­times har­mo­nious­ly and some­times jar­ring­ly. In anoth­er scene depict­ed on the next page, Lena lies in bed with a sleep­ing daugh­ter by her side. Again, we don't get a lot of detail — just the chalky out­lines of pil­lows and a blan­ket, and a haze of book­shelves off to the side — but nev­er­the­less we take in Lena's con­flict­ing sense of lone­li­ness and com­fort, her need for inde­pen­dence and adven­ture as it sub­sists along­side her role as an adored moth­er, so often in demand.
As a pub­lished nov­el­ist liv­ing in Brook­lyn, Fin­kle is about to embark on a trip to Moscow for a book tour when the sto­ry opens. She marks her return to the city of her birth as the start­ing point of a much more encom­pass­ing jour­ney to fig­ure out why it is that she has nev­er found love. The sto­ry of Finkle's immi­gra­tion and ulti­mate assim­i­la­tion inter­weaves with her unsuc­cess­ful search for male com­pan­ion­ship. Drawn unsteadi­ly, in bursts of con­ver­sa­tion­al, hand-drawn nar­ra­tive prose as well as car­toon­ish­ly expres­sive depic­tions, Ulinich's crowd­ed page mir­rors the claus­tro­pho­bic prox­im­i­ty of Finkle's immi­grant past, always inch­ing in on her assim­i­lat­ed present. Her moth­er might label her ​"an Amer­i­can nov­el­ist," her kids might not speak Russ­ian, and her first hus­band might have com­pared her to Anne Frank (after she dis­tin­guished her­self as, not a Russ­ian, but a Jew from Rus­sia), but Fin­kle nev­er­the­less expe­ri­ences Moscow — the city and the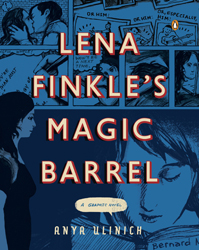 relat­ed mem­o­ries of her past life there — as con­tin­u­al­ly ​"wedged… between me and my life." Once she returns to Brook­lyn and embarks on her twen­ty-first cen­tu­ry quest for love uti­liz­ing, fit­ting­ly, the inter­net, we are intro­duced to the apart­ments of the var­i­ous men she dates. These spaces fre­quent­ly yield more infor­ma­tion than the char­ac­ters them­selves, just as Lena's apart­ment does. She returns to it after every dis­ap­point­ment, an image of a Christ­mas tree and a Meno­rah in the back­ground of one scene, for exam­ple, reveal­ing so much about this dynam­ic, com­plex, and often con­flict­ed character.
The rooms, and spaces, pic­tured through­out Lena Finkle's Mag­ic Bar­rel are inte­gral to the sto­ry. Lena's room both con­veys and con­tains her sto­ry, help­ing read­ers glimpse her unique point of view.
Tah­neer Oks­man is an Assis­tant Pro­fes­sor of Writ­ing and Direc­tor of the Aca­d­e­m­ic Writ­ing Pro­gram at Mary­mount Man­hat­tan Col­lege, and she recent­ly pub­lished her first book, ​"How Come Boys Get to Keep Their Noses?": Women and Jew­ish Amer­i­can Iden­ti­ty in Con­tem­po­rary Graph­ic Mem­oirs.
Relat­ed Content: