Ear­li­er this week, Tah­neer Oks­man tra­versed the depic­tions of space in women's graph­ic mem­oirs includ­ed in her book ​"How Come Boys Get to Keep Their Noses?": Women and Jew­ish Amer­i­can Iden­ti­ty in Con­tem­po­rary Graph­ic Mem­oirs. Tah­neer is guest blog­ging all week as a Vis­it­ing Scribe here on The ProsenPeo­ple.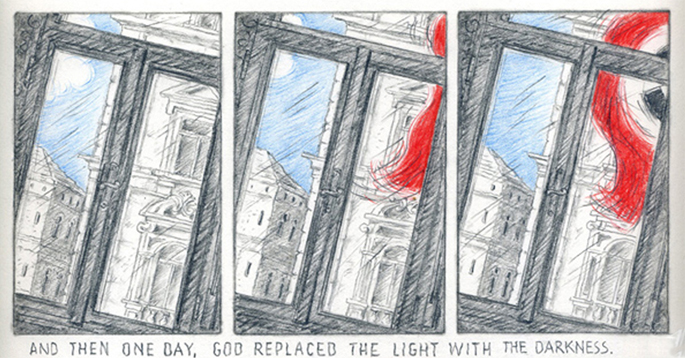 Image from We Are On Our Own by Miri­am Katin (Drawn & Quar­ter­ly, 2006)
Most Holo­caust edu­ca­tors are famil­iar with Art Spiegel­man​'s Pulitzer-prize win­ning Maus. In this two-part graph­ic mem­oir, the first vol­ume col­lect­ed and pub­lished in 1986 and the sec­ond in 1991, Spiegel­man recounts his par­ents' per­son­al his­to­ries. Begin­ning in pre-war Poland, the sto­ry­line moves through their expe­ri­ences in the death camps and their lib­er­a­tion. This account, told from his father's per­spec­tive, is jux­ta­posed with nar­ra­tive bits por­tray­ing Spiegelman's con­tem­po­rary (late twen­ti­eth-cen­tu­ry) rela­tion­ship with his father as he vis­its with him in Rego Park in order to hear the sto­ry firsthand.
More recent­ly, the car­toon­ist Miri­am Katin pub­lished two books relat­ed to her expe­ri­ences as a child sur­vivor. Unlike Spiegelman's mem­oir, these books are not pre­sent­ed as two vol­umes of the same sto­ry: in fact, Katin's works — the first pub­lished in 2006 and the sec­ond in 2013 — are wild­ly dif­fer­ent, one from the oth­er. Katin's first mem­oir,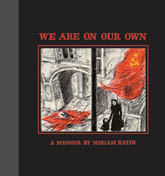 We Are On Our Own, tells the sto­ry of how Miri­am and her moth­er escaped the Nazi inva­sion of Budapest of 19443 – 1945. The book is com­posed almost entire­ly of pen­ciled black-and-white pan­els neat­ly recount­ing a chrono­log­i­cal nar­ra­tive, though there are occa­sion­al and unex­pect­ed bursts of col­or mark­ing, for exam­ple, pages por­tray­ing Katin's expe­ri­ences as a young moth­er in sub­ur­ban New York in 1972.
In many ways, as with Spiegelman's work, Katin's We Are On Our Own is as much an explo­ration of the rela­tion­ship between par­ents and chil­dren as it is a sto­ry of sur­vival and escape. The mem­oir is ded­i­cat­ed to Katin's moth­er ("For my moth­er / who taught me / to laugh / and to for­give") and many of its cen­tral images focus on the depic­tion of a lit­tle girl posi­tioned close to that fig­ure; her moth­er acts, at dif­fer­ent times, as her pro­tec­tor, her teacher, and, even­tu­al­ly, the tar­get of her over­whelm­ing ambiva­lence about her Jew­ish iden­ti­ty. Miriam's expe­ri­ence as a child sur­vivor is cast as for­ma­tive, an expe­ri­ence that for­ev­er ties into the lov­ing but bur­dened rela­tion­ship she has with her mother.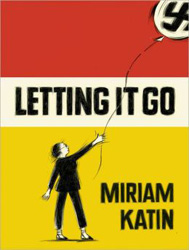 Katin's sec­ond mem­oir, Let­ting It Go, is some­thing of a sequel to her first suc­cess­ful book, but the con­nec­tion between the two texts is com­pli­cat­ed by the dra­mat­ic — even rad­i­cal — shifts in form as well as per­spec­tive. The plot of Katin's sec­ond mem­oir is dif­fi­cult to sum­ma­rize, but the book essen­tial­ly recounts her dif­fi­cul­ty in accept­ing her adult son's deci­sion to move to Berlin. It is the sto­ry of an after­math, told in bursts of images and words instead of clear-cut sequences of pan­els. But if We Are On Our Own is a sto­ry that unites two people's per­spec­tives — moth­er and daugh­ter — in order to share a trau­mat­ic past, Let­ting It Go is a book that shows how impos­si­ble the task. In oth­er words, in Let­ting It Go, Katin explores how one can nev­er ful­ly bridge togeth­er the dif­fer­ent per­spec­tives of a par­ent and child, just as one can nev­er ful­ly bridge past and present per­spec­tives. She makes this ambi­tious under­tak­ing clear from ear­ly on. Almost twen­ty pages in, for exam­ple, the nar­ra­tor asks the ques­tion that all mem­oirists grap­ple with at some point: ​"Where should the sto­ry begin?" Until that moment, the text unfolds with­out a clear cen­tral focus, a plot. The read­er wit­ness­es frag­ments from Miriam's life. There are images of her, in no appar­ent order, as she goes about her day-to-day life: sit­ting at the sketch­ing table, check­ing her email, deal­ing with an exter­mi­na­tor. These rou­tine acts are final­ly inter­rupt­ed by a page that opens with that cen­tral ques­tion, care­ful­ly cap­tured near the mar­gin at the top. Below, a series of images graph­i­cal­ly details Miriam's abdomen as a doc­tor cuts into it and pulls out a tiny head with a chord wrapped around its neck. ​"Or is this the mid­dle of the sto­ry?" These draw­ings dis­ori­ent the read­er by show­ing an event from a dif­fer­ent time: the birth scene that took place over thir­ty years before Miri­am sat down to this, her sec­ond, memoir.
When the grown up Miri­am of Let­ting It Go asks about the ori­gins of her sec­ond sto­ry, she is empha­siz­ing how her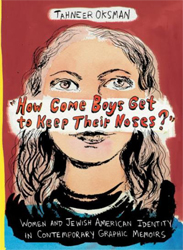 trau­mat­ic child­hood affects every moment of her adult life, includ­ing her own expe­ri­ences of moth­er­hood. ​"My father bleeds his­to­ry" — this is the title that Art Spiegel­man gave to the first vol­ume of Maus. Like Spiegel­man, Katin reveals the ways that a dis­tant past can dra­mat­i­cal­ly shape and col­or the present. Tak­en as a whole, Katin's two mem­oirs also intrigu­ing­ly empha­size a stub­born resis­tance to such an inte­gra­tion of the past into the present. Even though her iden­ti­ty as a moth­er is influ­enced by the ways her own moth­er pro­tect­ed and shad­owed her —the sto­ry she tells in We Are On Our Own—there is still a gap between that child­hood self and the nar­ra­tor com­pos­ing this sec­ond mem­oir. The rad­i­cal­ly dif­fer­ent aes­thet­ics of Katin's two mem­oirs rein­force this gap, the impos­si­bil­i­ty of span­ning the dis­tance between the per­spec­tive of the moth­er and that of the child, or between past and present.
Tah­neer Oks­man is an Assis­tant Pro­fes­sor of Writ­ing and Direc­tor of the Aca­d­e­m­ic Writ­ing Pro­gram at Mary­mount Man­hat­tan Col­lege, and she recent­ly pub­lished her first book, ​"How Come Boys Get to Keep Their Noses?": Women and Jew­ish Amer­i­can Iden­ti­ty in Con­tem­po­rary Graph­ic Mem­oirs.
Relat­ed Content: