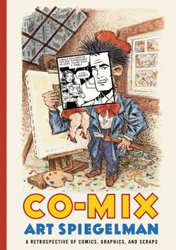 It can be dis­ori­ent­ing to imag­ine your favorite car­toon­ist's works hang­ing in a muse­um. How do you pre­serve the intense­ly pri­vate and inti­mate expe­ri­ence of read­ing a graph­ic nov­el, for instance, when its indi­vid­ual pages have been post­ed on bright white muse­um walls?
But as Vanes­sa Davis recent­ly not­ed of the sprawl­ing exhi­bi­tion cur­rent­ly on dis­play at The Jew­ish Muse­um, titled Art Spiegel­man's Co-Mix: A Ret­ro­spec­tive, in this case the group­ing, and in par­tic­u­lar the sec­tion of the exhi­bi­tion ded­i­cat­ed to Maus, ​"adds some­thing that the book could­n't do." As she explained, the care­ful­ly mapped out pages of Spiegel­man​'s graph­ic mem­oir, now installed in per­fect rows — some­times along­side sketch­es, thumb­nails, or oth­er relat­ed media — visu­al­ly evoke the time­line that the car­toon­ist worked so care­ful­ly to piece togeth­er in his memoir.
Davis's obser­va­tion opened a one-hour gallery talk that she gave to an audi­ence of about thir­ty peo­ple last Thurs­day evening, which was part of an event series called ​"Writ­ers and Artists Respond." She recalled first read­ing Maus at twelve or thir­teen years old, a time when, she said, ​"I saw my Jew­ish self and my artis­tic self as some­thing dif­fer­ent." It took a while for her to rec­og­nize that you could be an artist who writes about your Jew­ish self with­out nec­es­sar­i­ly being rel­e­gat­ed to the mar­gins. ​"When you access your past, it's big­ger than you," Davis lat­er added, not­ing the tremen­dous influ­ence that Spiegel­man's work — includ­ing but cer­tain­ly not lim­it­ed to Maus—has had on car­toon­ists and artists from all walks of life. She described Spiegel­man's work as ​"unsen­ti­men­tal, ele­gant, and seri­ous" not despite but because he uses comics to tell stories.
Through­out the evening, Davis walked the group through the var­i­ous parts of the exhi­bi­tion, which includes works from Spiegel­man's ear­ly ​"under­ground" days to his New York­er cov­ers and books writ­ten for kids. She lin­gered over the famous and con­tro­ver­sial New York­er cov­er from 1992, of a Hasidic man kiss­ing a black woman. When you're cre­at­ing a car­toon, she explained, unlike, for exam­ple, a pho­to-jour­nal­ist, ​"you don't have to be real­is­tic." Spiegel­man's work suc­cess­ful­ly cap­tures small moments even as he touch­es on big events, allow­ing his read­ers to vic­ar­i­ous­ly expe­ri­ence a ​"per­son­al and imme­di­ate prox­im­i­ty" to what­ev­er he's addressing.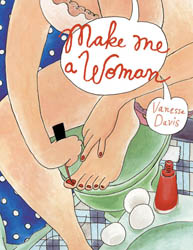 Davis's own comics, which have been col­lect­ed in Spaniel Rage (Bue­naven­tu­ra Press, 2005) and, more recent­ly, the gor­geous, over­sized hard­cov­er titled Make Me a Woman (Drawn and Quar­ter­ly, 2010), tack­le what she calls ​"my small life" — but her work, like Spiegel­man's, res­onates beyond the par­tic­u­lar moments and per­son­al­i­ties that she por­trays on the page. ​"That's what comics is about — com­part­men­tal­iz­ing," she explained, describ­ing the ways that Spiegel­man man­ages to pack infor­ma­tion into every inch of the page much like his father insist­ed on pack­ing every arti­cle of cloth­ing into an already over­flow­ing suit­case. Davis too seems to have been influ­enced by this sen­ti­ment, though in a dif­fer­ent way. ​"I like writ­ing auto­bi­o­graph­i­cal­ly and in small snip­pets," she said at one point, refer­ring in part to her diary comics.
View­ing the exhi­bi­tion with Davis as a thought­ful and inspir­ing guide rein­forced the sense that see­ing par­tic­u­lar pieces of art on dis­play can add depth to our under­stand­ing of them. There is a dif­fer­ent kind of inti­ma­cy involved in weav­ing in and out of a crowd gath­ered to cel­e­brate an artist and his works. It reminds you that your indi­vid­ual expe­ri­ence with a piece of art— of read­ing, or look­ing, or lis­ten­ing— is always, in fact, ​"big­ger than you."
Tah­neer Oks­man recent­ly received her PhD in Eng­lish Lit­er­a­ture at the Grad­u­ate Cen­ter at CUNY. She is cur­rent­ly at work on a man­u­script on Jew­ish women's iden­ti­ty in con­tem­po­rary graph­ic memoirs.