Tah­neer Oks­man spoke to Roz Chast about her recent­ly pub­lished book Can't We Talk About Some­thing More Pleas­ant.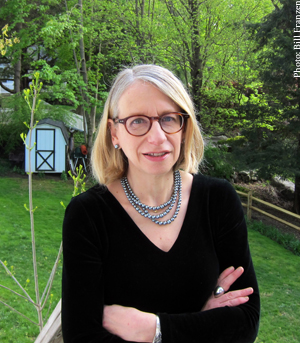 Tah­neer Oks­man: What com­pelled you to write this book about your par­ents, and why now?
Roz Chast: I thought it was an inter­est­ing and emo­tion­al­ly com­plex sto­ry — sad and enrag­ing, but some­times fun­ny. Also, I felt that the top­ic of how we as a soci­ety care for the extreme­ly old is rarely dis­cussed, and maybe that's not so good, to pre­tend this doesn't exist. After all, unless some­thing ​"hap­pens," that's the direc­tion in which we're all heading.
Why now? One rea­son is that deal­ing with my par­ents at ​"the end" was so drain­ing that I need­ed to think about oth­er things for a while. The oth­er was that even when I decid­ed I want­ed to do a book on this sub­ject, I had no idea how it would actu­al­ly come togeth­er. It took me a while to fig­ure out how to struc­ture it.
TO: What was the process of writ­ing this book like, and how did it dif­fer from cre­at­ing the car­toons you draw for The New Yorker?
RC: It was a very organ­ic process. I used what­ever form fit the con­tent best.
I had a strong sense that it was a sto­ry with a begin­ning, mid­dle, and end. Although a few of the car­toons in the book, like the ones I did after the attack on the World Trade Cen­ters and the one about my mother's sex­u­al attrac­tion/heel-height the­o­ry, were ones I had pre­vi­ous­ly sub­mit­ted in my week­ly ​"batch" to The New York­er, the process of doing a book was quite dif­fer­ent from doing car­toons. Main­ly, the car­toons are indi­vid­ual pieces, and when I was work­ing on the book, I knew that they all had to work together.
TO: In addi­tion to your comics and hand­writ­ten prose, you pep­per your book with pho­tographs and some of your mother's poems. What oth­er kinds of research did you have to do to help you remem­ber the past?
RC: I had lots of emails that I had writ­ten to peo­ple about stuff that was going on while I was tak­ing care of my par­ents. I was able to search for terms like ​"my moth­er," ​"neu­rol­o­gist," ​"The Place," etc. So I was able to find pret­ty detailed accounts of events and conversations.
Also, some of the car­toons in the book were done years ago, like the ​"dirty check­ers" one, the one about the shoes/​sex talk with my moth­er, the oven mitt one, and the World Trade Cen­ters ones. At the time I did those, I had no idea I'd even­tu­al­ly put them in a book about my parents.
TO: Ear­ly in the book, you relate your par­ents' sen­si­bil­i­ties — and espe­cial­ly their desire not to talk about death — to their Jew­ish immi­grant pasts. How do you relate to your Jew­ish identity?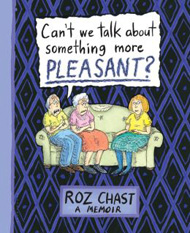 RC: On some deep lev­el, I iden­ti­fy as a Jew. I don't know exact­ly what that means. Maybe feel­ing a lit­tle bit like an out­sider. And that no mat­ter how much I assim­i­late, there will always be some­thing about me that will not fit in.
TO: Were there oth­er works — of art or lit­er­a­ture or comics or film — that inspired you or informed your book?
RC: Not con­scious­ly. When I'm work­ing on a project, I tend to be pret­ty absorbed in doing it my own way.
TO: Do you think you might like to com­pose an­other long-form book or mem­oir in the future?
RC: I think so, but who knows?
Tah­neer Oks­man is assis­tant pro­fes­sor and direc­tor of aca­d­e­m­ic writ­ing at Mary­mount Man­hat­tan Col­lege. Her book on Jew­ish iden­ti­ty in con­tem­po­rary women's graph­ic mem­oirs is forth­com­ing from Colum­bia Uni­ver­si­ty Press.